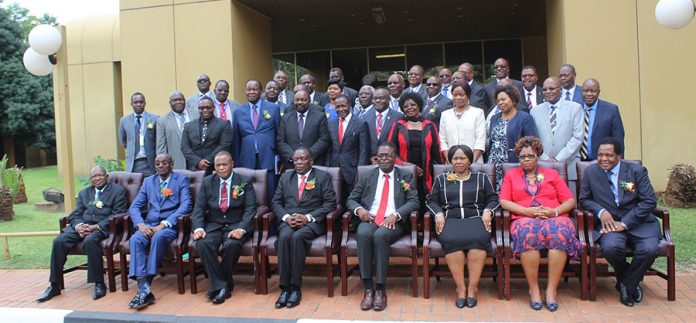 By Dr Tafataona Mahoso
PRESIDENT Emmerson Dambudzo Mnangagwa held an interface meeting with heads of universities and polytechnics on January 9 2018.
In his address to these leaders of tertiary institutions, he touched on a wide range of related issues which will require elaborating.
For my purpose for this instalment, I focus on just three: The call to deepen the involvement of tertiary education institutions in the agrarian and agro-industrial phases of our land revolution; the call to these institutions to extend and deepen synergies with local and foreign industries; and the call to stamp out corruption.
The challenge amounts to an overall appeal to reconstruct a higher education sector based on the pursuit of excellence in all fields and disciplines, based on the pursuit of research and experimentation informed by the whole Zimbabwean economy and its diverse sectoral and regional potentials and characteristics; and based on the values of humility, inclusiveness, unity and what the Constitution calls 'balanced development'.
Out of these three things, stamping out all forms of corruption and restoring the integrity of the higher education institution would have to come first.
It is imperative and urgent.
This is because the universities have all along been doing much of the work which the President is highlighting.
But the lecturers, professors, researchers and students doing that work, in too many cases, are not the ones who have been foregrounded, promoted or rewarded.
In his book called Making History in Mugabe's Zimbabwe: Politics, Intellectuals and the Media, Zimbabwean-born Dr Blessing Miles-Tendi warned the nation back in 2010 that for various reasons, corruption had become rife at the universities of Zimbabwe.
The researchers and professors who were living well were not the ones doing honest academic work of relevance to the nation's development needs.
Blessing-Miles Tendi interviewed a female University of Zimbabwe (UZ) academic who told him: "My children do not eat book chapters."
The interview went as follows, (page 62):
UZ academic: "Today I learned that a security guard at the Government's Reserve Bank earns a higher salary than me, a UZ lecturer. UZ intellectuals hold PhDs, are getting old, do not have a car or drive an old car, have lousy houses and have not accomplished much. Zimbabwean intellectuals are a downtrodden lot. What else can they do but sell-out (for money)?"
Interviewer: "But you have stayed out of it and managed to maintain your integrity."
UZ academic: "Who says I am not in it? I do consultancy work for NGOs and I bend my analysis to please them. I tell NGOs what they want to hear. I tell them Mugabe is bad and there is a serious crisis and I say it loudly so they are satisfied. That way they will come again next time for my analysis and even bring me new clients."
On September 13 2011, the Zimbabwe Council for Higher Education (ZIMCHE) issued a directive to national universities called 'Bench-marks for Quality Assurance in Universities in Zimbabwe'.
One of the measures imposed was that from September 13 2011 only holders of PhD degrees would be considered for tenure, which meant that the PhD would cease to be treated as a specialist research degree but would be treated as a requirement for full-time-tenure-track teaching.
There was no convincing national or international research done to prove that converting the PhD to a teaching degree and forcing specialties which did not require PhDs for advancement within their area to now require them would actually improve the quality of deliverables from individual professors, from universities, for the nation and for the people.
As late as April 2016, the Ministry of Higher Education, Science and Technology reaffirmed that 2011 ZIMCHE directive.
The result was the proliferation of dubious and even fake PhDs; some earned on-line, as well as the proliferation of desperate attempts to look and sound learned by those holding the dubious PhDs.
This is the corruption which the President says must be stopped and even punished.
This is the phenomenon we have described as the proliferation of knowledgeable ignorance accompanied by diminishing returns or zero deliverables.
Academic and intellectual discourse from our national universities concerning sanctions, national currency and African empowerment is conspicuous by its absence.
This then caused the Minister of Finance and Economic Development to say that discussion of the national currency issue among the business and financial elites had become a taboo.
How could such a vital subject be made taboo in the industrial and financial sectors when the entire population was queuing for money at the banks?
There have always been departments and individual professors and researchers making courageous efforts, against all odds, in order to create synergies with industry.
But in addition to corruption on campus, these departments and individuals also have to struggle against real backwardness and corruption in the private sector itself.
To begin with, how prepared is that private sector to sponsor objective research and publications which expose the weaknesses of so-called 'industry' in relation to the needs of the 15 million Madzimbahwe who are at the heart of the national economy?
Synergies should mean a two-way conversation between the academy and industry: The academy should be free to criticise private industry for its mentality, its wrong assumptions and its tendencies to pay only lip service to competition, efficiency, fairness, the customer-client and the 'free market'.
Likewise, industry should be free to assess the competence of graduates from national institutions of higher learning and to introduce more effective ways of managing the higher education system.
What I have observed is that the words 'private sector' and 'industry' have deteriorated in their use to become blanket expressions serving to obscure reality.
Both media outlets and 'industry' spokespersons have been shielded from scrutiny by the widely shared assumption and mentality that most economic problems can be blamed solely on the 'Government'.
So, 'industry' has become a holy cow beyond scrutiny.
And most journalists merely repeat the jargon and clichés given to them by 'industry' public relations officers without critical investigation.
Readers should turn to the editorial page of Daily News for January 10 2018.
There is a cartoon there which begins with 'Prices are Still High' and suggests that the new President has already failed because of decisions such as the pricing of local and foreign goods which are actually not the responsibility of Government and which so-called 'industry' or the 'private sector', when it is convenient, demand they be left to them alone to make.
The same contradiction is clear from watching television programmes and listening to radio talkshows on the current, really serious, scandal of escalating prices and destruction of the market.
Would the 'private sector' be willing to pay for a thorough and objective academic study of its conduct in this matter? Consider radio talk shows, for example.
Routinely, both panelists and callers engage in a form of chicanery which the hosts or anchor persons ignore or fail to see: That the issue of dishonest and reckless price-hikes is first and foremost an issue for the so-called Confederation of Zimbabwe Industries (CZI), the Zimbabwe National Chamber of Commerce (ZNCC) and the Retailers Association of Zimbabwe.
In any self-respecting nation, this would be the normal approach.
The existence of a whole CZI and an entire ZNCC would imply industry pricing procedures, industry checks on the conduct of members and industry ethics.
This would be enough to stop any panics, to expose reckless price gauging by any player and to inspire consumer confidence.
The fact that we do not see this sort of industry leadership may suggest that the CZI, RAZ and ZNCC are led by persons masquerading as leaders of a non-existent industry, let alone confederation.
Only then could we justify direct state intervention; only then could we ask the new Government to step in directly.
Indeed, the so-called manufacturers demanded and received the protection of Statutory Instrument (SI) 64 under the assumption that they would roll-out a programme of effective import substitution resulting in a win-win situation for industry and for consumers.
The price-hikes the nation has suffered since September 2017 represent a huge slap in the face of both Government and the consumer for allowing SI 64!
All the industry associations really owe the public some convincing answers.
And the radio talk producers and hosts need to frame the price-hikes issue differently from the way they have been focusing on the state.
So the fight against corruption must rank high.
When Tendi interviewed Zimbabwean academics and intellectuals at the height of the economic crisis precipitated by the Economic Structural Adjustment Programme (ESAP) and illegal sanctions, he found that too many of them had abandoned the ideals of scientific and scholarly research in favour of foreign funded projects intended to deepen the Western-sponsored regime change agenda against Zimbabwe.
Professor Sam Moyo and Ernest Mudzengi confirmed that too many academics and intellectuals were seeking ways "to make money and one of (those ways) is to come up with briefcase organisations claiming to be fighting for the masses.
But their understanding of democracy does not go beyond the tarmac.
What happened with the churches is happening with the civic movement now.
You have the same faces forming a dozen organisations (for money)."
Some faculties were literally overrun by donors.
The UZ closed down for several months at a time during those crisis years.
Since shutting down left more time available for lecturers to do donor work, there were many academics and intellectuals who did not mind the closures.
The late Professor John Makumbe of UZ was one of those who liked the closures.
Such lecturers used the time to go on foreign speaking tours sponsored by USAID, CIDA, DANIDA, NORAD and the British Council.
The focus must shift now to national economic reconstruction and the first major question to ask is whether we really have a nationally organised industrial sector with a professional leadership.