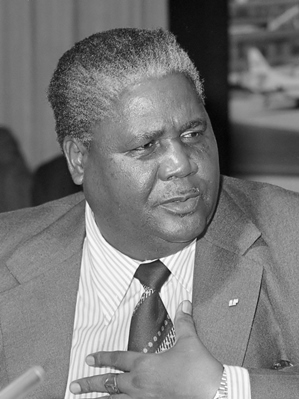 ZIMBABWE this week remembers the late national hero and Vice-President Dr Joshua Mqabuko Nkomo, who died 15 years ago, after a lifetime of personal sacrifice for the empowerment of every Zimbabwean.
The late freedom fighter's demise on July 1, 1999, plunged the entire nation into mourning, yet vivid memories of his sacrifice for unity and peace still linger.
It is because of his selfless service to the people that Dr Nkomo is arguably Zimbabwe's most decorated national hero.
Several months after his death on June 27 2000, Government issued a set of four postage stamps featuring Dr Nkomo.
The following year Airport Road in Harare and Gwanda Zintec College were renamed after Joshua Nkomo Road and Joshua Mqabuko Nkomo Polytechnic respectively to honour the late nationalist.
Econet Wireless has been running the Joshua Nkomo Scholarship Fund since 2005 in his honour.
Many public schools are named after him as well as a good number of housing cooperatives.
Last year, Dr Nkomo was posthumously bestowed with a triple honour as President Robert Mugabe commissioned the Joshua Mqabuko Nkomo International Airport, renamed Main Street in Bulawayo to Joshua Mqabuko Nkomo Street and unveiled the icon's statue.
The triple honour was indelible ink permanently inscribing the memory of Dr Joshua Nkomo not only to Zimbabwe but for the whole world.
This year, a book entitled Unity and Honour: 22 December 2013 was launched in honour of Umdala Wethu.
The book is a collection of speeches honouring the late Vice-President Joshua Mqabuko Nkomo.
The 40-page booklet captures the events of December 22 last year, where President Mugabe commissioned the Joshua Mqabuko International Airport, officiated at the unveiling of the Joshua Nkomo statue and the renaming of Main Street to Joshua Mqabuko Nkomo Street.
The book which was edited by National University of Science and Technology director of information and publicity, Mr Felix Moyo is a compilation of speeches and pictures of President Mugabe, Ambassador Simon Khaya Moyo, Dr Obert Mpofu, Sibangilizwe Nkomo, Dr Ignatius Chombo, Edward Ginqusaba Nyongolo Nkomo, Thandi Nkomo Ibrahim and Kembo Mohadi during the celebrations.
Joshua Nkomo Cultural Movement chairperson who is also the only surviving son of the late Dr Joshua Nkomo, Sibangilizwe Nkomo said it was important to uphold the legacy of the founding fathers of Zimbabwe.
"What makes them one of us today is that they all worked and struggled for a free, peaceful and prosperous Zimbabwe," said Sibangilizwe Nkomo.
"No one can deny that fact, especially of Dr Nkomo, Umdala wethu.
"There is need for Zimbabweans to reconcile and work together to uphold the legacy left behind by those who fought for the liberation of this country."
Speaking at the launch of the booklet, Senior Minister of State, Ambassador Simon Khaya Moyo said they were launching Dr Nkomo's book in his honour, describing him as a visionary leader with charisma.
"His deeds live forever. It is in recognition of his selfless contribution to the liberation of this country and his illustrious service to Zimbabwe that we launch this concise booklet," he said.
The book would be sold at US$5 with proceeds going to the Joshua Nkomo National Foundation coffers to preserve the museum.
So far 1 400 copies have been printed.
This year's commemorations were held under the theme, 'National Healing'.
The commemorations kicked off with a four-kilometre (km) walk, dubbed the "Nkomo 4km walk to healing" from Dr Nkomo's family business outlet Blue Lagoon at Renkini Bus Terminus to the Joshua Nkomo statue situated at the intersection of Joshua Nkomo street and Eighth Avenue where various cultural groups performed a mini ritual.
The procession then moved to Stanley Square in Makokoba where more than 300 people of different walks of life gathered to celebrate Dr Nkomo's legacy.
For his immense contribution to the liberation struggle, Dr Nkomo earned himself names such as 'Father Zimbabwe' and 'Umdala Wethu'.