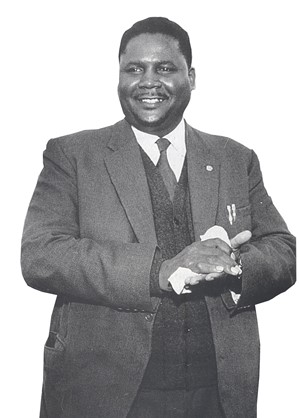 "I regard unity as Zimbabwe's number one priority, the sine qua non of national happiness. I pray and hope that it will be achieved so that Zimbabwe can become one country for one nation, with opportunities, rights and privileges for everybody: white, yellow, black, Zezuru, Karanga, Manyika, Venda, Kalanga, Tonga, coloured and all." (Dr Joshua Nkomo).
DR JOSHUA Mqabuko Nyongolo Nkomo might have passed on 17 years ago with the love, humility and dedication to unity, peace and development of his beloved Zimbabwe in his heart, but this legendary man has Zimbabweans to count on to carry his enduring legacy.
"The old man never kept grudges," his former special assistant Ambassador Simon Khaya Moyo told The Patriot last year.
He would shout at you, raising his walking stick, but not to beat you up, no, he never did that.
"He would then call you after a while and he would apologise and that was it.
"The next moment you are all laughing together and the shouting has all been forgotten.
"That was VP Nkomo, that great man."
The late VP Nkomo was an icon, a doyen of prosperity and unity.
He was a man of the people, an epitome of being Zimbabwean.
When he passed on on July 1 1999, a dark cloud was cast over the whole nation.
Here was a man who did not open his mouth often, but when he did, he was worth listening to.
He was very fond of his mother and says in his autobiography, The Story of My Life, that he was a late talker and shy child.
"I could not keep up with other children and kept running back to my mother," he said.
"I adored her; I was a mother's boy.
"My weakness made me backward in our games and the sport of stick fighting.
"Even when I went to school and found myself coming first in all my classes, from Standard One to Standard Six, I felt the other boys were better than me.
"In later life that lack of confidence has been both my strength and weakness.
"In my dealings with people I have acted trustingly and have found out too late when I have been betrayed.
"My comfort has been to trust in and be trusted by the masses."
And the late talker and shy child would go on to become a towering figure of African unity and Zimbabwean evolution as an independent nation.
"I would be silly to get anything short of majority rule after suffering all those years," he said of his constant scrapes with the colonial regime.
VP Nkomo, the man with a 'common touch', constantly exhibited his capacity for talking to all types of people in a language they could understand, that of unity and social cohesion.
In fact, the quest for unity and peace among Africans was the cornerstone of VP Nkomo's beliefs.
As early as 1970, he wrote from prison: "Disunity has created an international atmosphere that is not favourable to our cause, especially since the rival groups are in reality fighting for the same things.
"The only difference has been personalities."
But still he overlooked this and focused on his beloved motherland.
"He was a man with multinational gifts," says Ambassador Khaya Moyo.
"He was a politician of impeccable credentials, a trade unionist, farmer, prisoner, diplomat, father, grandfather and indeed VP of the Republic of Zimbabwe by the time of his death.
"He believed that political freedom without economic emancipation was hollow."
VP Nkomo was born on June 7 1917 in Kezi District, Matabeleland.
His father Thomas Nyongolo Letswana Nkomo, a prominent community leader and lay preacher of the London Missionary Society (LMS), had two wives and 10 children.
Thomas Nkomo was a teacher trained in South Africa through the assistance of LMS missionaries.
Besides nurturing his children under Christian doctrines, Joshua's father also inculcated in them a spirit of entrepreneurship, a trait evident in VP Nkomo's adult life.
After completing Standard Six at Tsholotsho Government Industrial School, Joshua obtained a carpentry certificate at the same institution. He taught carpentry at the LMS-run Manyame School in Kezi as well as Makupa and Izimnyama schools near Plumtree.
Eager to improve his carpentry qualifications, Nkomo enrolled at Adam's College in Natal, South Africa.
On his way to South Africa in 1942, he boarded the same train with Enoch Dumbutshena and Herbert Chitepo and it was the former who influenced VP Nkomo to join politics.
In South Africa, he abandoned carpentry for an academic career.
On attaining University Junior Certificate (UJC) he proceeded to Jan Hofmeyr School of Social Science in Johannesburg, graduating in 1949 with a BA degree in Economics and Social Science.
While studying in South Africa, VP Nkomo befriended former South African President, the late Nelson Mandela and the late President of Botswana, Sir Seretse Khama.
In 1949, he returned home and married Johanna Fuyana.
He joined the Rhodesia Railways as a social welfare officer based in Bulawayo.
The position exposed him to huge salary differences between blacks and whites doing similar jobs.
Appalled by such injustices as well as generally poor social conditions under which Africans lived, VP Nkomo joined the trade union movement to fight against these conditions.
May the wisdom of this great man continue to shine on the good people of Zimbabwe.
Let those with ears listen.