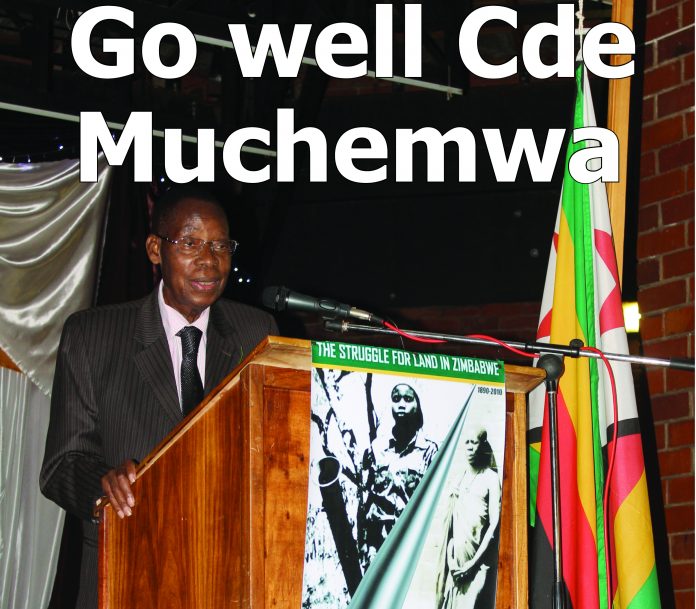 By Dr Ireen Mahamba
WE did not yet want you to leave us Cde Felix Muchemwa.
We do not know what stole you from us comrade.
We do not know whether it is the poisonous gases and fumes spewed from so many enemy bombs, whether it is the cyanides and other poisons the enemy laced our food and water with.
We do not know if it was the poisons in some of the medicines that came to us, but something impaired the health of this great freedom fighter.
For so many years, you struggled for us without flinching.
You did not give in to what assailed your body, today you have gone, your torch burning still.
You suffered long, for the greater part of the life of the land you liberated your health failed gradually until we lost you great hero.
You defended the best that Zimbabwe is, the best that our liberation struggle embodies.
Some say the struggle was about fortune-seeking, an adventure for the young and unemployed, something to do for the lumpen element.
Others say it was about callous banditry of terrorists and yet, others say it was a search for power and privilege, but your life spelt out what it was all about, total sacrifice of everything one has and is.
When you left for the struggle, a young man, newly married, a qualified medical practitioner and still teaching at a medical school in England, you had the world at your feet and yet you abandoned all for the liberation struggle.
You revealed the true mettle of Zimbabwe, that self-sacrificing spirit of Mbuya Nehanda, Sekuru Kaguvi, Mkwati and the other legends of our liberation struggle who sacrificed everything, knowing full well what it would cost.
We salute you comrade!
As a guerilla medical practitioner, you arrested the bleeding arteries and veins saving life, sutured the wounds of the injured, you bound the broken bones, bravely nursing each combatant and when in their pain they looked up into your eyes, you mirrored the love and sacrifice that had also drawn them to the struggle. It was the deepest consolation they could have dreamt of even as they crossed over to the other world, surrendering their ultimate for Zimbabwe.
It would have been easy for you to serve Zimbabwe after independence had your health been in good form, but nothing deterred you from still serving with your whole soul, you would not become bitter, you would not complain, you did not retire comrade.
The commitment to serve Zimbabwe which you made so many years ago when you left England's Birmingham's Medical Campus for the ZANLA bush camps in Mozambique continued to burn in you.
After independence, as Minister of Health, as a principled and tireless party cadre and as a special Advisor to the President, a post you held until you left us, you lived the life of a true Zimbabwean, totally committed to its liberation and the welfare of its people, no less because you were struggling with your own health.
You persevered in the struggle to build the Zimbabwe you had ever dreamt of, the dream that made you join the liberation struggle.
Now, when we talk about you Cde Muchemwa to the children of Zimbabwe, when we teach them that we are a heroic nation, that our nation is built on the heroic sacrifices of its sons and daughters, we have you Cde Muchemwa as an impeccable icon alongside your illustrious brothers and sisters who answered the call to free the nation.
The book you left us Cde Muchemwa The Struggle for Land in Zimbabwe 1890 – 2010, is the greatest tool we will use to teach our children the truth about Zimbabwe, who they are, where they come from and what their mission is.
You could not bear the lies that no land was ever expropriated by the Rhodesians.
You could not bear the travesty that it could ever be said that there was no purpose to the struggle.
Our land, Zimbabwe, was the cause of the struggle.
The British armed robbers came and took our land and they succeeded because they had superior firepower.
This land is why so many laid down their lives.
This is why you wrote your book comrade, to erase for all time this sacrilegious lie that there was no purpose to the liberation struggle.
This great gracious gift reveals in stark painstaking detail the manner in which we were viciously dispossessed of our heritage Zimbabwe.
It is difficult to read it without shedding tears for the cruelty systematically unleashed on our people, for their pain, their untold suffering, but no less importantly, it reveals the heroism of our people in rising from such ashes, from such painful experiences to fight for what is theirs and triumph against an enemy so much more powerful than they.
This is what we will tell our children: 'Rtd Brigadier-General Dr Felix Ngwarati Muchemwa, was a great freedom fighter, a great medical hero and this book he left you because you too are heroes, because you are of Zimbabwe and you too can reach the stars and beyond as he did'.
Cde Muchemwa, you gave Zimbabwe your life, your all.
You gave Zimbabwe your love, you worked for Zimbabwe illustriously in sickness and in health.
We are more than honoured because of you, more than proud of you and we thank you comrade.
Heroes don't die, they live on in the lives and hearts of those they teach with their precious example.
Until we meet again Cde Muchemwa.
Go well comrade!