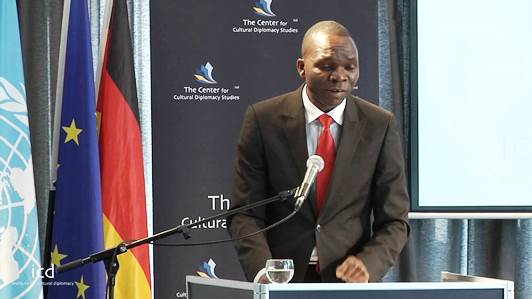 Below is an abridged version of one, Arthur Gwagwa's appeal before USA's Senate Foreign Relations Committee on SEPTEMBER 12, 2013 to maintain sanctions against Zimbabwe.
MY name is Arthur Gwagwa.
I work as an International Advocacy Coordinator with the Zimbabwe Human Rights NGO Forum, a lead human rights coalition of 19 members and the first organisation in Zimbabwe to also have a presence in the Global North.
At the Forum, I conduct research, lobbying and advocacy on the human rights situation in Zimbabwe.
In that role, I work closely with the EU structures, the UNHRC and USA government (USA DOS, Harare Mission and Congressional Research).
I have been closely working with the EU on the Zimbabwe re-engagement issue.
I am a lawyer by background, dually admitted to practise both in Zimbabwe and England.
I am based in London, but I frequently travel to Zimbabwe.
I maintain daily contact with local activists, civil society and church leaders, diplomats, business people, and politicians from Zimbabwe, who keep me up to date regarding the situation there.
I have received instructions from Mark Kearney, a staff associate in the House Committee on Foreign Affairs, to testify before the Subcommittee on Africa, Global Health, Global Human Rights, and International Organisations on the "Troubling Path Ahead for U.S.-Zimbabwe Relations."
I understand that my duty in presenting this report is to assist the Committee on matters within my organisation's knowledge as drawn from evidence that we gather in our work with Zimbabwean civil society, government and the international community.
I also understand that my duty to honestly and candidly represent the diverse
views of Zimbabweans overrides any obligation to the person from whom I
have received instructions and by whom I am paid.
Current human rights and political terrain
General overview
Many people in Zimbabwe had expectations that the elections would usher ina democratically elected government with an interest in addressing the country's longstanding and serious human rights issues.
They thought the new government would build on the positives achieved by the inclusive government.
However, that hope was extinguished by a rushed and highly flawed election. The Executive, ghost and silhouette litigants, with judicial complicity, rushed the election on the ground that a new government was constitutionally due, but has taken more than a month to appoint one.
All the reforms that were achieved culminated in a seriously flawed election. The country is experiencing serious uncertainty, and a sense of desperation is palpable.
People are whispering their disappointment with ZANU PF behind closed doors as they self censor in public for fear of persecution.
At the same time, state media, both print and broadcast, is awash with praises for ZANU PF and references to President Mugabe in a bid to legitimise an otherwise illegitimate election.
The sustained propaganda raises fears that Zimbabwe is plunging back into being a one party state.
Structural, psychological and physical reprisals continue, and in some cases, there is judicial complicity in the persecution of lawyers and dissent.
Threats to exercise of the freedom of Association, Assembly, Movement,
Profession including politically motivated reprisals
The government continued to use arbitrary arrest and detention as tools of intimidation and harassment, especially against human rights defenders.
The pattern of arrests, intimidation, and violence against human rights defenders, and threats of closure of organisations they work for seriously undermined the electoral environment in Zimbabwe and continue to undermine human rights after the elections.
Post electoral state sponsored reprisals still persist.
These include the continued detention and prosecution of opposition members who did nothing, but exercise their legitimate rights to association.
The cases of Morgan Komichi and Arnold Tsunga are examples.
There have been attacks and threats against MDC leaders across the country including threats against Tsvangirai by war veterans that he should leave his rural home for good.
Violations of the rights to freedom of expression, access to information
Protections from violations of freedom of expression, access to information, and press freedom are enshrined in a host of regional and international instruments to which Zimbabwe is a signatory or state party.
Nevertheless, rampant violations of these recognised rights have continued unabated, particularly since election-related rhetoric began to rise in August 2012.
Violations of private property rights
While the empowerment of indigenous people might sound noble on paper, ZANU PF's policy on indiscriminate acquisition of private property, as enshrined in the Indigenous Economic Empowerment Act, is actually achieving the opposite result, as shown by the current unemployment rates, poor service delivery and lack of investment.
This policy is furthering a culture of political patronage.
Options open to the USA
In my discussions with Zimbabweans it appears there are three options:
Firstly, the maintenance of sanctions until all agreed reforms per Appendix 1 are achieved or remedied.
The second option is for the immediate removal of all sanctions, on the basis of collective, but diverse reasons per Appendix 2.
Finally, the USA could pursue a third option, which involves a staggered review of sanctions in response to progress.
Whichever of the above options the USA decides to follow, the same should be underpinned by universal human values as expressed in international human rights law and standards set out in treaties that Zimbabwe is party to.
Conclusion
Although America does not have trade interests in Zimbabwe in comparison with oil producing countries, America and Britain's stances have actually boosted the Zimbabwean-Chinese relationship.
By allowing the Chinese to take over in this way, there is a palpable danger that Zimbabwe will increasingly gravitate towards communism, with devastating effects on sub-regional stability.
SADC has also been pushing for the removal of sanctions.
From the SADC's point of view, it would appear that the possibility of a free and fair election was totally out of the picture in the presence of sanctions.
To the SADC, Zimbabwe is no different from Kenya, Tsvangirai is no different from Raila Odinga, and in the same way sanctions are no different to the ICC
indictment of Kenyan leaders.
In the face of such perceived threat from the West, they close rank in private and behave otherwise in public.
They are duplicitous and hypocritical in their call for reforms.
Zimbabwe is currently in the position that it was in 2002.
However, unlike in 2002, the USA does not have interlocutors in the region and this puts it in a conundrum of sorts, as it cannot call upon President Zuma.
This removes its entry point and the SADC's position means that there is no longer any leverage except Botswana, which doesn't have much influence on the regional block.