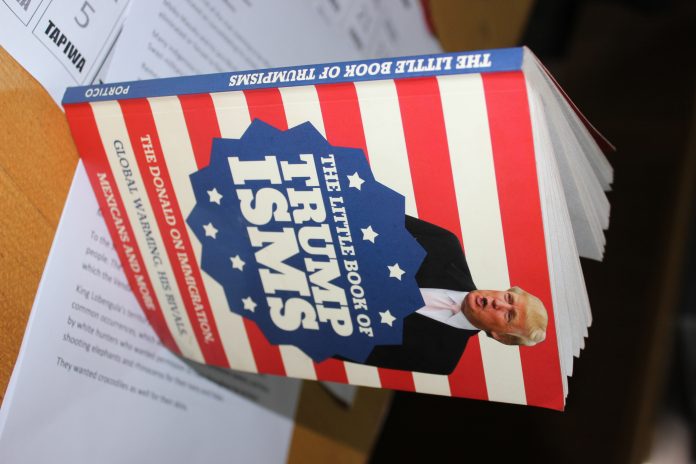 The little book of Trumpisms
By Seth Millstein
Published by Skyhorse Publishing, 2016
ISBN 978-1-91104-238-9
UNITED STATES President Donald Trump is one of the most controversial people in the world.
He has made headlines for being not only difficult but self-centred.
In spite of all the negativity that surrounds him before and after being elected President of the US, Trump proved to be the 'darling' of the US by winning the elections.
His blunt statements and actions present a character who clearly shows the world the thinking of most Americans.
Trump's way of speaking, which is different from the norm or what is 'expected' from a president, highlights the ingenuity of his character.
He is an individual who was elected to earn the respect that most American citizens feel that the US has lost.
Since his inauguration, Trump has continued with his brashness and inconsistences in the making of his foreign and domestic policies.
The book under review this week is titled Trumpisms.
It is a compilation of Trump's views on different issues, certain individuals, himself, opponents, life lessons as well as about the US and her domestic policy.
Presented in the form of statements, the book titled Trumpisms clearly enables the reader to understand Trump's character and attitude as the US President.
The statements are an insight into Trump's boastful, pompous and condescending attitude.
Trumpisms is also a compilation of Trump's comments obtained from media interviews, his books and speeches, debates with Republican rivals and his tweets on twitter.
Compiled by Seth Millsten, a political journalist, Trumpisms does well in painting the picture of the man that Americans appointed President.
On reading the snippets of Trump's statements, one notices that this abrasive character deliberately seeks controversy.
In fact, it is not that he deliberately seeks it but is expressing what the average American would want to say and hear — racist remarks and a belief that Americans, white Americans, are a superior people.
He does not apologise or mince his words when he states to the whole world that he does not want Syrians in America.
"I think ISIS, what they did, was unbelievable what they did with James Foley and with the cutting off of heads of everybody, I mean these people are totally a disaster," writes the author.
"I have an absolute way of defeating ISIS, and it would be decisive and quick and it would be very beautiful," said Trump in an interview with the Des Moines Register.
Statements from Trump show not only his cynicism but contempt for his rivals.
Just like a number of white Americans who dislike blacks, Trump maintains the mentality that blacks should survive as workers and regarded as second class citizens.
A well-educated black has a tremendous advantage over a well-educated white in terms of job market… If I were starting off today, I would love to be a well-educated black, because I believe they have an actual advantage."
Former President Barack Obama might not have done anything for Africa but he did bring some changes in America.
In areas such as healthcare, Obama delivered on his promises but because he is black, Trump simply rubbishes his work.
"Sadly, because President Obama has done such a poor job as President, you won't see another black President for generations!"
Trumps' I-know-it-all attitude pervades the whole collection.
"I am going to be bringing back great numbers of jobs from China, from Japan, from India, from Brazil, from so many countries that have been just absolutely stealing our jobs."
And on Mexico he states:
"I will build a great, great wall on our southern border, and I will have Mexico pay for that wall. Mark my word."
And on America, naturally, he is very clear:
"We need very strong people, because our country is being taken away. It's like taking candy from a baby." The Herd with Colin Cowherd, 11/02/ 15
This book is important as it clearly shows the world the monster Trump is and the thinking of the average American.