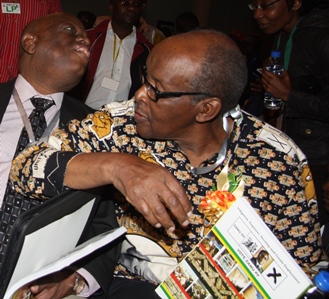 THE country still mourns the passing on of national hero, Cde Nathan Shamuyarira who was recently buried at the National Heroes Acre.
He was 85 and his works still live through the many people he inspired.
One such person is Minister of Youth Indigenisation and Economic Empowerment, Francis Nhema who was mentored by the late Cde Shamuyarira.
In an interview with The Patriot, Nhema spoke fondly of Cde Shamuyarira who he described as his inspiration.
"I met Cde Shamuyarira just before the 1980 elections when I was an attaché in his office where he was in the Elections Directorate," he said.
"I was in that group with Cde Ray Kaukonde, Cde Funny Chikomba, Cde Reuben Cde Marumahoko and Cde Lovemore Kudi and our responsibility was to address workers and forming workers committees as a strategy for mobilising elections."
When ZANU PF resoundingly won the elections, Cde Shamuyarira became the first Information and Tourism Minister and it was at that time that he assigned Cde Nhema to do a translation of a documentary called, Moving on the search for Land in Zimbabwe.
The documentary emphasised that land was the chief reason for the liberation struggle.
In 1981 it was Cde Shamuyarira who sent Cde Nhema to do his Masters Degree at Strathclyde University in Scotland.
"Upon my return I was sent for Diplomatic Training and later employed in his ministry," said Nhema.
"I was later sent as a diplomat attaché to London, Washington, New York and Canada.
"Cde Shamuyarira was soft spoken, but serious in all he did.
"However, his door was always open and he was one man who helped whenever he could."
Nhema said Cde Shamuyarira prioritised education and would make it a point to create an opportunity for anyone with the desire to learn.
He said the late national hero was a hard worker.
"Cde Shamuyarira was very hard working and we would work for long hours, but we realised at the end that he was moulding us into better people," Nhema said.
"When I joined Government, he had retired, but we would meet at various functions and later at the ZANU PF Politburo.
"Every time we spoke, he would acknowledge the work I would be doing and encourage me.
"That is the kind of person he was."
Renowned businessman, Philip Chiyangwa also described Cde Shamuyarira as his political mentor who also left the Chinhoyi constituency for him.
"When Cde Shamuyarira retired from active politics he chose me to run as legislator for the Chinhoyi constituency," he said.
"Because I was instructed to be in Chinhoyi by a person I revered and respected so much, I will not lose determination.
"I will one day win the constituency like I did in 2000.
"Cde Webster Shamu and I are his political disciples and throughout his illness, I always went to see him and supported him because he was my pillar."
Addressing mourners at Cde Shamuyarira's home, President Robert Mugabe described Cde Shamuyarira as an incorruptible, forthright person.
"There was no equivocation on his part," said President Mugabe.
"He had very strong views, but very simple, you couldn't suspect him of any corruption, none at all."
Cde Shamuyarira died on June 4 at West End Hospital in Harare after succumbing to a chest infection.
He is survived by his wife Dorothy.