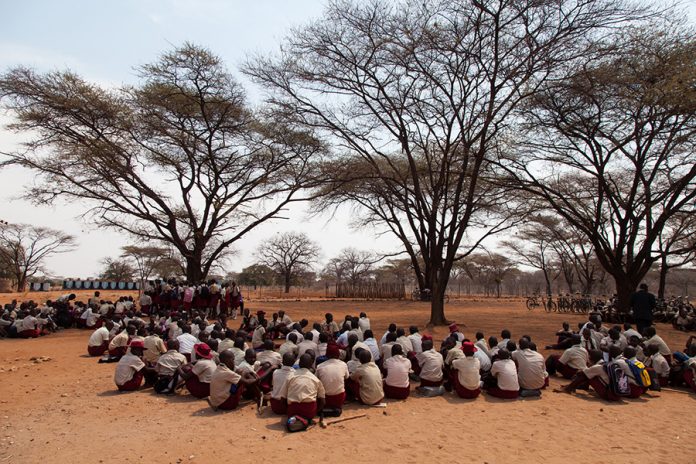 AFTER 37 years of a single leader's rule, it can only be pertinent to sit down, reflect, go down memory-lane and take stock.
Indeed, an era has passed and a new one has set in.
If we are to make the best of this new era, we have to reflect on the weaknesses of the past era and count on its strengths, so we can better the future.
The title of this installment takes inspiration from the 2014 EU-Africa Summit theme which was appropriately coded: "People, prosperity and peace".
The three key words people, prosperity and peace are welcome as part of mankind's desiderata. It is gratifying to note that for Zimbabwe this theme has been embedded in our development motto since we gained independence in 1980.
In fact, we are vindicated by the fact that EU and indeed the rest of Africa are now globalising the need to foreground human capital development through fronting context-relevant education.
This observation is made in the wake of our previous experience with the World Bank over funding of education and other social services in post-independent Zimbabwe.
In 1980 the new Government of independent Zimbabwe applied for a loan from the World Bank to fund the education sector so as to redress racially biased colonial imbalances as well as contribute to post-struggle recovery and reconstruction in a variety of service sectors.
You will be surprised that in spite of the nobility of our envisioned dream, the World Bank's response was that they did not fund social sectors because, in their view, there 'were no returns' from such sectors.
Notwithstanding; the Government convinced of the contrary, decided to go it alone.
Today, 37 years after we immersed ourselves into the dream, we are vindicated that what we have done was the best thing to do.
Today, Zimbabwe boasts the highest literacy rate in Africa of 92 percent according to the UNESCO findings.
This is not a small feat.
And it could not have been achieved by accident.
This reality alone is enough to show the World Bank that investing in education is the best thing to develop human capital.
There is overwhelming evidence even in the current state of affairs; and I need not explain better than just quote a whatsApp appraisal from a South African citizen that made headlines after our November Revolution. It reflected:
Motivational speakers who talk education down have you seen what education has done to Zimbabweans? No car burnt. No house burnt. No buildings destroyed and no life lost. but they have removed a president from office.
I totally understand why they say these are the most educated people in Africa. The effect of their education shows. It may not make everyone a millionaire or rich but it certainly produces rich minds. We need to learn from Zimbabweans.
This observation sums up in dramatic fashion what it means to invest in people through education.
The human factor is admittedly the most important variable in any development discourse for indeed humanity is itself the subject and justification for life and all its processes.
Investing in people for us means investing in education and training.
As it is pre-independence manpower development focused on the interests of the minority whites at the expense of the majority blacks. Education, in colonial Rhodesia had always been used as a weapon to serve the interests of those who partook in its design.
It was, like in many such institutions, used to serve the master. Technical and Vocational Education and Training (TVET) in the colonial context served the white settler colonialist as much.
Scholars such as Lauglo and Lillis (1988) and Mungazi, (1990) confirm that colonial powers introduced among the colonial subjects a new range of exploitative and suppressive economic activities which needed workers with a certain new level of education.
The commercialisation of some of the traditional agricultural crops for export, the establishment of mining ventures in areas endowed with valuable minerals existed and development of capitalist imperialist economic base created demand for cheap labour.
The policies, therefore sought to groom a group of loyal working class natives to control key administrative and supervisory positions. The result was creation of what Toby Moyana (1988) describes as a buffer class that would not only cushion the white master class from the simmering black mass but that would also serve the interests of white settler colonial rule with adoration and subservient enthusiasm.
Given this background, one can bluntly say, there was no 'manpower' to talk about as far as Africans were concerned.
Skilled manpower development was reserved for the master and his posterity to whom selected Africans were necessary appendages.
The historical point to remember though is that in colonial times, the industry financially supported tertiary and higher education because these two institutions were mutually reinforcing in service of white settler interests.
You will observe that this public-private-partnership ceased to function immediately when tertiary and higher education became open to indigenous peoples as well.
By 1980 the apprenticeship training system was strengthened through the Manpower Training and Development Authority (MANDATA) which, in terms of the Vocational Education and Training Act, Chapter 266, designated 53 trades and imposed a 0, 01 percent Training Levy for industrialists to participate and contribute towards both on-job training (80 percent) and college-based training (20 percent).
After independence however, the Zimbabwean Government instituted a number of policy reforms in the higher education sector since 2001, reflecting a shift in emphasis from increasing access to education, to improving the quality of education and training due to the competitive demands brought about by globalisation.
The policy framework was contained in the then Ministry of Higher and Tertiary Education's corporate plan for 2002-2004 (Government of Zimbabwe Ministries of Education, Culture, Higher and Tertiary Education, 2004).
In 2002, a new student financing policy was put in place to broaden opportunities for primary, secondary and tertiary education (Bloom, Canning, & Chan, 2006).
We were moving in the right industrialisation path.
One of the earliest thrusts of our new Government was massive construction of primary and secondary schools (upper tops).
The policy that no child would walk more than five kilometres to the nearest school ensured an increase of schools per capita.
And not only was education made compulsory, it was also free for all primary schools while the secondary education was heavily subsidised by Government.
Teachers' colleges, too, multiplied by a corresponding degree to match the expansion of schools and enrolments.
This massification of primary and secondary education had an impact on the exponential growth of related tertiary institutions.
But the point to rue is that here we committed a fatal error of omission, not commission, meaning that much as we expanded physical infrastructure, we did not accompany this with a corresponding revolution of the curriculum.
We continued, and for a long time for that matter, to teach colonial subjects with colonial content which created not creators but unquestioning servants, not employers-to-be but employees-to-be.