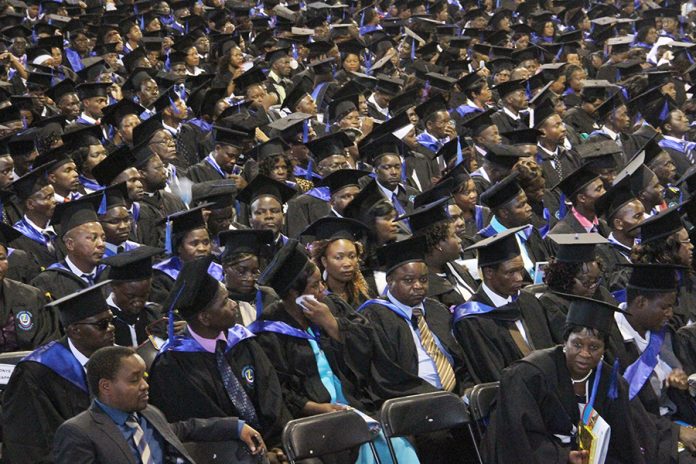 OF course the independence of Zimbabwe ushered in a new direction towards the establishment of polytechnics, where before there were only two institutions (Harare Polytechnic (1964) and (1927) Bulawayo Polytechnic) the advent of independence ushered in Mutare Polytechnic (1984), Gweru Polytechnic (1986), Kwekwe Polytechnic (1986), Masvingo Polytechnic (1984) and Danhiko Vocational Training Institution (1981), among others.
Again this is applauded.
The polytechnics run all Technical and Vocational Education and Training (TVET) courses offered in Zimbabwe.
They are the backbone for the human resource development in technical and vocational education.
The programmes run in polytechnics are diversified and are all run on technical and vocational education basis.
At a glance, some of the courses offered at NC and HND levels include inter alia the following: Applied Arts, Science Technology, Printing and graphic Arts, Information and Communication Technologies (ICT), Hospitality and Tourism, Secretarial (office management), Commerce, Mass Communication, Library and Information Science, Automotive Engineering, Civil Engineering, Construction Engineering, Electrical Engineering, Mechanical and Production Engineering, Bachelor of Applied Chemical Technology (B-Tech), Integrated Skills Outreach Programs (ISOP), Short Courses and Special Skills development programmes (preparation for trade testing by ITTD).
The students are enrolled either as apprentices or direct students.
This is heartening, is it not?
In fact, if you want to understand that such an educational repertoire is what has engendered industrial development in any country you can imagine the UK, Germany, the US, Russia, Japan and China, the story is the same.
If we had followed this thrust to its logical conclusion, Zimbabwe would be an industrial giant, but alas, what did we do?
As if possessed by demons, we suddenly de-emphasised this TVETisation of education as we suddenly pursued academic university education with rabid appetite.
There was a sudden surge for university education which was largely academic in nature. Even as I write now, Zimbabwe boasts almost 20 universities; and ZIMCHE is inundated with even more applications by institutions awaiting institutional accreditation as degree-awarding universities.
From secondary school, every road leads to one university or another.
Everyone, young and old, needs a degree; and our universities graduate these en masse every year, the majority of them stuffed with useless information.
What matters to them is the title and not the content nor the competency to transform lives. To cap this intellectual vacuity and dishonesty is the PhD paper-chase that has seized literally every citizen.
They want to get doctorates at any cost, even for ulterior political manoeuvrings.
Isn't this a pity?
And yet my considered opinion is that the task of colleges, polytechnics and universities is not so much to produce certificates, diplomas and degrees for the shelf but to promote impact-oriented research leading to ideation, incubation, creativity, innovation and enterprise.
I have on numerous occasions denounced the idea of regarding such institutions as ivory towers, lacking the necessary sympathy with the people, walking in the clouds with their feet dangling in the air.
If we are to achieve the development targets that we have set for ourselves, then we have to replace this ivory-towerisation with TVETisation and universitisation; concepts that embed technical and university education into society's everyday needs and activities.
That is the thrust of TVETisation and universitisation – bringing technical and university education to the doorstep of the common man.
We do not all have to hold doctorates.
What sense is there in having 10 million doctorates, however genuine out of a population of 13 million?
Does that make sense?
For instance, we have only one vacancy for a country's presidency at any given time, is it not so?
Why then would we train a thousand people for such a post which can be advertised, say after 37 years?
So why does everyone train to become an executive?
Besides, is being an executive everything there is in life?
Theodore Roosevelt made it clear that the executive are part of a larger human cosmos where they depend on other trades for their survival.
He taught: The best executive is the one who has sense enough to pick good men (and women) to do what he wants done, and self-restraint enough to keep from meddling with them while they do it (for the good of the larger good).
The point you should not lose sight of is that 'the rain began to beat us' when we abandoned polytechnics in our new pursuit of the university mirage?
As previously noted, TVET is the cornerstone of industrialisation which itself is the lifeblood of any vibrant economy.
When the Ministry found it necessary to incorporate TVET and entrepreneurial skills in the polytechnics and teachers colleges in the year 2003, the aim was to foster patriotism and the desire to participate in national development, and to appreciate Zimbabwe's national heritage; to design courses that would develop accountable citizens who are responsible, informed and above all, patriotic.
Such a citizen would actively participate in sustainable nation building and defend the gains of all struggles against oppression and poverty.