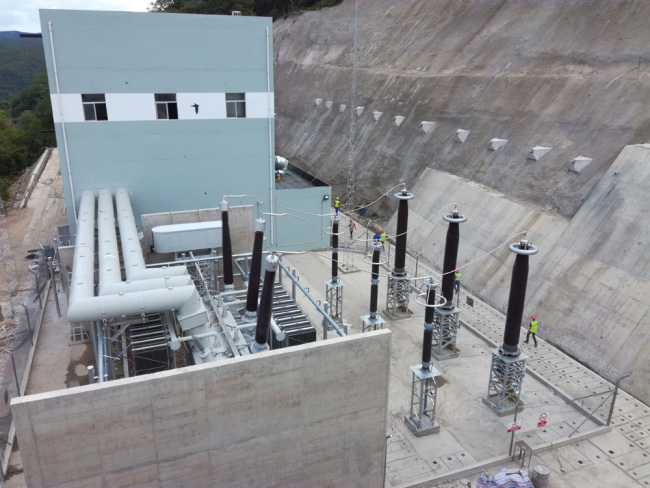 ZIMBABWE is inviting potential investors to pump more than US$2,5 billion in water infrastructure development projects, including construction of dams.
The investment comprises dam constructions, irrigation development and power generation through the construction of mini-hydro plants in the country's identified 15 dams as it seeks to cope with challenges of rapid urban population growth, climate change and the demands of a modernised society.
Dams which Government plans to build include Chitungwiza's Muda-Nyatsime Dam (US$122 million), Mutoko's Nyatana Dam (US$413 million) and Kadoma's Kudu Dam (US$612,8 million).
Other projects include the US$99 million Glass Block Dam in Matabeleland, US$70,7 million Mkwasine Dam in Masvingo, US$376 million Runde-Tende Dam in Masvingo, US$181 million Gwayi-Umguza Dam in Matabeleland North, US$171 million Silverstroom Dam in Mashonaland Central and the US$127,5 million Lubungo Dam in the Midlands.
About five mini-hydro plants will add 63,47MW to the electricity grid.
Irrigation development of about 60 000 hectares (ha) raises hope for agricultural sector recovery.
Zimbabwe's land, currently under irrigation, stands at 206 000 ha.
Kudu Dam, in the Midlands Province, requires the most at US$612, 8 million for dam construction, irrigation development, mini-hydro plant and project development.
The dam is being considered a permanent solution to the water supply requirements of the towns of Kwekwe, Gweru, Kadoma and Chegutu.
Furthermore, the construction of the dam will provide irrigation water for large scale development in Sanyati Copper Queen and Gokwe areas, of which 30 000 hectares have been provisionally identified for irrigation projects such as wheat, tobacco, cotton maize, sugar beans, tomatoes, onions and cabbages.
It will add 10MW to the national grid, in addition to fisheries, eco-tourism and recreational facilities.
Nyatama Dam, in Mashonaland East, requires US$413 million for construction, irrigation infrastructure, mini-hydro plant and project preparation.
The project, which will take five years to complete, will augment Harare, Murehwa, Mutoko, Kotwa and Mudzi's water supply (about a quarter of Zimbabwe's population).
It will bring an additional 45,3 MW to the national grid, 1 000 ha irrigation for maize, wheat, soya bean, tobacco, tomatoes and potatoes.
Runde-Tende Dam, in Masvingo Province, is the third capital intensive requiring US$376 million for construction, irrigation development, mini-hydro plant and project development.
The project, which is still at the planning phase, with technical feasibility studies having been done, will see 15 000 ha irrigable land under wheat, tobacco, cotton, maize, sugar beans, tomatoes, onions and cabbage.
The mini-hydro power station will add 7MW to the national grid.
Some of the projects under spotlight are the US$122,4 million Muda-Nyatsime Dam, earmarked to supply bulk water to Chitungwiza. The dam has capacity for a 0,27 MW mini-hydro plant, fisheries, eco-tourism and recreational facilities.
In the wake of erratic weather conditions, irrigation has been identified as one of the key strategies of countering the unreliable rainfall patterns that now characterise Zimbabwe's summer rainfall seasons.
Climate change has led to dwindling rainfall over the years.
Government, early this year, allocated US$80 million to construct and repair dams, as part of efforts to intensify water harvesting projects to mitigate challenges posed by climate change.
Last month, President Emmerson Mnangagwa said the construction of the Gwayi-Shangani Dam had resumed in earnest following the requisite budgetary allocation and is expected to generate power and also increase water supply to the region.
President Mnangagwa pledged to ensure the project is completed by next year, as well as speed up other outstanding projects in Matabeleland.
Research shows that Zimbabwe has an infrastructure gap of US$14,2 billion which has to be covered to improve the country's competitiveness.
This comes as it has emerged that Zimbabwe invested almost US$2 billion, cumulatively, on important infrastructure development between 2009 and 2016.
Analysts say instead, Zimbabwe is supposed to have spent US$2 billion per year on infrastructure development to cover the gap.
In 2013, the AfDB said almost two percent of the African continent's annual growth is lost due to lack of adequate or proper infrastructure.
The AfDB has indicated that 40 percent of Africa's productive potential is missed due to infrastructure deficiencies.
In the case of Zimbabwe, between US$1,6 billion and US$2 billion was required per annum since 2009 to try and catch up with the widening infrastructure gap, said the AfDB and the World Bank.
However, due to capital deficiencies, Government has spent a measly US$200 million in 2009; US$300 million in 2011; US$300 million 2012; US$100 million in 2013; US$200 million in 2014, US$300 million in 2015 and US$500 million in 2016.
Experts say it is crucial to provide more resources into new infrastructure projects as well as maintain the quality and lifespan of existing infrastructure.
In the last three years, Zimbabwe has invested considerably in power infrastructure, principally the Kariba South Extension.
The project saw the country adding 300MW into the national grid.
The expansion project was done by a Chinese firm, Sino Hydro, at a cost of US$533 million.