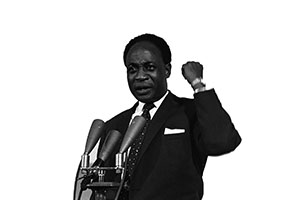 THE strangest things are happening in Africa.
Until last week when new Ghanaian President Nana Nankwa Akufo-Addo somehow decided to divert from the norm by entertaining leader of Zimbabwe's beleaguered opposition MDC-T, Morgan Tsvangirai, at his inauguration before plagiarising two former US presidents' speeches, Ghana was a true pan-African state, or so we thought.
Ghana was one of the countries that fought fiercely for Africa's independence through its staunch stance on sovereignty, but everything went wrong last Saturday when Addo steered the Ghanaian ship in a direction that could never be associated with the ideals of that great nation.
The West African nation built its profile and stature on the basis of its fight against colonialism, a position it strengthened when it helped other African countries attain independence.
Africa is a country that always honours its legends and Ghana's position has long been etched in the hearts and minds of progressive people of this continent and so too in African history.
But how could Akufo-Addo do that to a Ghana that gave Africa Kwame Nkrumah, the great statesman and legendary orator?
How could the Ghana that was at the forefront of negating imperialism suddenly borrow from the very same people and institutions that were, and still are, Africa's erstwhile enemies?
What went wrong on Saturday, January 7 2017?
What went wrong during Akufo-Addo's inauguration was throwing diplomacy out of the window.
Diplomacy is an art so practiced and embraced by Africans so much that the famous Ghanaian proverb: "Where error gets to, correction cannot reach," must surely have deafeningly rung in Akufo-Addo's ears when the idea of entertaining Western puppets like Morgan Tsvangirai was presented to him.
It is an error that will be difficult to rectify — a diplomatic gaffe with the potential to polarise nations and divide the African continent.
But perhaps this is the new Africa we often hear being talked about, an Africa with that overwhelmingly rich history, but one suddenly forgotten and abandoned.
Is this the new Africa, the Africa that was fought for, but now gleefully staring at the same barrel that butchered it only yesterday?
The West has tried to give a new trajectory to African politics and diplomacy amid stiff resistance from countries like Zimbabwe, but we make it so easy for them when we borrow from their speeches and when we invite quislings to such grand events.
During his inauguration on January 7 2017, Akufo-Addo 'borrowed' lines from Bill Clinton's 1993 and George W. Bush's 2001 inauguration speeches when he was sworn in as the African nation's fifth elected president.
Said Akufo-Addo: "Though our challenges are fearsome, so are our strengths. Ghanaians have ever been a restless, questing, hopeful people.
And we must bring to our task today the vision and will of those who came before us."
Clinton delivered an identical line more than two decades ago: "Though our challenges are fearsome, so are our strengths.
And Americans have ever been a restless, questing, hopeful people.
We must bring to our task today the vision and will of those who came before us."
Minutes later, he plucked a line from Bush and produced an almost identical one.
"I ask you to be citizens; citizens, not spectators; citizens, not subjects; responsible citizens building your communities and our nation," Akufo-Addo said.
At his first inauguration, Bush declared: "I ask you to be citizens; citizens, not spectators; citizens, not subjects; responsible citizens building communities of service and a nation of character."  
But this is a country that had the grand orator Nkrumah whose speeches still reverberate across the African continent to this day.
Why not borrow from the great Nkrumah?
Where Ghanaians say, 'the ruin of a nation begins in the homes of its people', Nkrumah said Africa must unite or we perish.
Below is part of Nkrumah's famous, 'We must unite now or perish' speech in Ethiopia in 1963.
"Our objective is African union now.
There is no time to waste.
We must unite now or perish.
I am confident that by our concerted effort and determination, we shall lay here the foundations for a continental Union of African States.
A whole continent has imposed a mandate upon us to lay the foundation of our union at this conference.
It is our responsibility to execute this mandate by creating here and now, the formula upon which the requisite superstructure may be created.
On this continent, it has not taken us long to discover that the struggle against colonialism does not end with the attainment of national independence. Independence is only the prelude to a new and more involved struggle for the right to conduct our own economic and social affairs; to construct our society according to our aspirations, unhampered by crushing and humiliating neo-colonialist controls and interference.
From the start we have been threatened with frustration where rapid change is imperative and with instability where sustained effort and ordered rule are indispensable.
No sporadic act nor pious resolution can resolve our present problems.
Nothing will be of avail, except the united act of a united Africa.
We have already reached the stage where we must unite or sink into that condition which has made Latin America the unwilling and distressed prey of imperialism after one-and-a-half centuries of political independence.
As a continent, we have emerged into independence in a different age, with imperialism grown stronger, more ruthless and experienced, and more dangerous in its international associations.
Our economic advancement demands the end of colonialist and neo-colonialist domination of Africa.
But just as we understood that the shaping of our national destinies required of each of us our political independence and bent all our strength to this attainment, so we must recognise that our economic independence resides in our African union and requires the same concentration upon the political achievement.
The unity of our continent, no less than our separate independence, will be delayed if, indeed, we do not lose it, by hobnobbing with colonialism.
African unity is, above all, a political kingdom which can only be gained by political means.
The social and economic development of Africa will come only within the political kingdom, not the other way round.
Hopefully the new Ghana administration takes heed of Nkrumah's words of wisdom.
However, after the bizarre events of Saturday, January 7 2017, one can't help but question if Ghana is still pan-Africanist.
Only time will tell.