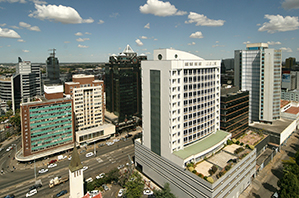 A 19-MEMBER British business delegation was in the country this week to explore investment opportunities in a development that could be read as thawing of frosty relations between the two countries.
Comprised of representatives from 12 United Kingdom companies drawn from a cross-section of sectors, the delegation was exploring opportunities from agriculture to infrastructure; all areas where British business can make money in Zimbabwe.
This visit comes as a follow-up to a British government supported trade mission that came to Harare three months ago.
This was the first delegation the British Government dispatched to Zimbabwe since relations between Harare and London soured over 14 years ago following the former colonial master's anger over the Land Reform Programme which saw over 400 000 black households who were previously marginalised benefiting from equitable land redistribution. Previously about 4 000 white farmers occupied the country's prime land.
The fast track Land Reform Programme was necessitated by Britain's blatant violation of the international law of succession that bid the New Labour government of the then Prime Minister Tony Blair to honour obligations entered into by the administration of Margaret Thatcher at the Lancaster House Conference of 1979.
The then British Secretary for International Development, Clair Short wrote to the Government of Zimbabwe on November 5 1997 saying Britain had no obligation to fund the costs of land purchase in Zimbabwe.
This dodging of responsibility left Zimbabwe with no option, but to announce they were acquiring white-held farms without compensation.
As a result, Europe at the behest of Britain imposed illegal economic sanctions including travel restrictions to Zimbabwe which have had disastrous effects on the country's economy.
Following its isolation by the West, Harare sought succour in the East, where the baggage of colonialism and the strings of aid and investment conditionality did not apply.
Global power houses such as China, Russia, India and Malaysia emerged as important trade and investment partners under a 'Look East Policy' championed by President Robert Mugabe.
In some sectors such as mining and agriculture, traditional commercial relationships with the West were pushed aside in favour of new partners who offered a win-win situation.
The Chinese and Indians became important players in tobacco and cotton production and mining.
For example, the Chinese company Tian Ze has contracting arrangements with over 300 farms mostly in the new resettlement areas.
Small-holder farmers who gained land through the land reform are now the major producers of such cash crops and contribute significantly to the national economy.
The Chinese led out grower arrangements providing support in terms of finance, inputs and advice.
British companies that had been important buyers of tobacco from the previous white commercial farmers in Zimbabwe have turned green with envy.
However, it became clear to Britain that Zimbabwe's resurgence was unstoppable as Harare signed mega deals with Beijing and Moscow.
Last year, Zimbabwe and China signed mega deals worth more than US$10 billion in infrastructure, energy and agriculture, while the over US$3 billion deal signed by the Russians concentrated in the extraction of platinum.
It could have been them (the British).
The country's rebound as an economic force to reckon in the past months also sent jitters in Western capitals.
The European bloc has since eased trade embargoes on Zimbabwe, however maintaining 'travel bans' on the First Family.
In recent weeks, representatives from Brussels and Paris made a beeline to Harare, seeking re-engagement with the resource-rich Southern African nation.
This week the EU resumed direct aid to Government to the tune US$270 million after a 12-year long hiatus.
Thus Britain's project to isolate Harare had failed dismally, costing them market share and economic influence.
Since Britain has become a declining power, with decreasing economic and political clout, Zimbabwe has become too important to leave to the East.
Hence London's renewed interest in its former colony.
All the same one cannot help, but feel sorry for the British.
Unlike other countries, they had an upper hand by virtue of their colonial ties with Zimbabwe.
Had they not demeaned Zimbabwe, they would have been Harare's first preference in investment opportunities.
Although late, some believe it's not too late for the British.
Zimbabwe is open for investment from anywhere in the world and is ready to re-integrate into the global economy, but business partnerships must be done without preconditions.
There must be no strings attached.
As the British and Europeans are now trying to get back into the game, they have to know that Zimbabwe is a sovereign nation that now has a choice in economic and political affairs.
No longer will it be pushed around, condescended or demeaned.
Recently UK's secretary for State for International Development, Justine Greening hinted a non-interference shift in UK policy.
One could not help, but notice that she sounded more like a Chinese official, acknowledging the importance of aid relationships for UK business; a contrast to her predecessors who only emphasised human rights, good governance and Western liberal democratic values.
"We are taking a new approach to aid, and this approach is not just smart for developing countries, it is smart for Britain too," said Greening.
"The Department for International Development (DFID) is on a dramatic journey.
"We are changing our people, our training, our programmes, our resourcing, and our partners.
"We're making DFID pro-entrepreneur, pro-business."
With such a stance, Harare and London may perhaps enjoy fruitful business partnerships, only on a win-win basis.