By Sheldon Hakata and Golden Guvamatanga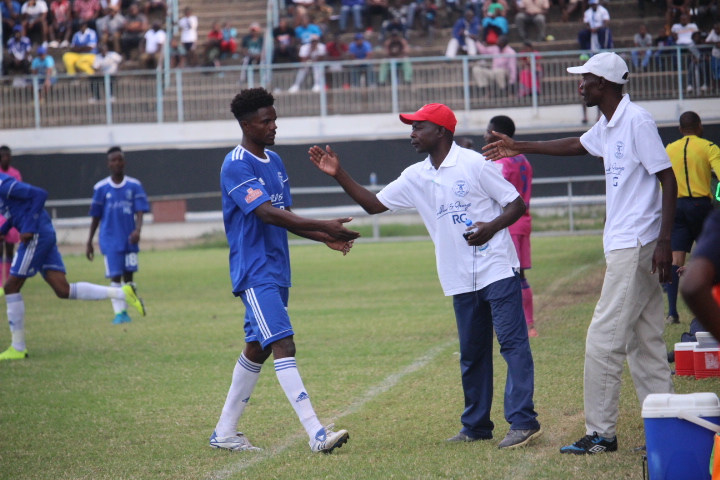 BRAVADO in front of the cameras but dreadfully out of sorts both on and off the field of play was what Lloyd 'MaBlanyo' Chigowe gave us in the past few months as Dynamos gaffer.
Still Dynamos hoped.
Yet 'hope' is not what this iconic team has been associated with.
However, as the rot at this once mighty club reaches full circle, there is now nowhere to hide for the powers that be at DeMbare.
They are simply incompetent.
Yet this is a narrative that has been said time and again.
The results are the same.
Poor performances, heartbreak for fans – the road ahead could not have been clearer.
For far too long, alarm bells have been ringing deafeningly in the ears of DeMbare fans and sadly, the same madness has been creeping in in one of the country's oldest clubs, Highlanders, under coach Madinda Ndlovu.
Traditional giants Highlanders and Dynamos were serial winners back then, but are now facing extinction.
Only last season, Dynamos fought relegation in the Castle Lager Premier Soccer League (PSL).
No doubt, Chigowe and Ndlovu have failed to live up to expectations, but when all is said and done, what emerges is that the managers of the two teams are useless in many ways.
There is a reality that many try to escape from in football.
Sound management and huge capital outlays are the keys to success.
Consider clubs in SA, Tanzania, Zambia and DRC.
In Europe, the likes of Juventus, Chelsea, Manchester City and PSG, among others, have spent big and the results are there for all to see.
DeMbare and Bosso bring value for money.
How powers-that-be at these two clubs fail to realise this is a mystery that can only be solved by those who are obsessed with 'protecting' a dwindling cake that has the potential to grow if properly nurtured.
Still, ominous dark clouds are hovering above these two clubs.
In football, the log and the score board do not lie.
Last year was not good for Dynamos and the mirror still reflects the same.
They struggled for form, spending the better part of last season in the bottom half of the table before settling for a sorry 11th place.
Chigowe had replaced much-maligned Lloyd Mutasa with seven games to go.
The Glamour Boys' tumultuous 2018 season almost came to an end in a humiliating fashion as they had to be saved by biased officiating and sympathy.
They failed to provide a single player on the Castle Lager Soccer-Stars-of-the-Year calendar – first time over a decade.
After dedicating more time to junior football and toiling in the lower leagues, Chigowe was thrust into the spotlight with the task of saving DeMbare from relegation.
As Dynamos Board chairperson, Bernard Marriot Lusengo wields all the power while Chigowe charmed the Dynamos leadership who needed to fight for silverware once again and reclaim the lost glory.
Chigowe, however, did not breed any confidence in the club's fans as he was plucked from the clubs' developmental structures.
The lanky coach, however, was rewarded for saving Dynamos from relegation and offered a contract on a permanent basis.
He overhauled the squad he inherited from Lloyd Mutasa.
After losing almost three quarters of the team with whom he fought relegation, Dynamos' pedigree to establish a strong side cropped up.
Chigowe had no room to manouever in the transfer window due to Dynamos' precarious financial situation.
The club resorted to conducting trials, hoping to identify free agents who had been offloaded by other clubs; a situation not ideal for a club of Dynamos' stature.
The team is now composed of a host of unknown faces, most of whom are probably looking to launch their careers with the fading Harare giants.
Other teams like FC Platinum and Manica Diamonds have been active on the market.
Returnee and old horse Edward Sadomba, former Bulawayo City goalkeeper Munyaradzi Diya and Congolese Ngandu Mangala's arrival are most notable changes at Dynamos.
All that, however, was bound to come to naught.
On Easter Monday, matters finally came to a head when the Harare giants succumbed to their fourth straight defeat in all competitions after a flattering opening day victory against new boys Mushowani Stars.
In Bulawayo, Highlanders remain winless, only managing two points in four matches while the 1-0 loss to Triangle on Monday saw them drawing more pressure to deliver better.
More focus is on Dynamos who failed to pick up even a single point for the third successive week following defeats in the PSL and the Uhuru Cup.
Herentals striker Juan Mutuda scored a late goal to derail the Glamour Boys at Rufaro Stadium on Monday.
The super goal broke the hearts of Dynamos followers, more so those at the venue.
The result put the final nail on Chigowe's coffin.
Dynamos fans demanded action, arguing Chigowe and assistants were lightweights to be coaching the most successful club in the country.
Some even bayed for Chigowe's blood.
This prompted the executive to make a replacement.
It's important to note that giants like Dynamos and CAPS United have remained stuck in the past; not taking the lead in developing local young talent who understand the value and culture of the club.
The clubs still rely on buying players and unpaid sign-on-fees and non-payment of salaries sometimes end in disputes.
Many local players are owed various significant amounts as part of signing-on-fees and winning bonuses.
Though crucial to find ways of professionally turning around the fortunes of these clubs, they have only relied on sponsorship packages from a few corporate companies such as NetOne and BancABC, among others.
The traditional giants have to take advantage of the passionate supporters' allegiance to map sustainable business models, a kind of initiatives expected in supporting local football.
Teams with such huge following should actually find means to generate income for smooth running of the local sport and stop the culture of screaming for bailouts and handouts.
They must not be run like backyard tuck-shops.
PSL Weekend fixtures
Saturday
Harare City vs Black Rhinos (Rufaro)
Mushowani vs Highlanders (NSS)
Chicken Inn vs FC Platinum (Luveve)
ZPC Kariba vs Yadah (Nyamhunga)
Sunday
CAPS United vs Bulawayo Chiefs (NSS)
Triangle vs Chapungu (Gibbo)
Hwange vs Manica Diamonds (Colliery)
Herentals vs Ngezi Platinum Stars (Rufaro)
Tel One vs Dynamos (Barbourfields)
All games start at 3pm unless otherwise stated.