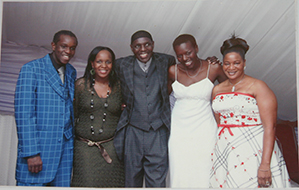 "(Dedicated to) — all artists and journalists of the world persecuted for the truth."
Tuku Backstage (2015)
By Shepherd Mutamba
Published by Mhotsi Uruka
ISBN: 978-0797462221-2
IN 2003 there is a man from Msasa Park, Harare who locked the doors to his house, got into the bathtub and shot himself in the head with a pistol.
Those who arrived on the scene say there was a picture of his family placed at vantage point with his favourite musician, Oliver Mtukudzi blasting in the background muffling the sound of the deadly shot.
Tuku was probably the last thing that man heard as he surrendered to darkness.
There is something potent about his music that resonates with many and his former publicist Shepherd Mutamba cannot help, but acknowledge this.
"I will remember Tuku for his music, his extraordinary gift to create and consummate showmanship that draws people to him and gets them hooked like opium," Mutamba writes in a tell all biography, Tuku Backstage.
In the book Tuku Backstage, Mutamba writes how one fan went on to kiss Tuku's shoe after a performance.
In another incident, a woman who was sick and refused to eat wrote to ask Tuku to call her.
Tuku went on to call the woman and spoke to her encouraging her to eat, which she did soon after.
Such is the impact that Mtukudzi has.
Mtukudzi is such a private person that few can claim to really know him, a fact acknowledged by Mutamba.
Tuku Backstage will probably be a best-seller because it gives the curious fan and archivist an opportunity to really know the man.
It is also rich with Tuku's musical history as never been done before.
The intricacies of how he composes his music and how he demystifies his creative process by stating, "when I sleep I sleep … I have never dreamt of a song."
However, from the onset, it soon emerges that the biography is not only just a memoir, but also an expose to unmask the 'devil' behind the humanitarian deeds and beautiful music.
From the first pages, Mutamba advises the reader to ignore his musical genius as he unravels the 'backstage' Tuku.
"We must judge the music on its own merit and character on its own," writes Mutamba as he ends his first chapter.
Even as Mutamba begins to unravel and 'strip' Tuku, he is kind enough to remind the reader that the subject of his five-year-old research abhors talking about his private life.
"His life is a no-go area," the former publicist notes.
Mutamba has been attacked and in some instances supported by reviews in the media.
Because Mutamba frequently forces his way into the story line, but not allowing the reader to conclude for themselves, he instead becomes the judge, juror and executor.
"Our living legend is compromised, more in a fix, really," the writer says.
Just as we are what we eat, we are too what we write and say.
When Mutamba begins to unravel the superstar, he explains that character is who we are when no one is watching.
This is so true and in literature it is the innuendos, the subtleties and tones that unravel the writer.
From the onset you can tell that the writer is an angry man.
Angry with Mtukudzi, with life and moreso with the Mugabe regime which he feels let him down.
Mutamba was once a news anchor and former editor-in-chief at the national broadcaster, ZBC until he was fired.
This was after he had also spent years working at the national newspaper, The Herald.
To get international acclaim, it is a must that one denigrates and demonises President Mugabe's regime at every turn.
This in turn leads to him idolising self-exiled Thomas Mapfumo as some sort of singer-cum-vigilante there to rescue the masses through his guitar strings.
"They do not call Mapfumo the 'lion of Zimbabwe' for nothing," Mutamba writes.
Throughout the book, one experiences different emotions from empathising with Mutamba for spending six months with no salary while Mtukudzi buys the latest Range Rover for his wife as an apology.
Then one gets angry with the icon for not visiting his devoted worker while in a diabetic coma and agreeing with the writer that perhaps Tuku should concentrate on music and leave the management to someone.
We also wonder why Mtukudzi does not shower his love to all his children and raise wrinkle our brows in disapproval at the Daisy and Tuku affair, wondering if the former knew that Mutamba would document her 'first night' with the superstar.
We cry when the writer describes the cold bodies of Sam and Owen at the back of the police truck and are shocked that Mutamba finds Daisy's response to her only son's and future heir's death as dramatic.
"She was charging towards the busy road, puffing like an enraged bull in the face of oncoming cars in an apparent suicide attempt," writes Mutamba.
"Three strong adult men battled for several minutes to subdue her… Daisy created a scene that was unnecessary, unjustified and downright embarrassing.
"I expected her to bewail her loss in a dignified and solemn manner."
We are shocked at his cold assessment of the issue and further disturbed that he feels embarrassed that Tuku cries when he sings certain songs as they carry memories of when and why he penned them.
We are disgusted by his sexual innuendos which are reminiscent of racist writer Peter Godwin and his glorifying in defeacating in the presidential toilet in the helicopter.
We laugh at the ridiculous assertion that President Robert Mugabe, a man who has defied some of the most powerful men and women in the world, needs Tuku's approval and silence to win him election votes.
Indeed Tuku was on Forbes most influential list at position 12 out of 40 and Mutamba's attempt to make him more than that is simply ridiculous.
"President Mugabe will not give expensive gifts to influential artists for nothing," Mutamba says.
"Tuku is powerful and shapes public opinion in a way that can swing votes, and the President knows that."
Surprisingly Mutamba is silent on Tuku's association with Morgan Tsvangirai who he writes invited the star to this wedding and performed for them.
The superstar also had invited Tsvangirai to his 'favourite' daughter's wedding and there is no drama there from the writer who describes the minute details of Mugabe hosting Tuku.
In essence, Mutamba disapproved of everything about his boss from his management to his political affiliations.
Although already selling like hot cakes in Tuku's absence, one thing for certain is that the book is not Oliver Mtukudzi's real biography.