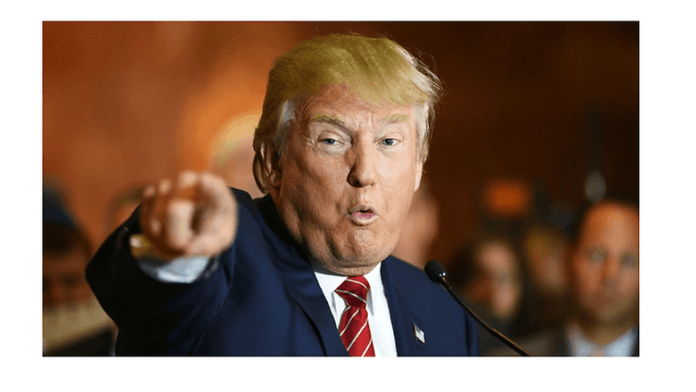 ON Tuesday, President Donald Trump went to Jamestown, Virginia, to commemorate 400 years of democracy in the US at an event to mark the first meeting of a representative legislative assembly in the western hemisphere that took place on July 30 1619, when George Yeardley convened the assembly as governor of the new British colony.
August will mark the 400th anniversary of the arrival of the first African slaves in America, when the first slave ship docked, also in Virginia.
As he left the White House to attend the Jamestown commemorations, President Trump told reporters that he is, "the least racist person there is anywhere in the world".
However, for my African-American brothers and sisters, this statement is a farce as under the Trump Administration they and other people of colour now seem to be stuck in their great-grandparents' time warp.
People of colour are now at a greater scale of the receiving end of racism and bigotry; the slight at work, being followed in a store or pulled over by the police, an epithet hurled in a restaurant or on the street.
Racism and bigotry are oozing out of the White House at alarming levels.
Trump has a decades-long track record of racism that includes everything, from calling for the execution of innocent teenagers, to breaking fair housing law.
This fact about him drifts on and off the news agenda, but he put it squarely back on recently with a few tweets that exhorted four new Democratic members of Congress to 'go back' to the 'corrupt' countries he said they are from.
Suggesting that people of colour are not 'really' American is a classic racist trope and one that is very much not new to President Trump.
He gained prominence as a political figure specifically by leading a years-long movement to deny Barack Obama's status as a natural-born citizen of the US.
Obama, however, had a bona fide immigrant father and really did spend time abroad as a child.
Three of the four Squad members grew up entirely in the US, and two of them don't have any immigrant parents.
With elections next year, could President Trump be ratcheting up racial tensions in the hope of retaining the votes that got him into power by blaming most of the US problems on immigrants, people of colour, China and Russia?
A new Quinnipiac poll has found that 51 percent of voters believed President Trump to be a racist, a figure that jumped to 80 percent among black voters and 55 percent among Hispanic voters.
Several polls conducted since President Trump began criticising the Democratic lawmakers — Reps.
Alexandria Ocasio-Cortez, Ayanna Pressley, Rashida Tlaib and Ilhan Omar — have found that Americans viewed his language about them as racist.
A Fox News poll released last week found that 56 percent of voters considered the substance of his rhetoric toward the four women to be racist, while 57 percent said they didn't think the president respected racial minorities.
And a POLITICO/Morning Consult poll found that 58 percent of voters characterised chants at a Trump rally to 'send her back', referring to Omar as racist as well.
Trump first disavowed but later defended those chants.
He is even beginning to turn off blue-collar white women who supported him over Hillary Clinton in 2016.
College-educated white women took a hike from the Republican Party in 2018 to propel Democrats to the House majority.
These women may have been able to hold their noses for a private-parts-grabbing showboat in 2016, but they do not appear to be falling for his snake oil this time.
The White House staff is racing every day to turn the President's hate speech into a message or a campaign strategy.
They take great pains to show us that he has black friends, too; a photo opportunity with black pastors, lobbying for the release of a black rapper, another statistic on black unemployment.
All as if to prove that the president is not a racist; he's just concerned.
This requires us to forget the brown children in cages; name-calling against women of colour; the Muslim ban; describing a majority-black district as a 'rodent infested mess' where 'no human being would want to live' — never mind all of that.
The very first time President Trump appeared in the pages of the New York Times, back in the 1970s, was when the US Department of Justice sued him for racial discrimination.
Since then, he has repeatedly appeared in newspaper pages across the world as he inspired more similar controversies.
Trump's history of racist controversies
Here is a breakdown of Trump's history, taken largely from Dara Lind's list for Vox and an op-ed by Nicholas Kristof in the New York Times:
λ 1973: The US Department of Justice — under the Nixon administration, out of all administrations — sued the Trump Management Corporation for violating the Fair Housing Act. Federal officials found evidence that Trump had refused to rent to black tenants and lied to black applicants about whether apartments were available, among other accusations. Trump said the federal government was trying to get him to rent to welfare recipients. In the aftermath, he signed an agreement in 1975 agreeing not to discriminate to renters of colour without admitting to discriminating before.
λ 1980s: Kip Brown, a former employee at Trump's Castle, accused another one of Trump's businesses of discrimination. "When Donald and Ivana came to the casino, the bosses would order all the black people off the floor," Brown said. "It was the 1980s, I was a teenager, but I remember it: They put us all in the back."
λ 1988: In a commencement speech at Lehigh University, Trump spent much of his speech accusing countries like Japan of 'stripping the US of economic dignity'. This matches much of his current rhetoric on China.
λ 1989: In a controversial case that's been characterised as a modern-day lynching, four black teenagers and one Latino teenager — the 'Central Park Five' — were accused of attacking and raping a jogger in New York City. Trump immediately took charge in the case, running an advert in local papers, demanding: "Bring back the death penalty. Bring back our police!" The teens' convictions were later vacated after they spent seven-to-13 years in prison, and the city paid US$41 million in a settlement to the teens. But Trump in October 2016 said he still believes they're guilty, despite the DNA evidence to the contrary.
λ 1991: A book by John O'Donnell, former president of Trump Plaza Hotel and Casino in Atlantic City, quoted Trump's criticism of a black accountant: "Black guys counting my money! I hate it. The only kind of people I want counting my money are short guys that wear yarmulkes every day. … I think that the guy is lazy. And it's probably not his fault, because laziness is a trait in blacks. It really is, I believe that. It's not anything they can control." Trump at first denied the remarks, but later said in a 1997 Playboy interview that, "the stuff O'Donnell wrote about me is probably true."
λ 1992: The Trump Plaza Hotel and Casino had to pay a US$200 000 fine because it transferred black women dealers off tables to accommodate a big-time gambler's prejudices.