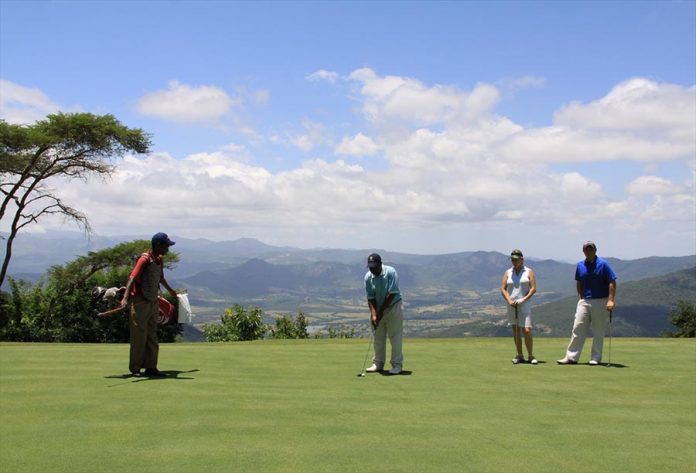 Mhoroi baba namai
Tavirirwa nezuva tichirwa hondo
Isu tati tepeivo pekurara
Tavirirwa nezuva tichirwa hondo
THUS sang and danced the combatants at the pungwes as they mobilised the masses to liberate this great land.
It used to be their Salisbury; they used to sing about 'their' magnificent jacaranda turning the sky indigo with its purple hues.
They sang of the jacaranda's entrancing beauty; artists celebrated the jacaranda in their creations, they framed family memories in the jacaranda blossoms, even fashionistas celebrated the intense intoxicating purple of the jacaranda.
It was their Salisbury, no Africans existed in it except as servants walking along the pavements to and from the service of the whiteman or sweeping the jacaranda florets after they lost their lustre.
It used to be 'their' Salisbury, never meant for us.
This year our Harare has been ecstatically beautiful; the jacarandas, responding to the torrential rains of last season bloomed in their magnificent abundance, their florets transforming Harare streets into an alluring purple paradise, the purple on the tarmac so incandescently splendid it takes your breath away.
It is indeed one of the most beautiful sights to behold.
That is what they have never forgotten; that it was 'their' Salisbury, and now our Harare.
So, this year, while we were busy enjoying our Harare, a dark cloud shrouded their dead hearts, and nothing of Harare's incandescent beauty could seep through.
They said, these Africans shall squirm, the bliss in their eyes shall cloud in pain, they said; those eyes dazzled and dazed with the beauty of the capital they stole from us, shall shed tears, so they plotted and plotted.
They said: 'This shall end; it shall be a place of tears'.
They are not grateful that they can still live in this land, the land they once plundered, the land in which they spilt so much blood, rivers of blood as they left thousands dead in the wake of their greed and lust for our wealth.
We could have sent them packing back England, asi tiri vanyai vaMusikavanhu.
Ours is a rich, beautiful land, endowed with everything. It is a joyous land of peaceful people, but only the beautiful, the peaceful can appreciate this; naked greed has no eyes to see such bliss, it vibrates at a totally different frequency.
The plot they have hatched will get nowhere — the land has been liberated from their stealing claws.
It is typical of the Rhodesian psyche that does not know when to raise arms in surrender until the barrel of the gun is in their mouths.
No nation is doomed to live under the thump of another forever.
Rhodesians cannot be liberated from their intransigence but we defeated them zvakadaro.
Recently I picked a flyer at a local hotel. It was advertising Leopard Rock Hotel in Vumba; in our eastern highlands, our paradise.
I could not believe what I saw on the flyer; 37 years after we defeated the British armed robbers, the political economy of Rhodesia was so brazenly depicted; on the golf course is a whiteman; in the Casino is a whiteman and woman; the only African on the flyer is a waitress — boldly telling the whole world 'kuLeopard Rock ndekwavarungu'.
However, no matter how much they covet it, it is on our land; it is ours, no matter how much they depict us servants, it will never be theirs.
The flyer actually says: 'There is nowhere more beautiful in Africa'. So, Africa is beautiful for Europeans, but not for the owners of Africa!
What racism!
It is the same old story; Africa for Europeans. It takes us back to the partition of Africa, takes us back to 1890, to the invasion of Zimbabwe by the British armed robbers. The song does not change, the predatory psyche of the whites does not change.
When you have a business in Africa you serve Africans first and everyone else last. You cannot establish a business on African soil to serve foreigners; it is not correct, it is not our position, that is why we had to liberate the country.
Kwenyu munoita zvekwenyu, muno tinoita zvomuno, kana kuti modzokera kwenyu kwamakatiza zhara.
Go to Arundel Village where a little white old woman at Veldermeers lectures you that the boxes and the ribbons for her chocolates come from Belgium. At first you would think she is insane until you begin to pick some racism in the ranting.
The white psyche is like that, nothing has changed from the days of King Leopold; they come to your land and decide they are superior when in fact they have run away from hunger and starvation in their homelands!
Or have you been to a restaurant behind the shops at the same Village, where they tell you it is closed and when you ask what time it closes they tell you 2pm and when you tell them it is 10 to two, they say: 'Oh, sorry, you can come in!'
You get in, the restaurant is full of whites and the only Africans there are the waiters, then it hits you: 'Oh my God, another Rhodesian island!'
Rhodesia never went anywhere, it is lurking everywhere.
It is gloves off all-round for 2018.