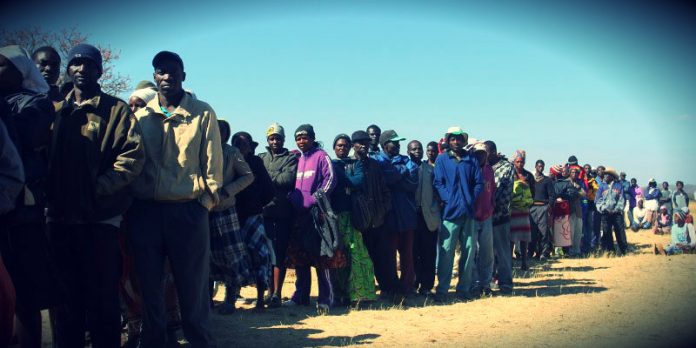 DRAPED in a yellow Party jacket, ED, as President Emmerson Dambudzo Mnangagwa is affectionately referred to, slowly drifted away from the dais, stood right at the front of the stage, marvelling at the monster crowd gathered outside Rudhaka Stadium and peformed his arm flapping trademark dance.
He had to!
This was so, especially in the context of Monday's elections in which ZANU PF is widely expected to garner a commanding lead in the polls.
A survey conducted by this publication over the past two months shows that ED will garner at least 58 percent of the vote in the Presidential elections while a minimum of 140 seats in the 210 member House of Assembly polls will go to ZANU PF.
The crowds that have been attending ZANU PF rallies have also been telling.
As was the case in the July 31 2013 harmonised elections, the crowds have been the clearest indicator of how the polls will pan out.
Faced with defeat, the stuttering MDC Alliance has gone into overdrive accusing the electoral mother board, the Zimbabwe Electoral Commission (ZEC), of trying to steal the election in favour of ZANU PF.
They are yet to provide evidence of their spurious allegations against ZEC.
The out of sorts Alliance has been trying to save face by inciting their supporters to rally against ZEC, hiding behind the unproven rigging claims.
But information gathered this week by The Patriot from sources in the so-called MDC Alliance shows that panic over the impending defeat is rife within the supposed 'coalition', hence the futile attempt to cast aspersion over Monday's polls.
The sources said Nelson Chamisa, the leader of the MDC Alliance had conceded defeat to ED and ZANU PF in his private briefings with his Alliance partners but had vowed to muddy the whole electoral process.
They said there were serious disagreements over the route that Chamisa has taken.
Chamisa has been attacking the integrity of ZEC, saying the commission is working hand-in-glove with ZANU PF to 'rig' the elections.
Again he has yet to prove those allegations.
Sources within Government told this publication that Chamisa has been trying to court President Mnangagwa over a possible post-election Government of National Unity (GNU).
The sources said Chamisa was dreading life outside both Parliament and Government if he loses the elections as widely expected.
By contesting in the presidential election, it means that Chamisa's only stake in the country's politics will be leader of the MDC-Alliance, a tricky proposition given that he does not have a political party since the 'Alliance' is made up of seven political parties.
The MDC Alliance might choose to revert to their parties after July 30 2018.
"On the one hand, you have a young Chamisa who is claiming that ZANU PF wants to rig this election while on the other, and behind the scenes, he wants a private meeting with a President Mnangagwa who he is accusing of rigging. How does that work?" said the source.
"We have said if Chamisa is serious about dialogue, he should first stop making those dangerous public utterances and respect authorities. In any case, there are several political parties contesting in this election, so why should he be the one to be given priority?
"Secondly, you will have to ask yourself why he is not making serious effort with ZEC in so far as putting his demands is concerned that is, if he has any issues against them at all.
"You will also find that there is serious concern on his part when it comes to political life, his political life, that is.
"It has been extinguished and he knows that he will have to contend with a permanent season of cold weather and as such, he is trying to extricate himself from that impending disaster by waving the GNU card.
"That will be for the new Government to decide and determine."
Back to ED and his campaign.
The most compelling issue about this election is how the economy has taken centre stage where ZANU PF is concerned.
Previous campaigns by the ruling Party have been marred by coarse politics.
They have been characterised by relentless attacks on this or that person and this or that country without any real economic tangibles being offered to the electorate.
This is precisely what ED and his new administration have brought to the country's politics.
Under their seven month tutelage, Zimbabweans have been imbued with politics of tolerance, peace and unity.
This is what the people of Zimbabwe will be voting for in the polls.
Come Monday, Zimbabwe will have a new leader and that leader will be the one to carry the hopes of the nation going forward.