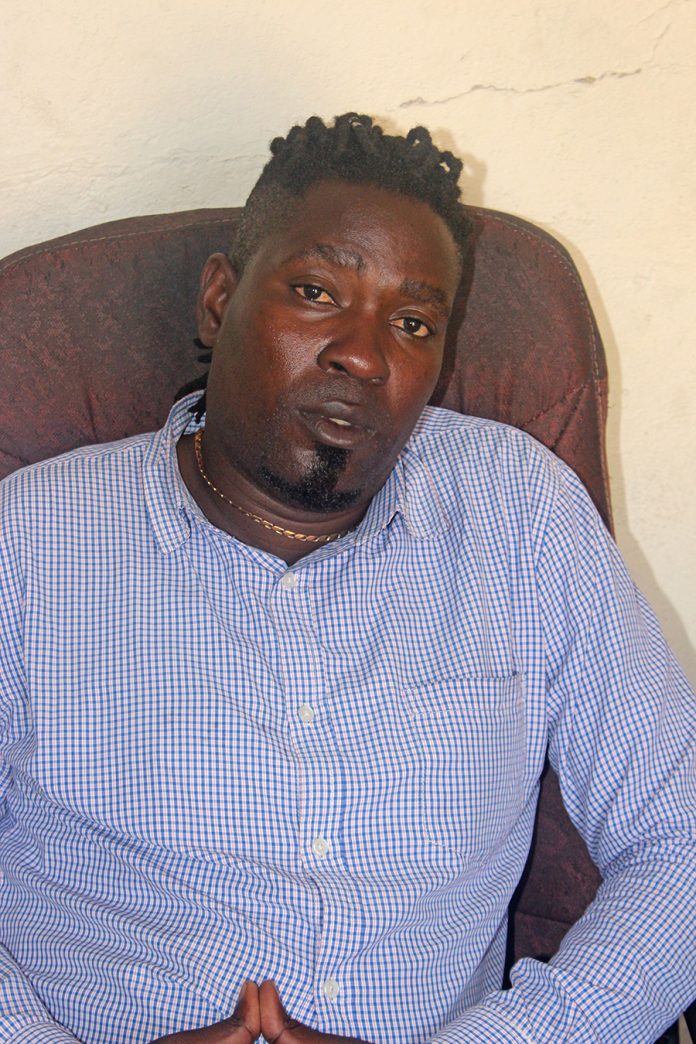 By Fidelis Manyange
ADMIRE SANYANGA SIBANDA, aka 'Chief Hwenje Shumba', is the artiste behind the songs 'ED Pfee', 'Chigaba Cheuchi' and other songs which dominated President Emmerson Mnangagwa's campaign trail.
The tall dreadlocked musician, who hails from Mapanzure in Zvishavane, happens to be the President's nephew.
He has been writing songs in appreciation of his uncle's works since early last year when ED was still the Vice-President of the country.
In his album Hwenje Tirimusango, he sang about the lineage of the Mnangagwa family from Mapanzure in the song 'Ishumba Iyoyo'.
The song emphasises that the totem of the President is 'Shumba' (lion) not 'Garwe' (crocodile) as is widely believed.
Chief Hwenje Shumba started his music career in 2011 as a gospel artiste as evidenced by his two albums Munamato and Danaishe but later, in 2014, shifted to Afro-traditional music and jit which he calls 'Hwenje Music'.
The song 'ED Pfee''s popularity has not spared him from the wrath of MDC Alliance supporters who are still to come to terms with their electoral defeat to ZANU PF.
"Wherever I go, if opposition supporters recognise me, they throw obscenities at me, while others have even attempted to harm me," he said.
Chief Hwenje Shumba said he even temporarily relocated to Mozambique fearing for his life after the results of the recently held general elections were announced as death threats mounted.
No doubt his songs have dominated most growth points in the country.
They were, and still are, also being used for President Mnangagwa's television advertisements.
Some of the songs include 'Chigaba Cheuchi', 'Mnangagwa', 'Shumba Yasvika', 'Gamba Ngaritonge' and 'Total Package'.
From his lyrical content, one can tell Chief Hwenje Shumba is a great composer destined for greater heights.
His lyrics and the way he sings reminds many people of the late ZANU PF National Political Commissar Elliot Manyika of the 'Nora' fame.
Although some artistes were sitting on the fence as far as loyalty to ZANU PF is concerned, Chief Hwenje Shumba has been open about his allegiance to ZANU PF and President Mnangagwa.
Artistes such as Last Chiyangwa, aka Tambaoga, the late Cde Dick 'Chinx' Chingaira and the late Andy 'Muzukuru' Brown never hid their allegiance to the Party.
At the last ZANU PF campaign rally held at Mutare Aerodrome, Chief Hwenje Shumba charmed the crowd as well as senior Party members with his performance.
That is when the song 'ED Pfee' became popular.
"Besides intimidation from opposition supporters that I am currently facing, the company which used to market my music has kept its distance and even removed me from their WhatsApp group because, apparently, they think my music is bad for their industry (sic)."
Chief Hwenje Shumba said he funds all his recordings and errands but expressed hope that he will one day find sponsors .
Currently, he is rural-based and fronts an 11-member band, all who stay in Mapanzure.
Chief Hwenje Shumba has just finished a four-track album titled ED Pfee 3 meant for President Mnangagwa's inauguration.