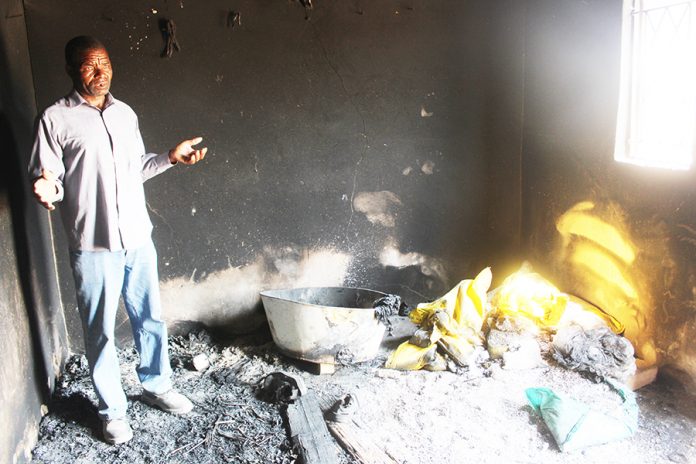 THE PATRIOT has been running a series of articles exposing NGOs' lies and exaggerations that have been manufactured, tabulated and parcelled to donors and the international community as 'truths' on the Zimbabwe situation.
Last week, we looked at Heal Zimbabwe Trust (HZT), an NGO publicly touted as a 'peace building group.'
It was, however, established that HZT was 'cooking' false incidences of politically motivated violence in Rusape.
This week, we take a closer look at Jestina Mukoko's Zimbabwe Peace Project (ZPP) and its latest Monthly Monitoring Report titled 'Picking up the pieces in the aftermath of the elections.'
The report, published last week for the period August 1 to 31 2018, highlighted that 107 victims of politically motivated violence were suffering in silence.
"The total number of violations in the period August 1 to August 31 was 231 from a reported 124 cases down from the 266 recorded from 151 cases in July in the run-up to the elections (sic)," reads the ZPP report.
According to the report, Harare recorded the highest number of violations at 54, followed by Mashonaland Central with 38.
"A high number of violations were also reported in Manicaland (27) and Mashonaland East (29) and West (22)."
ZPP recorded cases of gross human rights violations during the month of August that surpass any other month in the run-up to the elections."
The period also witnessed the escalation of reports of reprisals against political opponents.
The period was also characterised by displacements in both urban and rural areas as political persecution targeting opposition supporters triggered their fleeing their homes."
One such 'human rights violation' given prominence in the ZPP report is that of David Chamanga of Chihwayi Village in Mutoko South, Ward 17.
Mukoko and company must surely know about Chamanga.
Chamanga made headlines last month when he allegedly claimed ZANU PF supporters had burnt down two of his three houses.
Chamanga's story was on the front pages of NewsDay, The Standard and Daily News, among other independent newspapers and social media platforms.
The story became the 'pith of ZANU PF brutality'.
Chamanga claimed to have lost US$150, goods worth US$4 600 and personal documents on August 7 2018, around 8pm, after his houses were allegedly torched by ZANU PF supporters.
However, its vital to note Chamanga is no stranger to controversy, something Mukoko and crew must be aware of.
Information gathered by The Patriot after visiting Mutoko this week showed that the Chamanga family has a well-known history of outbreaks of fire at their homestead since 2013.
In an interview, Headman Shadreck Chihwayi said the recent incident is the second time Chamanga's house has been destroyed by fire.
Headman Chihwayi said as traditional leaders, they were concerned about Chamanga whose house is always on fire.
"If the fire was genuine, how come Chamanga removed the hut's roof a day before the homestead caught fire," said Headman Chihwayi.
"Whats worrying is that I only got to hear about the fire from villagers.
"Chamanga never bothered to come and tell me about his 'tragedy', yet, traditionally, I should have been one of the first to be notified.
"We have not seen him for over a month now."
Other villagers who spoke to The Patriot said they were baffled by the swift arrival of NGOs the following morning after the fire.
Chamanga's neighbour, Forbes Karonga, thinks the infernos are a strategy by his neighbour to get funding from NGOs.
"In 2013, when his house burned down, he received a bicycle, zinc roofing sheets and some goodies from some NGOs," Karonga said.
"This time, since the incident on August 7, we hear Chamanga and his family are housed at some NGO offices in Harare."
Apparently, Chamanga seems to enjoy 'good relations' with NGOs as he leased his garden to UNDP and its partners, Swedish International, UN Women and International Labour Organisation (ILO).
The organisations set up an irrigation system consisting a 12-panel solar system, 5 000-litre tank, a water pump and 18 taps at Chamanga's homestead.
Chamanga is employed as the security guard at the project site.
Karonga dismissed claims the inferno was politically motivated as peace prevailed across the Ward during and after the recent harmonised elections.
"Why his house only and always?" questioned Karonga.
"In 2013, it is reported he took almost all his belongings to his brother's house before his houses were 'petrol bombed' by ZANU PF supporters.
"It only came to light he was lying when Chamanga had a misunderstanding with his brother who then bared it all at a beerhall."
No doubt fellow villagers suspect Chamanga to have set his own houses on fire.
Another neighbour, Albert Karonga, queried why Chamanga's house always catches fire when his family is not around.
"In 2013, when the fire occurred, he had sent away his wife and children to Chimombe Village to pay their condolences, a month after a funeral," said Albert.
"And this time, they were at a night vigil.
"Is it by coincidence?"
Karonga described Chamanga as an ambitious man whose love of money has taken him this far.
"Based on his past shenanigans, Chamanga can do anything for money," he said.
"Vanozviita mudealer-dealer and he has gone to extremes for the love of money.
"Perhaps what's left is for Chamanga to kill his wife and children and blame it all on ZANU PF."
Coincidentally, The Patriot caught up with Chamanga as he returned from his five-week stay at Heal Zimbabwe Trust (HZT)'s so called 'safe houses' in Harare.
Surprisingly, he did not have kind words for HZT.
"HZT housed me and my family for over five weeks at a Hatfield 'safe-house', but the only help I got was food, clothes and a few dollars," fumed Chamanga.
"How am I going to rebuild my house?
"There were many of us at the safe-house and the first batch were given groceries, but as for us, we were told they had run out of funds.
"Imagine I lost two-fold because HZT had told Counseling Services Unit (CSU) (where we stayed for the first two weeks) that they would help us but they did not.
"When I went back to CSU, they told me they had already removed my name from the help-list since they assumed I had received help from HZT."
Chamanga alleges he is being tormented in the village because he supports MDC-T.
Narrating what happened on the 'fateful' night, Chamanga said: "On August 7 2018, I left home around 6pm for the night vigil at Johane Masowe church.
"At around 12 midnight, a nephew from Nhunzwi came with the news that my house was on fire.
"I had to rush back home immediately, but was only able to salvage a few items.
"I heard the fire started at around 8pm.
"I lost property worth US$4 600 in the fire which includes sofas, a wardrobe, bed, kitchen unit and chairs, US$150, clothes and documents."
However, a look around one of the houses revealed slightly-burnt bags of fertiliser, a partly burnt reed mat and a half-burnt calendar as all that was in the single room.
In another hut, a rondavel, one could see three charred wheelbarrows, metal plates, pots and garden tools.
Villagers, however, confirmed Chamanga did not have any sofas, wardrobe, bed nor kitchen unit and chairs.
"That reed mat was his bed," said Headman Chihwayi.
"The debris strewn in that room is exactly what was there.
"If he had a bed, would you not have seen springs lying around?"
The Patriot gathered there were inconsistencies on Chamanga's time of arrival at the vigil.
Madzimai Maria Chihwayi said Chamanga arrived for the night vigil around 9pm.
"He arrived after our second prayer meeting, after 9pm," said Chihwayi.
"To be honest, no one can testify if it's politically motivated because two of his suspects are his cousin brothers."
After being cornered, Chamanga disclosed that when he left home, he did not go straight for the vigil.
"I left home around past-6pm and went to a homestead in Chimombe Village to listen to Studio 7 news and soon after the news, I left for the vigil," said Chamanga.
Batsirai Nyamucheta, who attends the same church, said there was no reason anyone would want to harm Chamanga.
"I doubt if anyone in ZANU PF would want to harm Chamanga," said Nyamucheta.
"This fire does not look genuine to me."
No doubt Chamanga's story is strikingly similar to that of Shepherd Maisiri of Headlands, whose house was allegedly razed down five times, and every time, ZANU PF was to blame.
In 2013, The Patriot exclusively revealed that Maisiri, a little known MDC-T member, had used his mentally disturbed son (Christpowers)'s death to gain political and financial gain.
Following the death of his son Christpowers in the inferno, Maisiri received a brand new bicycle from MDC-T stalwart Eddie Cross to replace the one that had been burnt.
He was also given an undisclosed amount of cash by the MDC-T that other villagers referred to as 'mathousands' such that he was already in the process of building a much better house.
The same villagers told The Patriot they suspected Maisiri to have started the fire.
In a few days, he had become one of the richest villagers in the area.
But back to Mutoko.
Chamanga's ordeal is one of the 29 so-called violations in Mashonaland East highlighted in the ZPP report.
Are the other 28 cases genuine?
What about the other 230 incidences across the country?
Is ZPP thriving on unfounded allegations of violence, as they tabularise these, inflate figures and pass them as factual to their donors.
Founded in 2000, ZPP is a coalition of NGOs, namely; Evangelical Fellowship of Zimbabwe (EFZ), Zimbabwe Council of Churches (ZCC), Catholic Commission for Justice and Peace in Zimbabwe (CCJPZ), Counseling Services Unit (CSU), Zimbabwe Human Rights Association (ZimRights), Civic Education Network Trust (CIVNET), Habbakuk Trust, Zimbabwe Lawyers for Human Rights (ZLHR) and Women's Coalition of Zimbabwe (WCoZ).
The coalition is led by Jestina Mukoko.
Its board members include Roselyn Hanzi (chairperson), Okay Machisa (vice-chairperson), Dumisani Nkomo (treasurer), Kudzai Midzi, Zachariah Godi, Violet Magodo and Tarcis Zimbiti.
Who is Jestina Mukoko?
Jestina Mukoko is a journalist by training and a former newsreader with the Zimbabwe Broadcasting Corporation (ZBC).
Mukoko made the headlines in 2008 when she was imprisoned for allegedly recruiting a militia to topple the Government.
Thereafter, she became the darling of the West.
Mukoko was named the 2009 Laureate of the City of Weimar (Germany) Human Rights Prize and a 2010 recipient of the US Secretary of State's International Women of Courage Award.
In 2009, she was awarded the National Association of Non-governmental Organisations (NANGO) Peace Award.
She was also selected and served as the 2010 fellow with the Oak Institute for the Study of International Human Rights at Colby College in the US.
In 2011, Mukoko received the French National Order of the Legion of Honour award.
Under the umbrella of the German Parliament's godparenthood programme for human rights activists, German politician Marina Schuster has been raising awareness for Mukoko's work.
Mukoko holds a Bachelor of Science Degree in Politics and Administration from the University of Zimbabwe.
In 2012, she joined other mid-career professionals as a Draper Hills Summer Fellow on Democracy and Development Programme at Stanford University in California, US.
Mukoko serves on several regime change organisation's boards disguised as NGOs, including the Zimbabwe Election Support Network (ZESN), the Zimbabwe Human Rights NGO Forum, and the Institute for a Democratic Alternative for Zimbabwe.
ZESN is funded by the US Congress and the US Department of State through the National Endowment for democracy (NED) and USAID, whereas ZimRights is funded by USAID, Ford Foundation, DANIDA, HIVOS and the Konrad Adenuer Foundation, among others.
In 2005, ZPP was part of the 30 NGOs fingered over alleged misuse of US$87 million from international donors.
In 2014, it was again alleged to be involved in the abuse of US$850 million meant for the NGO sector.
It's important to note that ZPP also receives support from Trocaire, a sister organisation of Caritas.
Last month, Mukoko visited Ireland in order to 'raise awareness about the situation of human rights (violations) in Zimbabwe' at Trócaire seminar on Women's Leadership at the World Meeting of Families.
Could it be Mukoko cannot resist the habit of manufacturing human rights violations she claims to defend?
Chamanga's case, as unravelled by The Patriot, must ring a bell.
Is there any difference between Chamanga and Mukoko?
Chamanga fabricates lies in order to get funds from NGOs which is why he was fuming when he didn't get what he expected at HZT's so-called safe house in Hatfield and from CSU.
Mukoko on the other hand, releases a damning false report about her country in order to lure donors to release millions, which they are reluctant to do nowadays.
Yes, it may be a case of people singing for their supper, but Mukoko and crew must always remember that quislings always end up wretched.