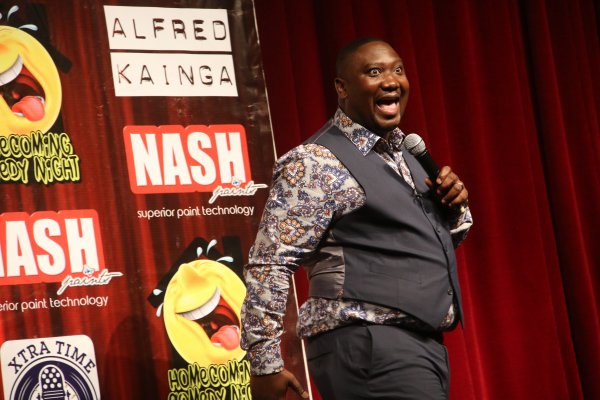 ALFRED KAINGA, a US-based stand-up comedian, is expected to hold a show in his home country on December 14 2018.
Earlier this year, Kainga announced his tour dubbed 'World Tour' and Harare is part of the tour.
With less than a month to the show, there is no communication from the promoters responsible for organising the event.
There are no press releases or any information about the venue and other supporting local comedians to grace the event.
Patriot Arts caught up with Kainga to inquire about the show and he said there was no information to share.
"Well, honestly, there is no information to share right now," said Kainga.
"Promoters are still frantically trying to get things in order for the Zimbabwean show, so many issues are affecting the show right now."
Kainga, who has shown much enthusiasm to perform at home, could not reveal the names of the promoters he is working with for the show.
"I cannot disclose that yet. We are still working on putting the show together," said Kainga.
Despite the challenges, Kainga also revealed that he is continuously working with the promoters to ensure that a show is held in his home country.
"I'm definitely coming to Zimbabwe and the whole idea is to come for a show.
"I have shows in Cape Town, Johannesburg and Kenya, but right now Zimbabwe is shaky.
"I have performed in more than 10 countries in the last five months, all went smooth but the Zim show is proving hard to get done, which is disappointing to me because I love to perform home (sic)," said Kainga.
Currently, Kainga is holding shows in Cape Town and Johannesburg, South Africa.
Since the beginning of his 'World tour', Kainga has held successful shows and performances in various countries that include Nigeria, Uganda, Dubai and Jamaica.
Kainga held his maiden show in Harare last year after being away from home for 15 years.
The show, which was a sold out, left many revellers begging for more while others were asking for another show.
Kainga was born in Murehwa and grew up in Mbare before relocating to the US.
Through social media, Kainga has also managed to connect with his fans back home by posting clips of his antics that sometimes tackle social issues affecting people back home.
As a comedian, he has managed to use stand-up comedy as an opportunity to have a positive impact on an audience's understanding and misconception about major social issues.
He is also a product of Prince Edward School's arts and culture unit.
His presence in the comedy industry was popularised when he started to work with renowned American comedian Kevin Hart.
Since then, Kainga is making waves in the comedy industry across the globe.
He has shared the stage with a number of comic gurus like Eddie Griffin and Tony Roberts, among others.
Appreciative about him is that he is not only raising the Zimbabwean flag high, but is also celebrating his roots by incorporating some local artistry in his comedy.
In his recent shows, Kainga has been spicing his performance by incorporating Zim-dancehall musician Jah Signal's song 'Yekedero' in his comedy.
As a stand-up comedian, his tour has seen him performing and sharing the same satge with Africa's renowned and upcoming comedians who include Nigerian's Bright Okpocha, professionally known as Basketmouth, Arthur Nkusi from Rwanda and DRC's Eddie Kadi, among others.
His capabilities thus make him the voice of both Africa and the US.
He has worked on major stages and elite comedy clubs across the US, World Famous Laugh Factory in Los Angeles and many others.
Stand-up comedy is becoming one of the most popular arts genre in Africa.
It has witnessed the rise of many comedians who do not only bring laughter or entertainment in society, but can tackle societal issues.
Through comedy, comedians can ridicule and mock human folly by bringing to fore issues that many could not easily talk about or question.
Zimbabwe is also showing strides in the development of comedy with local comedians becoming popular in and outside the country.
Some of the comedians in Zimbabwe include Carl Joshua Ncube, Doc Vikela, Long John and Samantha Kureya, better known as Gonyeti.