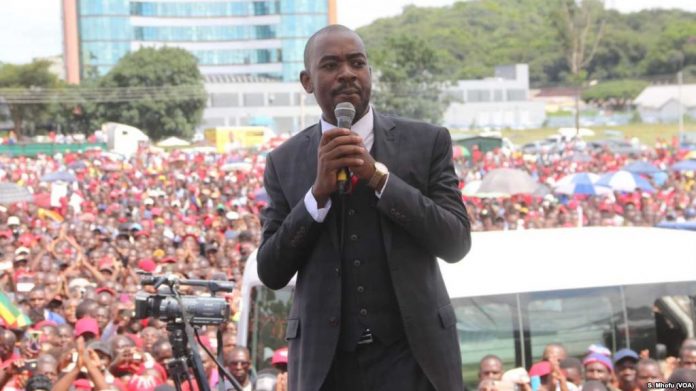 ON Tuesday, May 1 2018, Zimbabwe and the US were brought under the spotlight by two men who are of the same age, same mentality but woefully out of touch with their history. The issues binding them were not surprising but perplexing.
Nelson Chamisa and musician Kanye West might be living in worlds apart but there is something crudely bizarre that binds them together.
Both 'gentlemen' are 40 years old.
They have an uncanny ability to play to the gallery.
They do it with aplomb too.
And they have resentment of their history.
I will explain later.
So, on Tuesday, they both had a chance at the microphone and the results of their reckless utterances are what I am about to unravel here.
Let us begin with our own Chamisa.
He is a young man full of energy and trying to get his hands on the levers of state power. Nothing wrong with that because we are a democratic nation.
Again, nothing wrong with him choosing to see things the other way.
He is still learning the ropes and soon reality will dawn on him.
The problem with Chamisa is that he is overzealous, even for the voters' liking, I suspect. Results of the 2018 harmonised elections will confirm what this writer is saying.
It is a lazy Tuesday afternoon and everyone is quietly going about their business.
Many people are now self-employed and have no time to waste as they eke out a living. Chamisa has been invited by the Zimbabwe Congress of Trade Unions (ZCTU) to address workers at Dzivarasekwa Grounds in the capital.
Chamisa claims that the Chinese are 'involved in shady deals with the Emmerson Mnangagwa administration'.
Chamisa says most of the deals Mnangagwa agreed with Chinese companies were about corruption, looting and stripping the country's assets.
"I have seen the deals that Ngwena (President Mnangagwa's (nickname) has entered into with China and others, they are busy asset-stripping the resources of the country," said Chamisa.
"I have said beginning September, when I assume office, I will call the Chinese and tell them the deals they signed are unacceptable and they should return to their country."
We all know what the Chinese are doing in the country.
We are very much aware that they are engaging in serious deals that are aimed at bringing much needed development to boost our economy.
Across the Atlantic Ocean, we have Kanye West taking to the microphone that same day.
But before we allow him to speak, let us take a very important quotation from Harriet Jacobs' famous 1861 novel Incidents in the Life of a Slave Girl 
"Pity me, and pardon me, O virtuous reader! You never knew what it is to be a slave; to be entirely unprotected by law or custom; to have the laws reduce you to the condition of a chattel, entirely subject to the will of another."
Kanye West is speaking with TMZ radio host Charlamagne Tha.
He says:
"When you hear about slavery for 400 years … For 400 years? That sounds like a choice."
The rapper goes on:
"You were there for 400 years and it's all of y'all. It's like we're mentally imprisoned."
Ok, and then what?
An infuriated TMZ employee, Van Lathan, takes him to task for it.
"While you are making music and being an artiste and living the life that you've earned by being a genius, the rest of us in society have to deal with these threats to our lives," Lathan says.
"We have to deal with the marginalisation that's come from the 400 years of slavery that you said for our people was a choice."
Lathan is not done yet.
He is angry.
"Frankly, I'm disappointed, I'm appalled, and brother, I am unbelievably hurt by the fact that you have morphed into something to me, that's not real."
Lathan is not the only one.
Detroit radio station 105.1 The Morning Bounce says it has had enough of West.
The Morning Bounce's hosts, Shay Shay and BiGG, have since announced they will no longer play the rapper's songs.
"We are over it. We don't want to hear Kanye's music, we don't want to play Kanye on our show, we don't want to talk about Kanye anymore," they said.
"So we are taking a stand and we aren't playing his music anymore; we just are refusing to give him a platform."
What is not surprising, as I have said before, is how these two 'men' have morbid hatred of their history.
West forgets there was no negotiation when whites stole our people and shipped them to work on their farms as slaves.
Africans fought this with all their might.
How then does this become a choice?
Has West forgotten that the same America which he is bragging about was built on the sweat, blood and suffering of our people?
What was there in America to marvel at that would entice our people to go there and become slaves?
Those 400 years were crucial in that they negated our economic growth and development which was founded on the basis of our solid foundations of civilisations.
We were headed for economic growth which was cut short by slavery and colonialism.
As for Chamisa, how he forgets the role the Chinese played in our attainment of independence is a mystery that will surely implode during elections.
We shall talk more about Chamisa as we march towards the elections.
Let those with ears listen.