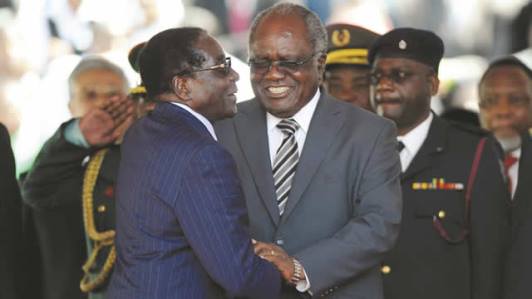 recently in Namibia
THE singing, dance and pomp at the Hosea Kutako International Airport in Namibia that welcomed the African Union and SADC Chairperson President Robert Mugabe was just a tip of the fun and excitement that would follow as Namibia affectionately known as the Land of the Brave waited eagerly for a double fold celebration.
Namibia was celebrating the inauguration of the new President Hage Geingob and their independence's silver jubilee anniversary.
Prior to the inauguration a farewell dinner for outgoing President Hifikepunye Pohamba was held and several heads of state and former heads were in attendance.
Former ,Zambian President Kenneth Kaunda (KK) stole the show as he showed off his dancing skills and danced to the 'golden oldies' that only those from his generation were aware of , oblivious of the fact that he did not have his walking stick.
A spirit of brotherhood and unity engulfed the people that were in attendance and President Robert Mugabe who also lit the mood as he gave his enlightening but humorous speech.
"We take pride in the democratic values that your country is exhibiting in the smooth handover of power, it's as if power is moving from brother to brother, and I am sure the ladies will soon also say, from brother to sister.
"That will come give us the men some chance, we still must clear the way for you ladies, and we haven't forgotten you.
"You are our better side, Rev Lupepe was asking if my wife is my better side.
"If it's not a better side you can call it the worst side, but it's that side which sustains the better side and the better side cannot do without the other side, and the other side cannot do without the better side and that is the entity,"said President Mugabe amidst cheers ,clapping and laughter from the obviously aroused guests.
He also wished Pohamba a peaceful rest and reminded him to continue guiding the nation with his wisdom.
The 20 000 capacity Independence stadium was packed and different groups provided entertainment as people awaited the arrival of several dignitaries.
Bare breasted Himba women, dressed in the cultural attire took to the stage together with men from the same tribe.
The Himba are among some of the minority groups of Namibia and are believed to have emigrated from Angola and Botswana a long time ago.
It was a spectacle to foreign dignitaries.
Many former Heads of State came and songs from their respective countries and liberation movements were played. It was a journey down memory lane.
Angolan President, Dos Antos who hardly attends these functions surprisingly attended the inauguration. Jerry Rawlings, former President of Ghana, was in attendance.The man, a former air force pilot, is famous for allegedly using unorthodox methods to deal with corruption in his country when he was in office. It is claimed he took corrupt minister into the sky before dropping them into the sea.
Kenneth Kaunda was the first president of Zambia from 1964 to 1991 and he played a critical role in the independence of several countries in Southern Africa, Zimbabwe included.
Zimbabwean born former Zambian President Rupiayh Banda ,Tanzania's Benjamin Mkapa,Festus Mohae ,Thabo Mbeki,Marhti Artissari of Finland are among others who also joined in the celebrations .
It was an emotional send off when Pohamba made his last wave in a stylish motorcade with the crowd cheering 'Hifikepunye Pohamba'.
He then inspected the guard of honour and proceeded to the podium and made his valedictory message where he expressed gratitude to the people of Namibia for their support and urged them to support , Hage Geingob the new President.
The new president, Hage Geingob made his maiden speech and said he would focus on poverty eradication, social inequalities, the economy and improved service delivery.
"People have high expectations. They want food, shelter and clothing. They want a leader to act quickly, thus the challenges must be met.
"People cannot eat a constitution or democracy and our first priority is to declare war on poverty and inequality.
Sam Nujoma and Hifikepunye Pohamba are part of Geingob's Presidential Council of Elders.
The 74-year-old Geingob is a two-time prime minister of Namibia .He served as prime minister in 1990 until 2002 and served as ruling party SWAPO Vice-President since November 2007,a position that saw him being nominated as the party's sole presidential candidate at the December 2012 elective congress.
Namibia has 10 ethnic groups which are the Ovambo who constitute 49,5 percent, the Kavango, Herero, Damara and Namibian whites among other tribes.
He is the first President to come from a minority tribe, Damara which constitutes 7 percent of Namibia's populace.
Pohamba and Nujoma were from the Ovambo tribe.
Its population is approximately 2,1 million and its Gross Domestic Product is 18,8 billion.
Namibia's land situation is similar to that of Zimbabwe before the land reform programme where 4 000 white commercial farmers own all the arable land and are reluctant to settle for the willing –buyer, willing seller, which failed in Zimbabwe and is also failing in South Africa.
Germany and Britain are expected to finance the programme.
Namibia is the driest country in the sub-Saharan Africa and depends largely on ground water. Its economy is closely linked to South Africa's because it was a colony of South Africa.
The largest economic sectors are mining, agriculture and tourism and the cost of living in Namibia is high because most of the goods including cereals are imported from S Africa.
2014 figures show that the unemployment rate is around 29 percent.
Namibia got its independence from South Africa on March 21 1990.