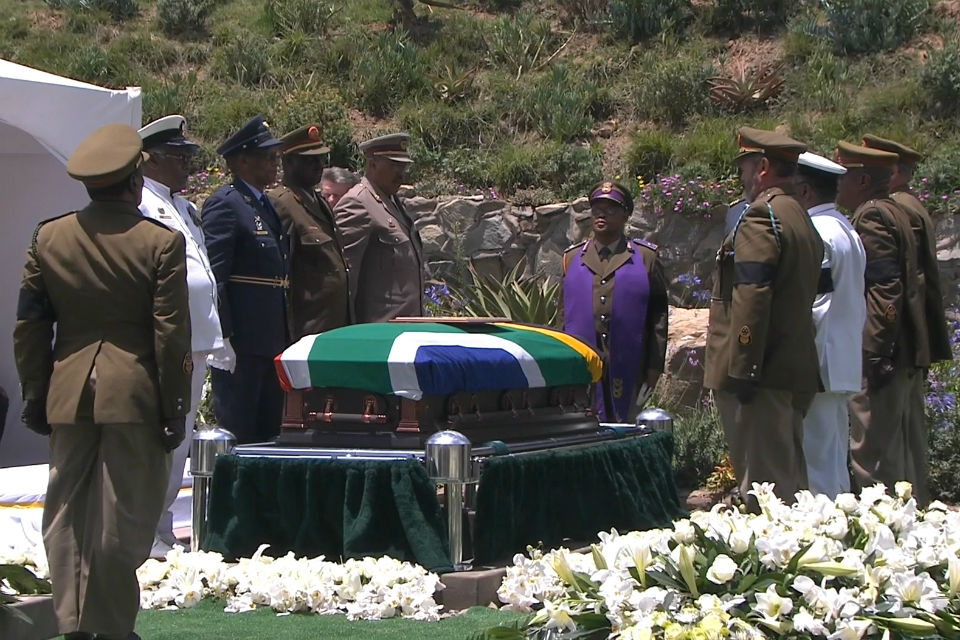 NELSON Mandela's funeral would have been a shame to the South Africans in general and ANC in particular if none of the founding fathers of independence had been given a chance to speak and pay their tribute to Mandela.
Last week I wrote about how I was disappointed by Obama's master-servant speech at Madiba's memorial service, which was more of political jargon that lacked substance.
After watching and listening to Kenneth Kaunda's speech at the burial ceremony of Nelson Mandela on Sunday, I now know the reasons why the ANC had not given any of the founding fathers of independence (President Mugabe, Kenneth Kaunda or Sam Mujoma) a platform to speak and pay tribute to a fellow founding father.
They did not want their VIP guests from the USA, Canada, Britain, Australia etc, to be humiliated when these fathers spoke the truth about Boers, white supremacy and crimes against humanity committed by the same people who were eulogising Mandela's heroism.
How I wish those VIPs were there when former Zambian President Kenneth Kaunda paid tribute to Nelson Mandela.
His tribute would have put them in their rightful place and not the high tables they gave themselves.
Kaunda called a spade a spade, and a Boer a Boer.
Referring to Mandela as the child of God who followed God's commandment of 'love thy neighbour as you would love yourself', former President Kaunda narrated his ordeal as he tried to have Mandela released from prison by the 'Boer party'; from Vorster to PW Botha and FW de Klerk.
Using examples from the Bible, he also reminded the mourners about how the Boers ill-treated black people and segregated them.
He said: "I had a chance to meet a number of my friends from the Boer company.
"The first one I met was Prime Minister Vorster on his train, white train, across Zambezi River.
"I was there for three days.
"I asked the prime minister to please release Nelson Mandela and his colleagues and come together in discussions.
"Three nights came to nothing.
"Then came another Boer leader, Botha – I think he was called Botha – same train but this time between South Africa and Botswana, to discuss the future of South Africa together.
"I didn't succeed and 12 hours came to nothing…"
Kaunda said it was FW de Klerk, who was only a secretary general of the 'Boer Party', who he found more accommodating.
After meeting him, he said "after a few hours, I called a press conference where I said: 'I think I can do business with this man'.
"Thank goodness he released this great man."
Unlike Obama's speech where the mood was sombre, Kaunda's speech was received with laughter from the mourners.
This is the truth which the whites want black people world over to forget.
These were some embarrassing moments for them.
He asked "How do I see him?
"This man (Mandela) is a blessed child of the Lord God Almighty.
"He followed the commandments that God gave to the humankind: love your neighbour as you love yourself.
"What are the Boers doing here?
"They found Black people here and began to say you are not God's children.
"Who are you to say we are not the children of God?"
To the Americans forgiveness and reconciliation means political domination of opponents and sidelining them.
They practise modern day apartheid with political rivalries.
Obama has been condemned by the republicans for shaking the Cuban President Raul Castro's hand at Mandela's memorial.
A US Senator John McCain said, "Why should you shake hands with somebody who's keeping Americans in prison?
"What's the point?"
Former President Kaunda says love thy neighbour as you would want him to love you.
In April 2005 Prince Charles shook hands with President Mugabe at the Pope's funeral, a handshake described as 'stupid' and 'not very sensible' by politicians in the UK.
For days the news headlines was dominated by the handshake some referred to as the gaffe handshake.
Mugabe's fault is that unlike Nelson Mandela the hero, Mugabe's economic and agricultural policies do not serve the interests of white people.
Yet in most African cultures, deaths bring people together and unite them.
So in as much as we may not have visible apartheid in practice in the world today, alienating and condemning other leaders is just as good as practising apartheid.
Mandela would not have wanted that.
I liked Kaunda's key note speech which summarised the suffering of black people under white supremacy.
But as if to water down Kaunda's speech, which humiliated the Boers, the controversial priest, more of a clown in his pink robe, condemns the ANC for limited use of Afrikaans at Mandela's funeral, and not including the Dutch Reformed Church at the ceremony.
He said: "We were amiss in not being as inclusive as Madiba would certainly have been.
"I apologise to our sisters and brothers in the Afrikaner Community."
For political correctness Desmond Tutu uses 'Afrikaner' where Kenneth Kaunda uses 'Boer', – the latter which carries some negative connotations.
Is it forgiveness or appeasement?
Black people have been taught to forgive.
The Bible has been used as a powerful tool to make colonisation and oppression much easier.
It says: "Take heed to yourselves: If thy brother trespass against thee, rebuke him; and if he repent, forgive him.  And if he trespass against thee seven times in a day, and seven times in a day turn again to thee, saying, I repent; thou shalt forgive him (Luke Chapter 17).
So that when white people oppress us, beat us or segregate us, we turn the other cheek and ask thy Father to forgive them.
We have been taught not to ask for more from our white masters: we are poor in this world, but shall be rich when we are dead!
Desmond Tutu should also have apologised to some African leaders who were also excluded at Mandela's memorial service.
Well done Kenneth Kaunda, a true hero and statesman of Africa.