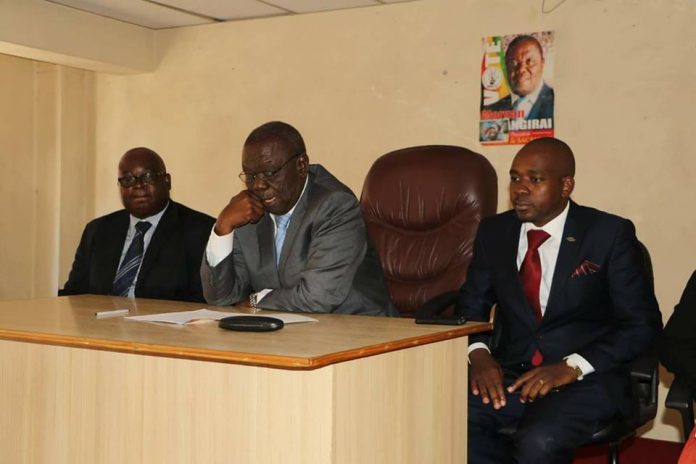 A COLLEAGUE remarked on Saturday that three things are certain when it comes to the MDC; lies, lies and more lies.
This was after a video where the MDC Alliance leader Nelson Chamisa was involved in a scuffle with what a 'reporter' in the background says are members of the 'ZANU PF Central Intelligence Organisation (CIO).'
These are 'CIOs', the MDC Alliance says have been 'trailing' Chamisa's convoy from Marondera where he had just held a poorly attended rally at Rudhaka Stadium.
They were now in Mabvuku and Chamisa's 'trailed' convoy stopped; the miffed opposition leader got out of his car and tussled with one of the purported 'CIOs' from one of the 'trailing' cars.
This is according to what is shown in the video.
But according to Jacob Mafume, the MDC Alliance spokesperson, the CIO officers tried to abduct Chamisa!
"We had an altercation with the CIO. They then blocked the convoy and tried to retrieve Chamisa from the presidential car," said Mafume.
"Our security managed to block them from taking him or part of his personnel.
"When they were blocked, they then took one of the guys in the security team who managed to jump out of the moving car."
Well!
Let us get into this supposed kidnapping attempt!
In the first instance, and as has been confirmed by MDC Alliance insiders, this was no more than an inside job gone awry.
It was supposed to be a proper 'kidnapping', one that was meant to garner sympathy from Chamisa's supporters who have been opposed to his idea of taking to the streets against the Government.
It was also meant to attract a few dollars from gullible donors who have tightened their purse since the dismantling of the then MDC-T in the July 31 2013 polls.
The donors are angry and have never really forgiven the MDC for abusing their funds since September 11 1999.
They have virtually abandoned the opposition party and have been courting the renewed ZANU PF whose reengagement drive under President Emmerson Mnangagwa has been gaining traction across the globe.
This is what has put the MDC Alliance in a fix, a position from which the signs of revival in the economy is not exactly what they desire.
We wrote about this last week in this column and we repeat what we said then:
"He wants to use his gullible supporters to pursue a personal agenda which he has been whispering behind the scenes that he finds attractive.
Despite the false and sometimes childish public bravado, we are aware that the youthful politician has been warming up to the idea of being installed as leader of the opposition in the House of Assembly.
What is lost on him is that ruling a country is no child's play.
Zimbabwe is forging ahead with, or without, his infantile sideshows.
What comes out clearly from those utterances is pervasive agitation towards direct provocation of the authorities in order for him to attract international attention.
His planned demonstration, which we know would be replete with violence, is an attempt to smuggle himself into Government.
Second, and linked to the first issue, is that the economic policies that Government is pursuing leave the opposition with no straw to clutch on.
A healthy economy like the one that is emerging from the austerity measures that have been introduced by Government recently inhibit the opposition's capacity to navigate through the political waters in the country.
We have said this time-and-again that the opposition in Zimbabwe thrives on the people's suffering.
That is all coming to an end as the rebuilding of the country gets underway."
And there is always this terrible link between the MDC and the Rhodesians.
It stubbornly refuses to exit our political arena, stinking as it is!
Consider this:
l The Pioneer Column hoisted the Union Jack on September 12 1890, and the MDC is formed on September 11 1999 by Chatham House, UK.
l Ian Smith declares what he calls Unilateral Declaration of Independence (UDI) on November 11 1965 and Chamisa claims abduction on November 10 2018.
We called this 'Chamisa's November lie' in our instalment last week.
He has been rallying his supporters to do what he says is a 'November' on the Government.
But that cannot be achieved through lies!
His childish antics and stage-managed abductions will only help strengthen the widely held view that there is now something terribly wrong in his head.
That is not our business.
It is obviously his.
What we find disturbing is his attempt to try and paint a picture of a pariah Zimbabwean state.
He wants to present an image where the security and safety of citizens is not guaranteed.
He wants a Zimbabwe that is under global spotlight for all the wrong reasons.
Tsvangirai did it, but it never worked.
And progressive minds of the world, and indeed of this country, will not allow that to happen.
Zimbabwe is on a new trajectory where the economy is now being restructured in order for it to benefit the majority.
Chamisa has been and will, like all Zimbabweans, benefit from the same economy he is trying to sabotage.
These antics will only serve to humiliate their author.
Let those with ears listen.