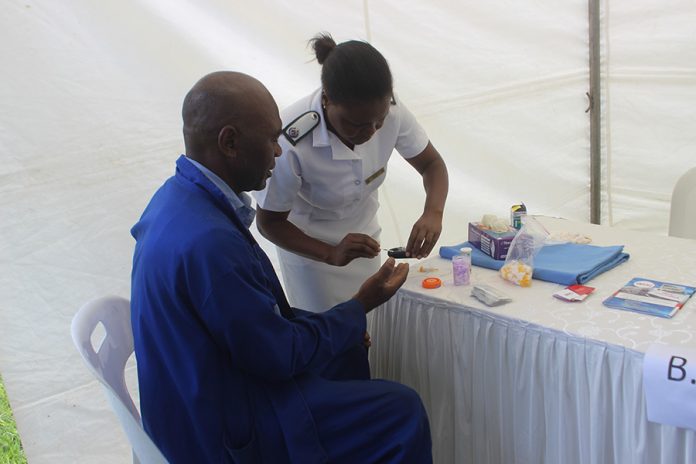 ZIMBABWE on December 1 2017 joins the rest of the world in celebrating World AIDS Day (WAD) at White City Stadium in Bulawayo.
The celebrations come at a time Africa, and Zimbabwe in particular, through the National Aids Council (NAC) are working round the clock on the revitalisation of HIV prevention so as to be able to end AIDS by 2030.
This year's celebrations are held under the theme: 'Closing the Tap of New HIV Infections'.
The event opened on the eve of WAD with a candlelight in memory of those who have succumbed to the pandemic.
The NAC, however, notes that new HIV infections are still being recorded and this is worrisome.
In a statement, NAC communications officer, Tadiwa Nyatanga said HIV prevention efforts must be reinvigorated if the world is to stay on track to end AIDS by 2030.
"It is against this background that Zimbabwe developed the theme 'Closing the Tap of New HIV Infections', calling for HIV prevention interventions to be strengthened in order to reduce number of new HIV infections," said Nyatanga.
She noted that there were a number of HIV prevention strategies used to close the tap of HIV new infections which include HIV testing services, Prevention of Mother to Child Transmission, (PMTCT) use of condoms, voluntary male circumcision, zero discrimination, and Pre- and post Exposure Prophylaxis.
HIV testing, said Nyatanga, is one of the key strategies in preventing and managing HIV.
"It is important for one to know his or her HIV status," she said.
"A person's HIV status will determine HIV services one can access to prevent and manage HIV.
"If one is negative; abstinence, condom use and being faithful to one partner is encouraged."
Nyatanga added that if one is HIV positive, the above is again important, and initiation of antiretroviral is done for that person to have a healthy positive.
She said consistent and correct use of condoms was highly effective in preventing transmission of HIV and other Sexually Transmitted Infections (STIs).
Interestingly, Nyatanga notes that besides preventing unwanted pregnancy, condoms can provide protection against other diseases such as the Zika virus and Ebola.
Pregnant mothers are urged to get tested to prevent mother-to-child transmission of HIV which is the most common way that babies become infected.
"Mother-to-child transmission of HIV can now be prevented through the Option B Plus programme where HIV positive pregnant mothers are given life-long antiretroviral treatment regardless of their CD4 count," said Nyatanga.
Coincidentally, World AIDS Day celebrations take place as the world celebrates 16 Days of Activism against Gender-Based Violence.
Violence increases the risk of HIV infection in women and girls as a result of physiological and psychological reasons.
Uninfected women are about twice as likely to contract HIV from infected men.
Biologically, women are more vulnerable to infection and forced sex further increases the risk of HIV transmission to women due to tears and lacerations, especially in adolescent girls.
Women fearing violence are less able to protect themselves from infection and they do not have the power to negotiate for safe sex or to refuse unwanted sex, they do not get tested for HIV and fail to seek treatment after infection.
It is against this background that social behaviour among people is a key strategy in HIV prevention
It encourages uptake of HIV and AIDS services and discourages risky sexual behaviours such as multiple concurrent sexual partners, incorrect and inconsistent condom use, cross generational relations, gender imbalances, early sexual debut, low risk perception and low uptake of voluntary medical male circumcision.
WAD has become the most recognised health day internationally.
The day offers the key opportunity to health organisations to increase awareness among people, possible access to the treatment, as well as discussing preventive measures.
The Zimbabwean Government collects an AIDS Levy, which is made up of three percent payee and corporate tax which contributes considerably to the domestic share of funding for the national HIV response.
Eighty-six percent of HIV funding in Zimbabwe still comes from international sources, according to the UNAIDS 2016 Report.
Zimbabwe has the sixth highest HIV prevalence in sub-Saharan Africa at 13,5 percent, with 1,3 million people living with HIV in 2016.
New infections dropped from 79 000 in 2010 to 40 000 in 2016, with behaviour change communication, high treatment coverage and prevention of mother-to-child transmission services thought to be responsible for this decline.
Deaths from AIDS-related illnesses continue to fall, from 61 000 in 2013 to 30 000 in 2016.
More than half of all sex workers in Zimbabwe are living with HIV with a last recorded prevalence of 57,1 percent in 2016.
There was debate in Parliament in 2015 on whether school children should be given condoms so as to promote safe sex and unwanted pregnancies. Many people refused, citing that promoting condoms to young people would encourage them to have sex at an early age.
More than half of adult respondents in the 2010/2011 Demographic and Health Survey felt it inappropriate to give young people aged 12-to-14 about condoms.
In terms of antiretroviral treatment (ART), Zimbabwe is part of the group of sub-Saharan African countries with better access to ART at more than 61 percent for adults.
In fact, five percent of all people worldwide who began ART since 2010 were in Zimbabwe, showing that efforts to increase access are improving.
Meanwhile, Zimbabwe is currently implementing ongoing demonstration and research projects to investigate the uptake and impact of pre-exposure prophylaxis (PrEP).
PrEP uses antiretroviral drugs to protect HIV-negative people from HIV before potential exposure to the virus.
In Zimbabwe, this has been specifically targeted at young women and girls among whom HIV prevalence is high.