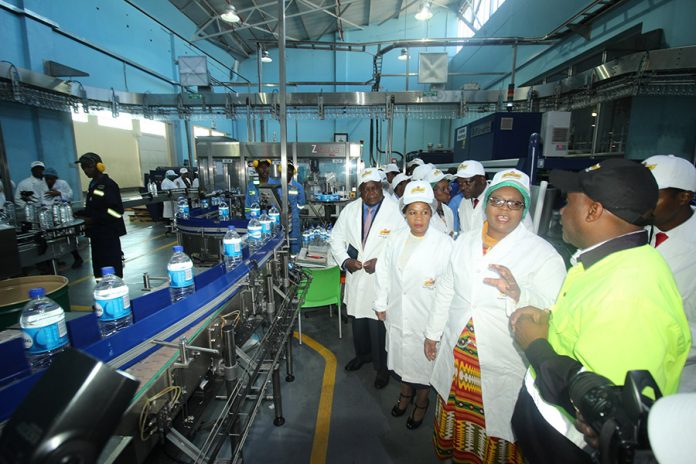 LABOUR inspections are not a tool for enforcement but an integral part of the productivity cycle in any enterprise, said a Government official.
Speaking at a labour inspection report presentation in Harare at a Schweppes Zimbabwe plant recently , the Minister of State for Provincial Affairs in Harare Metropolitan Province, Miriam Chikukwa, said constructive advice, expert assistance and feedback would catapult Schweppes Zimbabwe to a higher level in terms of industrial relations.
"Enforcement of fair labour standards at the workplace is a mechanism designed to increase an entity's productivity and efficiency," said Minister Chikukwa.
Labour inspection is a key element of any labour administration to promote the implementation of labour policies, providing feedback and allowing for a readjustment of policies.
As part of President Emmerson Mnangagwa's second phase of the 100 days, the Ministry of Labour and Social Welfare has been conducting routine labour audits, inspecting working conditions of employees and safety, among others.
Improving labour inspection and labour law compliance has been a top priority for the new dispensation.
Minister Chikukwa said the inspectorate function should be used as an investment incentive to assure local and foreign investors about internationally acclaimed best practices prevailing in Zimbabwe.
"In fact, inspections can be leveraged as a business case in a national budget," she said.
"It is my considered view that the more inspections are done, the more uniform labour standards are maintained and the higher the changes of guaranteeing harmonious industrial relations.
"A stable work environment is good for a nation in order to avoid losses in terms of time, money and human life."
Minister Chikukwa added that Government wants to set a solid track record of being industrious and hardworking both at personal and collective level.
Presenting the special report, the Ministry of Labour and Social Welfare said Schweppes Zimbabwe is in compliance with labour regulations of Zimbabwe.
"The report carried out indicated that Schweppes Zimbabwe is in compliance with labour regulations of the country," said Willis Munorweyi, the provincial labour officer.
"However, there is need on the part of management to involve employees on works council so that employees do not take a back seat.
"We also looked at conditions of apprentices and indications are that their rights were being recognised by the management."
Economic analysts opine decent work deficiencies are found in the informal sector and as such, labour inspectors need to visit the undertakings in the informal sector to ensure labour law including safe and health aspects are being adhered to by players in the informal sector.
Because the international community recognises the importance of labour inspection, the ILO has made the promotion of the ratification of two Labour Inspection conventions (Nos. 81 and 129) a priority.
To date, more than 130 countries, about 70 percent of ILO member-states including Zimbabwe, have ratified the Labour Inspection Convention, 1947 (No. 81) and more than 40 have ratified Convention No. 129.
According to the ILO, challenges remain in countries where labour inspection systems are underfunded and understaffed and consequently unable to do their job.
Some estimates indicate that in some developing countries, less than one percent of the national budget is allocated to labour administration, of which labour inspection systems receive only a small fraction.
Other studies show that the costs resulting from occupational accidents and illnesses, absenteeism, abuse of workers and labour conflict can be much higher.