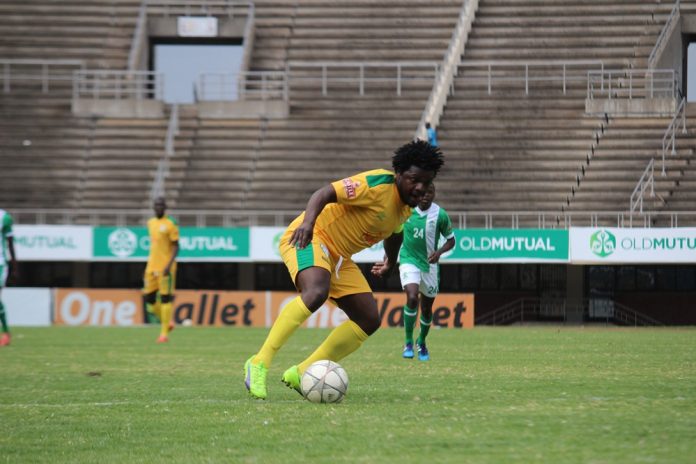 FOR the past five or so seasons, Nhamo Lameck has been one of the consistent players in the local premiership.
He has been instrumental in his team's performances each season, scoring crucial goals.
However, it appears recognition has evaded the pint-sized forward.
The Triangle FC forward's role in the team has earned him respect in the small sugarcane farming town.
Last year, in an interview with Patriot Sport at the soccer star selection venue, Lameck bemoaned his absence on the calendar for several seasons despite top-notch performances.
"I was expecting to be on the calendar also but what they have done is a reflection of what they saw. I think our home is far from journalists and if you see, at Dynamos, they play in Harare where there are many journalists who see them," said the Triangle man.
This year, Lameck has given a good account of himself, thus far.
His intentions are clear; he wants recognition, despite the distance from Harare.
So far, the Triangle forward has scored five goals, becoming the talisman of his club which is presently enjoying a fine run.
Lameck was on target a fortnight ago against Chapungu in a 3-1 victory.
Last weekend, Lameck struck again against Bulawayo Chiefs on Sunday at Gibbo, celebrating his 31st birthday in style.
Many will remember him for scoring the first hat-trick in the 2014 season when his team played the first Lowveld derby against Chiredzi at Gibbo in April. Triangle were then under the tutelage of Biggie Zuze.
Lameck is not alone, for distance has become a barrier when it comes to assessment of players far from towns, especially outside Harare — they are mostly assessed in few matches against big teams.
This season, Triangle started well and are in the top five of the log.
Before Wednesday's match against Harare City, Taurai Mangwiro's lads boasted a five-match unbeaten run.
Mangwiro might brew a shocker this season, taking aim at the premiership.
However, the sugar manufacturers usually fail to last the distance.
In 2015, the Sugar Sugar Boys, under Kelvin Kaindu, ran out of steam midway through the year after making a good start to the season.
They were log leaders for several weeks before surrendering the pole position to others chasing the title.
The former Harare City coach needs to ensure the yesteryear jinx will not haunt the club. He needs to last the distance.
This year, CAPS United again fell at Gibbo, with Lameck scoring a late winner for the hosts.
United have found the going tough at Gibbo, as in April 2015 they were humiliated 0-4 and Lameck was again in the mix of things, scoring a brace.
Triangle have a team of average but hard working players.
Winger Phineas Bhamusi joined them this season from CAPS United and has been influential in most outings for the team.
The club also has veteran defender Guthrie Zhokinyu, midfielder Pascal Manhanga, Ralph Kawondera, Russell Madamombe and experienced goalkeeper Ronald Mudimu, among others.
Although it is too early to speculate on the title, the top four teams are real contenders for the title.
The teams in the top four slots are displaying serious and entertaining football.
And second-placed FC Platinum have no intentions of letting up on the competition.
Gaffer Norman Mapeza has said he has no intention of losing points and promised to do all in his power to ensure the not more than two points gap between his team and log leaders Ngezi Platinum will be maintained.
FC Platinum hope to retain the title.
Dynamos, who have had a slow start to the 2018 campaign, may be one of the title contenders in the marathon league while the pacesetters fizzle out along the way.
Ngezi Platinum Stars who lost a decisive match at Mandava Stadium against FC Platinum last season have made their intentions clear, they want the cup and so far have not lost a match.
Meanwhile, Triangle face defending champions FC Platinum at Mandava tomorrow in a match that will spell the future of the visitors.
Triangle, who seem to be eyeing the title this season, need to at least beat FC Platinum at home to prove their worth at the top-of-the-table.
Elsewhere, ZPC Kariba host Mutare City Rovers at Nyamhunga tomorrow while Bulawayo City welcome an obstinate Shabanie Mine at BF.
Harare City entertain Nichrut at Rufaro while Yadah play host to Highlanders at the National Sports Stadium.
Sunday sees CAPS United hosting log leaders Ngezi Platinum Stars in a potential thriller while Chapungu clash with Chicken Inn at Ascot Stadium in Gweru.
Dynamos travel to Bulawayo for a date with Chiefs, while Black Rhinos and Herentals clash in a low profile Harare derby at Rufaro to wind up weekend action.