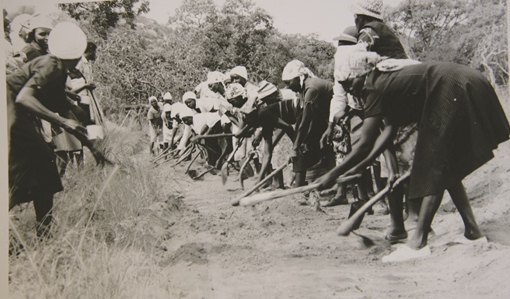 By Farayi Mungoshi
I LOST two uncles to the liberation struggle, Babamunini John and Babamunini Gilbert Mungoshi, brothers to my father.
We do not know where they died or where they were buried and my grandfather also passed on without ever finding out.
I know most of us lost somebody close during this war, the question is why did they die.
I know this sounds like an over-talked about subject, but its relevance is still valid till this day and without their sacrifice we would never have been able to be in the position we are in today, a position to claim our inheritance and legacy.
Which is our subject this week.
The question most of us forget to ask ourselves today is, why would somebody come from across the ocean to take over somebody else's land, and be willing to die for it.
It almost sounds selfish, but when you look closer you realise that Cecil John Rhodes and his men came to secure a future for their children through our land and resources and to glorify their names.
They did not immediately start the 'O' Level or 'A' Level upon their arrival, they dealt with the main issue at hand, securing the land and resources.
This was to be and is their legacy, not 'O' and 'A' Level.
Why do I say this?
I attended Prince Edward High School in the early 90s and even though there were now fewer whites attending the school, those that were there were not really that different from us when it came to academics, they were neither much more intelligent or less intelligent.
I remember two white kids who would ride their motorbikes from their parents' farm in Chivhu to attend class at Prince Edward.
One could argue that passing 'O' Level was the last thing on their minds as you would seldom see them in class, but rather at rugby sessions or matches.
It is only now that I have come to understand that even though they were attending school with us, they knew what they were born to do.
They learned from a tender age how to farm, and mine, this was family business where as most of us look to the schooling system to position ourselves in the society and economy and end up shunning what our parents or grandparents do or have been doing for generations that got us here.
We prefer 'fast foods' because 'ndizvo zvine staira' as compared to sadza rezviyo and then we still expect to live up to the years our grandparents lived up to.
The reason why the economy was still run by the few prior President Robert Mugabe's Land Reform Programme is simple, the farm owners listened to their parents and did what their parents told them.
Their duty was to learn the family business (farming), to practise it and then to pass on this information to their children and that way they were able to maintain their economic position in the country and world.
In turn, the families that their parents traded their farm produce or diamonds and gold with would also teach their children the same trade and that way maintain relations and amass wealth.
A good example are the banking families, the Rothschilds, Rockefellas etc, they have managed to amass this kind of wealth and world control through the understanding that time is the only enemy to achieving such greatness and that it takes more than one lifetime to get there, but if you pass it down to your children and they are obedient — even when you are dead, the name remains.
Zimbabwe will remain long after we are all dead, and it will maintain its name hence it is up to us to understand this and build within us a teaching spirit for our children.
To teach them to learn to till the land, grow and harvest it for future generations so that they will be able to stand before other nations proudly, not as beggars or workers, but owners of their land.
It has taken me years to embrace myself because I was busy trying to be someone else I was not.
After showing signs of wanting to write from the age of 11, my parents would later sit me down and tell me not to take up writing as a career, this was because of the hardships they have had to endure in this field.
I listened and I tried not to write, but I still found myself writing years later and when a certain doctor asked me what I did for a living (not that I was making a living out of it) I told him I write, he immediately started attacking me.
"You are not your father, you can never beat him at writing," he said.
I smiled and reminded myself that I was not in competition with my father, if anything I was after making sure that the work done continues to remain relevant in our country and other nations.
That way those that did not know about us as a people will know about us through reading these works since most of his writings reflect our culture.
When we hear the name Parirenyatwa in Zimbabwe, we know that it is associated with hospitals and health, hence should it come as a surprise that an offspring is running that department today?
The Sulumani Chimbetus, Peter Moyos, they too belong to a structure which does not need introduction because they are building up on something that their fathers started building.
In 1980 our parents started building a new Zimbabwe and like in any family, we go through our challenges so no matter where we run to we remain our father's children.
We should listen to the elders' teachings, practise them and in turn teach our children.
That way we preserve our name, Zimbabwe.
It should not come to us as a surprise when a woman is given a visa to some Western country and the husband is denied the same visa.
This is to dilute us; should the woman choose America or UK over her husband, then America and UK becomes 'father' to this couple's son, and soon he will forget who he truly is and some day he might even come to fight his own people.
Once members of a household are scattered, even the values become scattered.