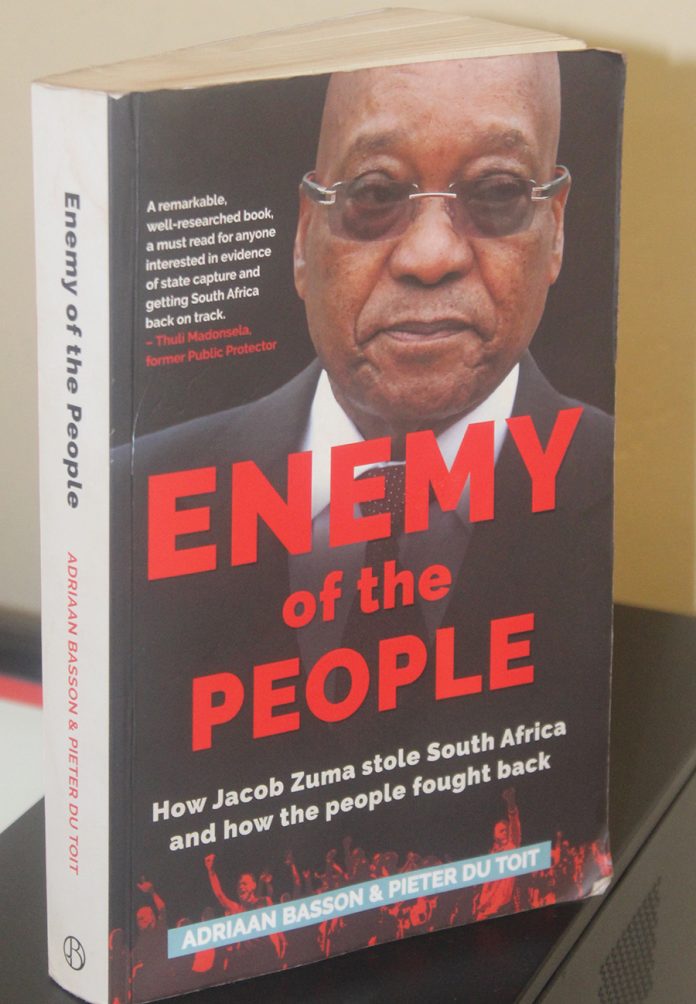 Enemy of the People
By Adriaan Basson and Pieter Du Toit
Published by Jonathan Ball publishers (2017)
ISBN 978-1-86842-8182
FORMER President Robert Mugabe's resignation from office on November 21 2017 made a great impact not only on Zimbabwe, but for southern Africa as a region.
During the time of former President Mugabe's resignation, Jacob Zuma was not only a friend but President of South Africa and he played a role in mediating in the process of Mugabe's resignation.
Little did he know that in three months' time, an almost similar scenario would define his fate.
In South Africa, 'Zuma must resign' became a common mantra.
Like his friend and neighbour who was done for by the political, economic and social pressures, Zuma, on February 14 2018, announced his decision to resign as President of South Africa.
On review this week is a book by South African political journalists Adriann Basson and Pieter Du Toit titled Enemy of the People.
The two journalists co-authored the book which chronicles former president Zuma's period in power from 2007 to 2018.
Enemy of the People is a book which purports to objectively look at Zuma's political, social and economic activities that 'contributed' to his downfall.
But it's a typical book written from a typical white perspective that has little regard for black people.
While it comes across as an objective piece, it is a book influenced by the West's age-old views of Africans.
The book nullifies Zuma's contribution to South Africa's freedom.
Enemy of the People portrays Zuma as an individual who got into power with only a mission to steal from the ordinary people and become one of the richest leaders in the world.
Written in journalistic language and perspectives of eyewitnesses, the authors pay attention to what they call a catastrophic misrule characterised by rampant corruption, economic collapse and political wrong turns.
Despite the legacy of slavery, colonialism and neo-colonialism, Africa is widely considered by the West and its minions to be among the world's most corrupt places, an aspect seen as contributing to the underdevelopment and impoverishment of African states.
The two journalists have no kind words for Zuma as they narrate how he 'abused' his authority to enrich himself at the expense of the public.
According to the authors, Zuma had nothing to offer South Africans — his singular objective was self-enrichment.
"There has been an all-consuming and singular focus on himself and his own desires since assuming office, with the need to avoid facing the law and thereby the possibility of being the prime driver behind most, if not all, of his tactical and strategic moves," writes Basson and De Toit.
Interesting about the two writers' findings and narrative is that they pay little or no attention to Zuma's positive strides that saw him ruling South Africa for two terms.
Without doubt, the authors speak from a perspective of white editors protecting the interests and legacy of their kith and kin.
Zuma became 'enemy' of the people precisely white people in South Africa, when he revealed plans to emulate Zimbabwe for reclaiming land from the white minority who own vast tracts of it at the expense of the owners, the black majority.
The white minority feared Zuma's pledge to reclaim South African land.
It is common knowledge that the economy of South Africa still remains in the hands of the white minority who inherited riches from their forefathers who tormented black people in South Africa during colonialism and apartheid.
Though South Africa brags about its independence which was attained in 1994, most black people still do not enjoy the political, social and economic freedom that should come with independence.
So, according to the authors of Enemy of the People, Zuma became the enemy of the people when he used government funds to construct and renovate his Nkandla residence.
"The Nkandla scandal or Nkandlagate as certain media outlets have referred to it took our democracy to the brink. It tested the independence and strength of our institutions and revealed the stronghold Zuma's ANC had over Parliament, the executive and key state institutions," write the authors.
The book clearly does no justice to the Zuma story.
White interests remain prioritised and protected in South Africa and any black person, ordinary or president, will be severely dealt with by the white capitalist system.