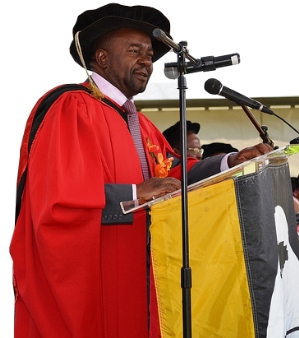 THE Constitution of Zimbabwe Amendment (No 20) recognises 16 languages as official languages as opposed to the previous one where only English, Shona and Ndebele were the official languages.
Chapter 1:6 (1) of the charter reads; "The following languages, namely Chewa, Chibarwe, English, Kalanga, Koisan, Nambya, Ndau, Ndebele, Shangani, Shona, Sign Language, Sotho, Tonga, Tswana, Venda, and Xhosa, are the officially-recognised languages of Zimbabwe.
It is against this background that the Ministry of Higher and Tertiary Education, Science and Technology Development has introduced the teaching of vernacular languages in schools in order to improve communication and efficiency.
In an interview, Permanent Secretary in the Ministry of Higher and Tertiary Education, Science and Technology Development, Dr Washington Mbizvo said the development is a follow-up to the country's new constitution which calls for the recognition of these languages.
Dr Mbizvo said a programme to train teachers to impart knowledge of local languages was launched in 2013 at the Joshua Nkomo Polytechnic in Gwanda, where the first group is still under training and focusing on TshiVenda.
"We have been doing researches and have recruited five lecturers ,two focus on SeSotho ,two TsjiKalanga and one TshiVenda and the syllabus was approved by the University of Zimbabwe Department of Languages and these would be taught as applied subjects and at primary school level,"
"SeSotho and TsjiKalanga will begin training next year and once that is done we will expand to other local languages which will be subject to periodic reviews so that we remain relevant and define our unique identity as Zimbabweans".
Dr Mbizvo said his ministry would continue to advertise posts of students who would want to specialise in the vernacular languages until adequate teachers are available countrywide.
"We have Hillside Teachers' College which focuses on foreign languages such as Portuguese and French hence it is possible to concentrate on our own languages although it will take some time because of inadequate resources and the thorough researches that we do as a ministry as we would not want something that will compromise the quality of our education," said Dr Mbizvo.
The Ministry has also introduced an Ethanol-Based Writers Skills which is meant to encourage lecturers to write books in local languages and get money for publishing so that more literature is readily available in order to reinvigorate a reading and writing culture of local language.
"While equipping students with foreign languages is not a bad idea, education should always make a bearing on the 'ubuntu' or our culture which binds and defines us as Zimbabweans ,once these tenets are lost our identity and heritage as Zimbabweans is lost,".
Senior Lecturer at the University of Zimbabwe who is also a language expert Dr Vimbai Gukwe Chivaura expressed concern at the slow rate at the execution of these languages being done by Government.
He said that the emphasis on the English language is a reflection on what the country values and a continuation of colonisation.
"Language is not just words, it carries a people's values , language expresses a world view and a culture ,if we teach our children to say 'aunt' to both a mother's sister and their father's sister ,the child will not know the difference between 'tete' and 'amaiguru',
Dr Chivaura said it is important to raise African people as Africans so that they can be able to defend their culture and identity and this should be done at an early stage.
A local daily recently quoted Primary and Secondary Education Ministry Principal Director for Infant Education Psychological Services and Special Needs Education Kwazanayi Nyanungo as saying studies by the Nziramasanga Commission of 1999 recommended there should be the upholding of language rights in the Zimbabwe education curriculum, adding it should start from infant education.
"The educational, technical, cultural and spiritual levels of Zimbabweans could be raised if instruction is given in their mother tongue.  The Education Act which is currently under review for aligning with the new constitution does mention languages in section 55 (11) where it says Shona, Ndebele and English should be taught in all primary schools from Grade Zero to Grade Three," she said.
Nyanungo also revealed statistics on 2012 Grade Seven results proved that students performed well in Shona and Ndebele, but badly in subjects like Mathematics, General Paper and others which were taught in English.
"It is because English, Mathematics and General Paper are taught in English and if a student's competence in English is not so strong, it means the likelihood of passing subjects learnt in English was very low.  If they were taught those subjects in Shona or Ndebele they could have passed the language," she said.
"Sign language was also documented in the Nziramasanga Commission report as a living language of the deaf. We now need instructional material starting from pre-formal education, pre-language, pre-numbers, pre-technical education and pre-scientific education.
We need to strengthen the link between language and cultural heritage to foster linguistic pride and also begin to start our own social networks like facebook amongst others in our own languages to promote them," she said.