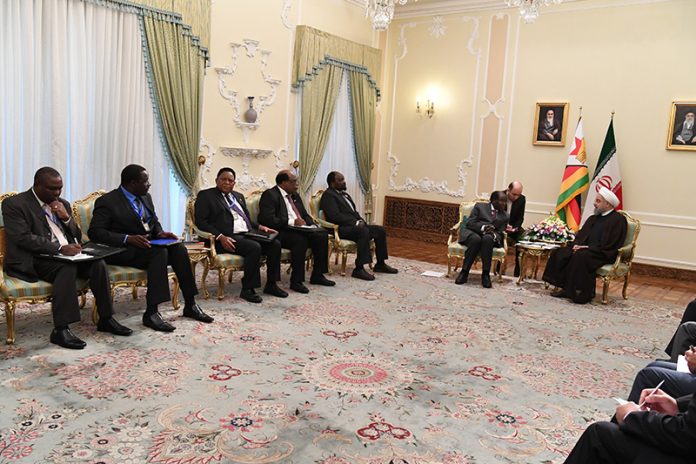 Recently in Tehran, Iran
ZIMBABWE has a lot in common with Iran and can get critical pointers from the country that has flourished despite the yoke of Western sanctions.
Hassan Rouhani, inaugurated for a second term as Iranian President, is superintending a giant economy in the Middle-East, which is making an impact on the global economy.
Iran, treated unfairly by the so-called superpowers and the trade organisations they run, has potential to dominate world trade.
Relations between Zimbabwe and Iran date back to 1979, after the 1979 revolution led by Ayatolla Ruholla Khomeini which overthrew the pro-American Pahlavi Dynasty to establish the Islamic State of Iran.
Iran, like Zimbabwe, has had the burden of illegal sanctions, but the country has flourished despite the embargoes.
In spite of the illegal sanctions, the country has massively developed its science, technology and pharmaceutical sectors as well as preserve its religious and cultural integrity.
The enemies of Iran have failed to destroy its sovereignty, its security has not been breached and it is greening its desert.
Iran is under trade embargo imposed by the US following its nuclear programmes.
While uranium is used for energy, the US claims the Middle-East country has 'sinister' motives.
But like Zimbabwe, the country has looked East and trade with countries such as China has seen the nation's economy growing defying the sanctions.
Iran has a thriving manufacturing sector which has seen it save foreign currency.
On Iranian roads, one will see very few imported cars.
The manufacturing sector in the country produces passenger vehicles, as well as tractors and pick-up trucks.
Like Zimbabwe, the rising giant has revised the ease of doing business in the country.
Though Zimbabwe has already embarked on a Science, Technology, Engineering and Mathematics (STEM) Programme, it can perfect it by plucking a leaf or two from the Iranians.
For instance, in Iran, each province has at least a science and technology university where nanotechnology and other latest technologies are being taught.
Nanoscience and nanotechnology are the study and application of extremely small things and can be used across all the other science fields, such as chemistry, biology, physics, materials science and engineering.
Zimbabwe has two students, Daniel Mutangadura and Basil Mujokoro, in Esfahan, studying for Master of Science degree in Nanobiotechnology and Master of Science degree in Medical Nanotechnology, respectively.
All university programmes are taught in the local language save for medicine.
With massive investment being made in science and technology, Iran expects to soon be self-sustaining and relying on its citizens for innovation than importing finished technological items.
While, locally, the African culture has been infiltrated, Iran has managed to preserve its values by strengthening its social systems.
An Islamic state of the Shia sect, the country has kept corrupting Western influences at bay.
Prostitution, among other social vices, has been kept out of Iran, alcohol is prohibited while diseases such as HIV and AIDS are not a problem in the vastly populated nation of more than 80 million people.
Values and practices that the West would describe as 'oppressive' have ensured that the moral fabric of the country stays intact.
The veil or hijab, worn on the head and the chador put on top of clothes are simply a show of the values of a self-respecting people, not oppression.
Development is taking place at breakneck speed.
The desert country of Iran is being turned green.
Millions of trees are being planted along the roads and streets with water captured during winter seasons.
The water is harvested during winter from snow on the mountain tops.
The snow water is then stored in dams.
The trees are watered by the harvested water throughout the year.
A massive afforestation programme is turning Iran into a green region and helps clean the air that is usually hot and dry.
The energy sector in Iran continues to grow from strength to strength while the country's Gross Domestic Product (GDP) is estimated to reach US$483 billion this year.
Last year's GDP stood at US$412 billion.
Iran is the second largest economy in the Middle-East after Saudi-Arabia.
The growth has been attributed to increase in production of petroleum; natural resources have led to Iran's comeback.
Solar energy is being harnessed to power the nation in addition to uranium and hydro-electricity which are the main sources of energy.
Business players in the country are convinced that implementation of crafted and ongoing programmes in Zimbabwe will accelerate the growth of the southern African nation endowed with abundant gold, platinum and diamonds, among other minerals.
The agriculture sector has also been identified as having vast potential.
Zimbabwe boasts some of the best land in the world including favourable climatic conditions.
And the land can support the production of virtually any crop.
Iran has a good road network which has been a boon to industry.
Construction of underground tunnels for trains is expected to ease traffic congestion in Tehran.
About 16 million people commute daily in and out of Tehran.
Foreign Affairs Minister Simbarashe Mumbengegwi confirmed that the two countries would be partnering in several fields that include pharmaceuticals, energy and agriculture.
"The two leaders (President Robert Mugabe and his Iranian counterpart) had a very good meeting," said Minister Mumbengegwi.
"They actually looked at the great potential of co-operation in a number of areas between our two countries.
"Energy is one area which they discussed as well as pharmaceuticals.
"Iran has a huge developed pharmaceutical industry and we discussed co-operation in that area.
"Iran has a developed science and technology sector and again the two leaders discussed how the two countries can co-operate in that area in the context of STEM."
More than 130 countries attended last Saturday's inauguration of President Rouhani and President Mugabe was among the high-profile guests who attended the swearing in at the Iran Parliament in Tehran.
About 1 200 guests comprising 700 senior Iranian officials and 500 prominent foreign officials, heads of state and foreign ministers from around the world attended.
Rouhani is the seventh President of Iran.
He succeeded President Mahmoud Ahmadinejad.