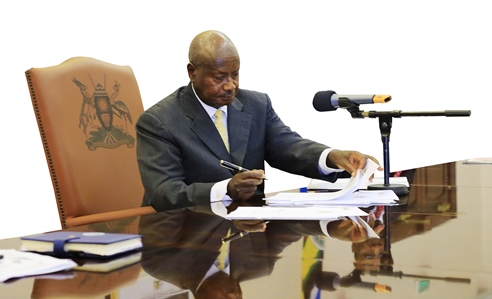 THE recent threats to withdraw financial aid to Uganda following its signing of anti-gay Bill into law highlights three important issues: Aid as a tool to further Western influence on Africa; Africa's vulnerability due to reliance on aid as opposed to black empowerment, and the threat of cultural imperialism as a legacy of colonialism!
In a move that shows the West's lack of respect for Africa's values, Denmark announced that she was withholding DKK 50 million (about US$9 million) of bilateral aid to Uganda, and that the Danish government would redirect aid to Uganda through the civil society and the private sector.
The Netherlands and Norway also responded by threatening to cut bilateral aid to Uganda worth US$9,6 million and US$8,3 million respectively.
Norway said it would channel its aid to civil society organisations fighting for human rights and democracy in Uganda.
The United States also weighed in her superiority, threatening to review 'all dimensions' of its engagement with Uganda.
Sweden and Austria have also threatened to cut their financial support to Uganda.
As a result, the Ugandan shilling has lost value against the US dollar.
The World Bank too, an international institution which should not be political, also said it was freezing aid worth US$90 million from Uganda.
Cultural imperialism, "The practice of promoting and imposing a culture, usually of politically powerful nations over less potent societies," is another battle Africans are yet to fight and conquer.
It started with the use of Christianity to facilitate colonialism, followed by the use of aid to further the US' cultural hegemony on Africa.
Praising US policy on cultural imperialism, David Rothkopf once wrote: "It is in the economic and political interests of the United States to ensure that if the world is moving toward a common language, it be English; that if the world is moving toward common telecommunications, safety, and quality standards, they be American; that if the world is becoming linked by television, radio, and music, the programming be American; and that if common values are being developed, they be values with which Americans are comfortable." (Foreign Policy, Number 107, Summer 1997).
It is therefore not surprising that the USA and other Western countries will use their economic muscles to try to force Uganda into submission.
International aid to Malawi was withdrawn in 2010 after two male gays were imprisoned, which forced the late President Bingu wa Mutharika to pardon them, and President Banda to repeal some anti-gay laws.
"Some laws which were dully passed … will be repealed as a matter of urgency," he said, bowing to international pressure.
Why should the US punish countries imposing anti-gays laws when eight USA states still have 'no promo homo laws'?
For example, in Alabama and Texas there are some statutory provisions which state that 'homosexual conduct is a criminal offence' while in Utah the advocacy of sexuality is prohibited.
Kugocha kunoda kwaAmai, kwemwana kunodzima moto.
In my experience of living in the UK in the past 14 years I have come across a few Zimbabweans who confessed that they became gay out of necessity, which means that their homosexuality is an acquired behaviour and not genetic.
In 2001 I came across a 'gay' Zimbabwean man who told me that he had become gay after experiencing destitution when he came to London in 1998.
He got financial support from a gay Asian medical consultant, who became his lover to meet his educational expenses because he was on a student visa.
His wife later deserted him and went to live in the USA.
There were also some straight Zimbabweans who got their refuge statuses by lying that they were fleeing persecution from Zimbabwe because they were gay. Others have chosen it as an alternative life style through experimentation.
A colleague, Jimmy Malunga, who studied Criminology, says that the main blunder made by African countries is to rely on Western countries for aid.
"We give the West cheap resources in return for aid," he said.
"They are now treating us like kids in a school playground, using the psychological concept of rewards and punishments.
"They punish us when we assert our rights, and reward us when we give them the other cheek to slap.
"I am happy the Ugandans are now going towards Mugabe's.
"Our constitutions must be compatible with our culture."
Malunga believes that black empowerment is the key to Africa's future in order to stand up on our own and not be subjected to rewards and punishments for implementing policies that are compatible with our cultures.
A key ally of the USA in East Africa, Uganda has been receiving military aid to fight the Lord's Resistance Army.
Will Uganda bow to international pressure and repeal its anti-gay laws?
But Ugandans seem determined to stand up for what they believe in.
David Bahati, a Ugandan legislator in favour of the anti-gay law said, "This blackmail will go on.
"It might get worse before it gets better, but at the end of the day, the sovereignty of our nation will triumph."
One commentator on social media wrote: "The West has decided to use the homosexuality debate as a platform to push their neo-colonial agenda.
"The African nations are sovereign and cannot be bullied into enacting laws that the populace do not support simply because the West threatens us.
"We are NOT their slaves.
"They are NOT our masters; we do not have to enact laws according to THEIR wishes."
The answer for Africa lies in empowering its citizens because aid will come with strings.
We have a saying, "Mombe yekuronzerwa kama wakaringa nzira," because the owner can reclaim it anytime.
It is time to strengthen our own financial base and not rely on the West.
That is why corruption must be weeded out to pave way for the successful implementation of the Zimbabwe Agenda for Sustainable Socio-Economic Transformation, (Zim-ASSET).