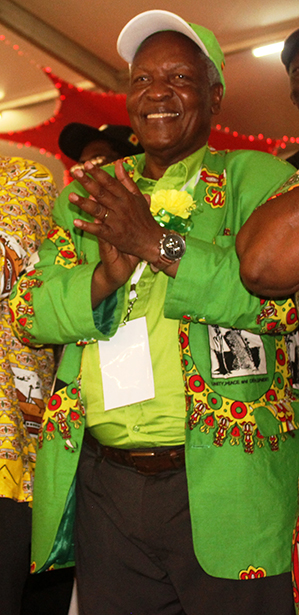 Recently in Victoria Falls
AT the 15th ZANU PF Annual National People's Conference held recently at Elephant Hills Golf Course, Victoria Falls, the importance of war veterans was emphasised.
However, it was also made clear that war credentials were not to be used as bragging rights.
The issue of a group masquerading as a political outfit calling itself 'People First' was described by President Robert Mugabe as a non-event and thrown out of the window.
But without doubt the issue of war veterans dominated the indaba.
Having chaired the Thematic Committee on Liberation War Heritage, Defence Minister Cde Sidney Sekeramayi said it was imperative to document the history of the liberation struggle.
"We request the Conference to direct Government to document the history of the liberation struggle, safeguard its records and upgrade the maintenance of liberation war shrines, battle sites and access roads," said Cde Sekeramayi.
It is important to note that the request to document the history of the liberation struggle is not unique to Zimbabwe.
First, the so-called champions of democracy, the US and its Western allies, are forerunners in documenting their war history.
Besides multitudes of history books on their liberation struggles, at times they do it in subtle ways one can't even notice.
For example, the US has most of its past presidents, who were commanders-in-chief of the army, as a reminder of the country's wars.
The US$1 has a picture of George Washington who was the first president of the US (1789-97).
He was the 'commander-in-chief' of the continental army during the American Revolution.
The US$5 note has Abraham Lincoln's picture.
He is another 'war hero' who became the US's 16th president (1861-1865).
The US$10 note has Alexander Hamilton, a 'soldier', economist and political philosopher who served in the American Revolutionary War.
Andrew Jackson was US's seventh president (1829 – 1837).
He is on their US$20 note and was an 'army general'.
The US$50 note presents another 'soldier', Ulysses Grant who was the 18th president of US (1869-1877).
Grant was a career soldier who graduated from the US Military Academy and served in the Mexican-American War.
On the US$100 bill is another 'army general', Benjamin Franklin.
One Bennett Nolan wrote a book, General Benjamin Franklin: The Military Career of a Philosopher.
With a scant military training, it is said Franklin became military commander because of his experience in the Pennsylvania Assembly.
With such records, every US citizen is cognisant of the country's war history.
Yet in Zimbabwe, 35 years after independence, only a few war veterans have documented the liberation struggle through books.
These include, Retired Brigadier-General Felix Ngwarati Muchemwa (The Struggle for Land in Zimbabwe: 1890 – 2010), Alexander Kanengoni (Echoing Silences), Agrippa Mutambara (Chimoio Attack: Rhodesian Genocide), Irene Mahamba (Women in struggle), Freedom Nyamubaya and Irene Mahamba (Ndangariro) and Professor Charles Pfukwa (A Moment in Time) among others.
The question is: Could this be why students in schools countrywide are quick to know about Napoleon Bonaparte's Battle of Waterloo (June 18 1815) while they are completely ignorant of among others, the Battle of Chinhoyi (April 28 1966) Battle of Baloyi in Chiredzi (1979) and the Battle of Mavonde/Monte Casino (October 1979)?
Is it why they are informed about massacres in yesteryear Europe yet badly informed about the Kangara Base Massacre in Murehwa (May 14 1979), Chimoio Massacre (November 23 1977) and Nyadzonia Massacre (August 9 1976) among others?
Yes, they know of war epics in the US and Europe yet are so unaware of the famous Shangani Battle which saw the entire Allan Wilson patrol wiped out by King Lobengula's Matabele warriors on December 4 1893.
Is it not ironic then for students at Allan Wilson High School in Harare to call themselves 'Men of Men'?
It is worthy to note that our former colonisers, Rhodesians, knew the importance of documenting their history and years after distorting ours through their literature, they are still churning their history via different media including magazines and social media.
Rhodesians Worldwide is actually a common site on the internet.
It is not therefore prudent for war veterans in the country to seriously consider putting their liberation war experiences in writing, especially for authenticity, because the danger of oral history is that besides not being reliable, it usually follows the owner to the grave.
At the ZANU PF indaba in Victoria Falls, President Mugabe rebuked some war veterans for bragging about their war history.
Vice-Presidents Emmerson Mnangagwa and Phelekezela Mphoko, he said, are examples of genuine war veterans who do not brag about their war credentials.
"Vice-Presidents Phelekezela Mphoko and Emmerson Mnangagwa went to war, but I have never heard them saying that these ones didn't go to the war, we went to war," he said.
"They know it's a record they bear, everybody will know, but once you brag about it, we will ask did you go alone, and even go further and ask what you did during the war."
Perhaps war veterans, instead of boasting about their war history, must write for the benefit of future generations.
There is no doubt the First, Second and Third Chimurenga must be documented as they are invaluable to the history of Zimbabwe for it defies logic for bookshops in the country to be filled with Rhodesian, European and American literature yet we have thousands of war veterans, war collaborators (Mujibhas/Chimbwidos), former political detainees and restrictees with genuine stories and experiences to tell.
The tragedy we face is; as long as the remaining war veterans do not put pen to paper, future generations are going to dismiss the country's liberation war as a myth.