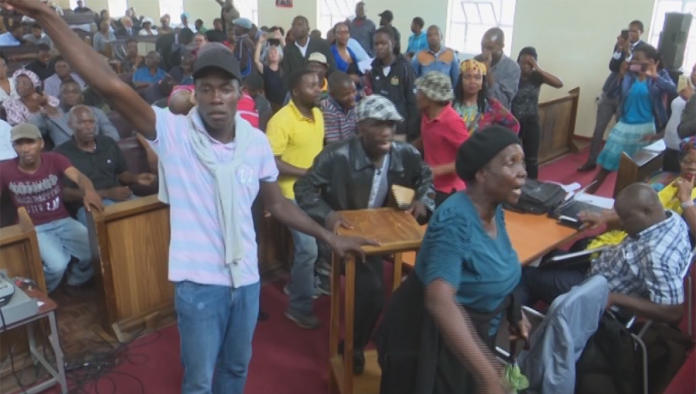 TWO months ago, Government signed into law the National Peace and Reconciliation Commission (NPRC) Bill to operationalise the Commission which was set up in 2016.
Among other things, the Commission is expected to bring about healing and reconciliation in communities with disturbances of the 1980s that happened in Matabeleland and some parts of the Midlands provinces.
The brief period of anarchy known as Gukurahundi led to loss of lives of civilians, security forces and commercial farmers (white and black).
Families disintegrated while some disappeared, never to be seen again
And over the years, calls have been made for all the casualties to come together for healing and reconciliation.
Sadly, the emotive Gukurahundi issue has been hijacked by some elements with hidden tribal agendas.
A lot of people have since commercialised the subject and most of the noises being made are not genuine.
There has been repeated attempts by some politicians, NGOs and the private media to score cheap points using the disturbances.
Regime change agents have not let the issue slide by.
They have also capitalised on the issue as it also attracts handsome funds.
In five star hotel conference rooms, NGOs have been busy organising what are called Gukurahundi 'public dialogues'.
Politicians who thrive on the tribal card are given platforms along the so-called experts.
They chant and map the way forward with rented crowds in agreement.
Recently Southern African Political Economy Series (SAPES) Trust held a series of the public dialogues themed 'Gukurahundi: Towards a National Dialogue' in Harare and Bulawayo.
Ibbo Mandaza's SAPES Trust has been on the forefront, courtesy funding from Chatham House and US' National Endowment for Democracy (NED), calling for regime change in Zimbabwe.
Chatham House and NED are organisations well-known for interfering in internal affairs of sovereign states to effect regime change.
Last year, SAPES meetings resolved to create discontent, chaos and crisis at the grassroots to attract the attention of the international community.
Mandaza stressed that in order 'to make Zimbabwe burn', there was need to revamp social movements by getting them to influence the rural folk – where the majority is.
And barely a week after the new dispensation, emphasis was now on the emotive Gukurahundi issue.
Centre for Innovation Technology (CITE) director Zenzele Ndebele would not let the opportunity pass by.
Ndebele was the director of Radio Dialogue before it folded due to funding constraints.
The West used pirate radio station, Radio Dialogue, to push its regime change agenda.
Radio Dialogue was also involved in packaging radio programmes on tapes, as well as CDs and distributing them to commuter buses.
The CDs were called 'Topical Taxi Tunes' and carried programmes which talked about how Government was 'neglecting' the people of Matabeleland.
However, after ZANU PF's massive electoral victory, the West was reluctant to sponsor tools that it regarded as a failure in implementing its agenda.
The radio station eventually hit hard times and closed shop.
And the emotive Gukurahundi issue is a lifeline for people like Ndebele who had lost relevance.
SAPES Trust together with CITE, Women's Institute for Leadership Development (WILD) and Zimbabwe Christian Alliance (ZCA), met at Bulawayo Rainbow Hotel to deliberate on the disturbances.
Speakers included ZAPU leader Dumiso Dabengwa, South African author and academic Elinor Sisulu, as well as African Public Policy and Research Institute director, Martin Rupiya.
Rupiya once served as a colonel in the Ian Smith regime.
In all this uproar, the affected were forgotten.
Locals and living casualties from the affected areas were never consulted nor invited for the public dialogue.
The NPRC remains the only hope the affected communities have for their voices to be heard and grievances met.
On his blog, former Catholic Commission for Justice and Peace (CCJP) national director, Nicholas Ndebele wrote:
"..the President just signed a Bill into an Act of Parliament (into law), that will engage in a process of healing, taking into account the feelings, views and suggestions of the communities that were affected.
I find the process of taking on board the views and suggestions of the affected communities more (respectful) of the victims than a media-induced apology."
The CCJP wrote its own report on Gukurahundi.
Speaking to The Patriot last week, the affected communities in Bhalagwe and Tjewondo in Maphisa said all they seek is an audience.
Spenda Maphosa (72) said he was detained for three weeks at Bhalagwe camp after being suspected of being a dissident in 1984.
"I believe someone snitched on me because I was a ZIPRA trained cadre, had been in Chitungwiza Assembly Point and I chose not to be integrated into the Zimbabwe National Army (ZNA), so they told the soldiers I was a dissident," said Maphosa.
"I was picked up at Maphisa Township and detained at Bhalagwe camp for three weeks."
Showing The Patriot scars from shackles on his hands and legs, Maphosa said he managed to escape and crossed into Botswana and later into South Africa.
Maphosa only returned in 2011 to find his wife and children gone, his parents and siblings all dead.
"All that I request is engagement with Government. I was just a victim of lies," said Maphosa.
"I have long forgiven those who persecuted me."
Families near Bhalagwe camp said after independence all was well at the camp until 1982, when other soldiers 'turned' against
their colleagues and declared themselves dissidents.
"This is when all problems began mntanami (my child)," said one grandmother who refused to be named.
"When the elephants fight, it is the grass that suffers.
"We suffered at the hands of the dissidents, they would come with guns pointing at us, demanding food.
"Few hours later soldiers would descend heavily on us looking for the dissidents."
"Kwakunzima mntanami (it was a difficult time)," interjected another.
"I lost relatives, my young brother and my uncle."
"We are not seeking retribution but want an end to the issue."
With all these aspirations from the affected, the euphoria was not given space to flourish as disruption after another emerged at the NPRC provincial consultative hearings in Bulawayo and Matabeleland provinces.
In an interview with The Patriot, NPRC deputy chairperson Lillian Chigwedere said so far NPRC has conducted the provincial consultative dialogue in all the country's 10 provinces.
"After the provincial consultative dialogues, we are now on strategic planning on which areas to go and how to approach it," said Chigwedere.
It is reported the consultative meetings in Bulawayo failed to take off after some rowdy youths, under the moniker Mthwakazi, threatened to deal with the commissioners if they failed to abort the meeting.
Trouble started when the commissioners where introduced to the public with the group questioning the 'tribal composition' of the commissioners which they said was not in the interest of the region.
The group, which was toy-toying carrying placards as a sign their actions were pre-planned continuously interjected proceedings while calling on the commissioners to return to Harare.
Mthwakazi Republic Party also disrupted the commission's meetings in Lupane and Gwanda.
Who is behind Mthwakazi?
There has been a sudden emergence of conflicting groups such as Mthwakazi Republic Party, Mthwakazi Liberation Movement, 1893 Restoration Movement and Mthwakazi Liberation Front seeking the creation of an independent state in south-western Zimbabwe.
These groups want the region to secede saying it was forced to be part of Zimbabwe by British colonisers.
And Mthwakazi Republic Party (MRP) which has been disturbing the NPRC dialogue meetings is a tiny secessionist pressure group in Matabeleland.
They claim to have the interest of the Matabeleland people at heart but their actions speak otherwise.
They thrive on confusion and a closure to the Matabeleland disturbances would find them out of business.
Mthwakazi Republic Party (MRP) is funded and supported by a number of organisations and individuals, including Network of Human Rights Lawyers (Abammeli).
Network of Human Rights Lawyers (Abammeli) was established in August 2011 by lawyers from Bulawayo.
Abammeli is a shadow of Zimbabwe Laywers for Human Rights (ZLHR).
It is reported Mthwakazi is also sponsored by Mbuso Ngwenya, a member of Ibutho Lenqama based in Johannesburg South.
Ibutho Lenqama is a NGO formed on April 7 2013 in Yeoville, Johannesburg.
The NGO was registered in Bulawayo as a Ndebele Cultural regiment under registration number MA519/15.
It's a group of taxi drivers from Matabeleland who are based in South Africa.
On September 25 2017, Ibutho Lenqama organised 'Mthwakazi Heritage Day' at the Alec Gorshel Berea Park in Berea, Johannesburg.
It seems Ibutho Lenqama is an extension of Mthwakazi Republic Party.
Also purported to be sponsoring Mthwakazi is one Prudence Mpofu, a Zimbabwean based in South Africa.
She is responsible for providing funds that made it possible to open party structures in Botswana.
Mthwakazi is also seeking sponsors to open party structures in the US, Germany, France and Canada.
Mthwakazi Republic Party was founded in September 2013, after unruly ZAPU youths had a fallout with the leadership over their stance on Matabeleland issues.
The leadership of ZAPU had insisted that the youths in ZAPU should stop isolating Matabeleland issues, as ZAPU was a National Party.
Mqondisi Moyo, Ndodana Moyo, Busani Sibindi and Mbonisi Gumbo, among many other youths, broke away from ZAPU later to form the Mthwakazi Republic Party.
It changed faces almost every month with a new name.
Led by Sibindi, with Thando Dube as secretary-general and Mqondisi Moyo as spokesperson, they first convened the Mthwakazi Youth Leaders Joint Resolution.
But two months before the 2013 harmonised elections, they formed a party called Alliance Khumbulekhaya which fielded eight parliamentary candidates in Bulawayo who were all thrashed.
It was to regroup again after the elections; thus when MRP was then formed in September 2013, it had lo leadership for four months.
They had approached Moses Mzila Ndlovu, Member of Parliament for Bulilima West on MDC-Mutambara ticket to take the leadership but he sternly refused.
They wanted a face people could identify with.
With no one willing to be leader of their party, Mqondisi Moyo volunteered.
Moyo was born in 1978 and grew up in Gwandavale in Matobo District.
That same year, his father, a teacher by profession and an ex- ZIPRA freedom fighter, died.
He is the last in the family of nine and was brought up by a single mother, together with his elder brothers and sisters
Moyo did his primary school at Gwandavale Primary before proceeding to do part of his secondary education at Pumula Secondary School.
He later finished his Ordinary Level at Mosi O ya Tunya Secondary School in Victoria Falls.
After school, he worked as a general hand at Belmor Manufacturers, a clothing company, before quitting in December 2001 to pursue his accounting studies.
Moyo then worked at Dondolo Mudonzvo Trust, a local NGO in Harare as a projects officer and administrator in 2003 up to 2006.
He joined activism in 2006 after serving as a Youth Church leader in Pumula North in Bulawayo.
He also served as self-styled chaplain.
Moyo was to become the spokesperson of Ibhetshu likaZulu, a Bulawayo secession pressure grouping.
At the revival of ZAPU in 2009, he was one of the few youths who were part of the planning of meetings.
Moyo was later to become the Bulawayo Youth NEC representative, a position he held until his departure from ZAPU.
From 2010 to 2015, he was employed as an assistant accountant with Agriculture Extension Services (AGRITEX), Ministry of Agriculture, in Matabeleland North.
He, however, quit his job as a civil servant after he was transferred to work in Bindura, citing tribal opinions.
He could 'not work among the Shona people'.
As the NPRC goes about its duties around the country's provinces, organisations like Mthwakazi must discouraged from fuelling uncalled hatred for among peace-loving Zimbabweans.