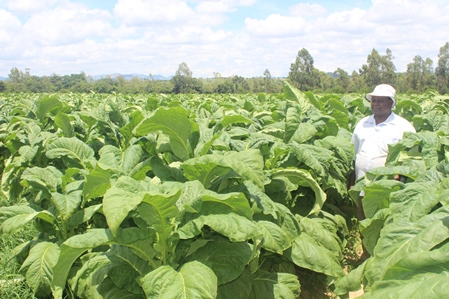 ZIMBABWE Progressive Tobacco Farmers Association (ZPTFA) has secured a US$8 million loan facility from local banks for inputs procurement and training of its members throughout the country.
Tobacco has become the preferred crop among farmers due to good returns compared to other crops.
This has resulted in increased production with the country surpassing the 210 million kilogrammes (kg) mark this year, for the first time in 14 years, driven by small-scale farmers.
The last time output surpassed 210 million kg was in 2000 when it reached 227 726 000kg.
In an interview with The Patriot, ZPTFA president, Mutandwa Mutasa said the loan facility will enable growers of the golden leaf to further increase output while training will improve quality of the crop.
He said the loan will benefit more than 8 000 tobacco farmers.
"We have two local banks who have committed themselves to avail US$8 million to assist our farmers to procure inputs," Mutasa said.
"Farmers will benefit from the loans in the form of inputs such as fertilisers and chemicals that will cover at least one hectare each."
Mutasa said training was critical for farmers to ensure higher returns for their produce.
In the last selling season, some tobacco growers cried foul and felt fleeced as their crop was bought below expected price.
Buyers defended the low prices citing poor quality of the crop, some of which was wet, too dry or mouldy on delivery.
Mutasa said all the beneficiaries of the loans will first undergo a growing training programme to equip them with the necessary skills needed to produce a quality crop.
"Tobacco is a crop that requires technical expertise for farmers to produce high quality yields with a higher market price," he said.
"We have partnered the Zimbabwe Open University (ZOU) to assist us with the training of our tobacco growers and the training programme will be conducted in local languages for easier understanding."
The training programme, said Mutasa, will also focus on transforming operations from subsistence agriculture to commercial farming to ensure sustainable growth of the country's agricultural sector.
"We want our farmers to take agriculture seriously and treat it as any other business," he said.
"Most farmers believe that they cannot do commercial farming on small pieces of land yet one can commercialise a hectare."
Stakeholders in the tobacco industry contend that Zimbabwe could have earned more than US$1 billion instead of the US$682 million realised in the 2014 marketing season if the country had processed the crop into finished products.
The ZPTFA president said there was need for the country to promote value addition of the golden leaf for farmers to maximise returns and create more jobs.
"The general cost of adding value to tobacco cost around 36 cents and 50 cents per kg, hence the need to invest more on tobacco processing machines," he said.
"On the international market processed tobacco costs between US$9 and US$15 per kg when the unprocessed crop has an average price of US$3 per kg."
After the successful Land Reform Programme in 2000 that benefitted over 400 000 black households, small-scale tobacco growers increased from 30 000 to around 75 000.
The Tobacco Industry Marketing Board (TIMB) projects that Zimbabwe is poised to reclaim its status as the second largest tobacco producing country in the world after Brazil.
The country received 216 million kg in September this year compared to almost 166 million kg during the same period last year.
Zimbabwe has an internationally deserved reputation for producing a high quality crop used to flavour tobacco from other countries.
The TIMB statistics show that at least 106 456 growers have registered to produce the crop this season compared to about 91 278 last year.
Out of the registered growers are new ones from Mashonaland West 11 713 growers, Mashonaland Central 8 231 growers, Manicaland 5 465, Mashonaland East 4 135, Midlands 338, Masvingo 265 and Matabeleland with the least number of five.