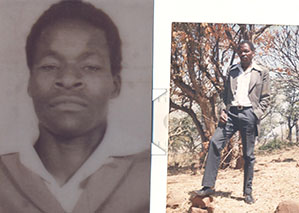 By Cde Pio Homo Ruzive
ONE day in 1964, we burnt down a white farmer's maize crop along Shamva Road using petrol, hessian bags and two live cats.
I know the SPCA will complain about the cats, but that was how we fought the war before young men crossed the border to take up guns to fight the white man.
My name is Cde Pio Homo Ruzive.
I am 76 years old and this is my story.
I grew up in Mbare, not because it was my father's wish, but because he had been forcibly removed by the settlers from his home area around Gokomere in Masvingo, in 1946.
It was painful because in the process, my father Raphael Ruzive lost his land, wealth and integrity.
So it is against this background that I and my seven brothers became involved in the early years of the country's fight for freedom.
It is important to note that back then, Mbare or Harare as it was called, was always a hive of activity in terms of political gatherings and activities.
We also met frequently in the then Salisbury with many comrades from as far as Mabvuku and Highfields at Vanguard House, the headquarters of the newly formed ZANU for political orientation.
Familiar names that time included, Noel Mukono, Borgia Musemburi, Basopo Moyo, Nathan Shamuyarira, Morton and Washington Malianga, Robert Marere, Shadreck Chipanga, Maurice Nyagumbo, George Mudukuti, Ignatious Chigwendere, Livingstone Gwishiri and Patrick Nhariwa among others.
ZANU had just been formed on August 8 1963 and the following year in May, the Party's Congress was held in Gweru and I attended representing youths in Mbare District.
I remember coming back home and informing people that it had been resolved that the only way we would get independent was through direct confrontation with the whiteman.
As for us, the Ruzive Boys or 'Bogard Brothers' as we were popularly known in Mbare, we would fight despite the fact that we had no guns.
We were going to 'sabotage' the whiteman in any possible way.
The settlers had destroyed our fathers wealth, and we had vowed to return the injustice.
My brother Raphael used to travel a lot and he had identified a white-owned farm along Shamva Road.
I can't remember the name but it had acres and acres of maize ready for harvesting.
We resolved to go and burn the crop.
So together with my brothers, Raphael and Alois we hatched a plan alongside Cde Koki and Cde Francis Chida from Chirumhanzu who drove a Chevrolet.
My understanding was that it was a party vehicle and Cde Francis Chida had been given the green light to use it for the mission.
We were at our house in Mbare and it was agreed that 10 litres of petrol, three hessian bags and two cats (live) was needed for the attack at the farm.
That day around 4pm we took off using the Murehwa Road before turning left at a place called 13 Miles getting into Shamva Road.
At around 5.30 pm we arrived at the farm, but we slowly passed by observing if there were any people around (surveillance).
It was all clear, so we came back when it got dark and Cde Francis Chida parked by the roadside before we quickly disembarked from the vehicle.
I was with Cde Koki while Raphael was with Alois.
Cde Koki began to sprinkle petrol on the maize on one field, while Raphael did the same on the opposite field.
In the meantime, Alois and I were soaking our hessian bags in petrol and the two cats as well.
Coordination was crucial at this stage because we now had to set ablaze the two live cats.
Cde Koki struck the match stick and set ablaze the first cat while Raphael did the same with the second cat.
Both cats went berserk and began to run amok lighting up the maize fields that had already been sprinkled with the highly inflammable liquid.
Cde Francis Chida had been waiting for us in the car and the moment he saw the fields up in smoke and us rushing to the car, he quickly got the car running and we were on our way back to the city.
We looked back, the farm was literally burning.
Never mind the cats because a lot of horrible things happened during the war.
We safely got to harare and celebrated our 'victory' because chinangwa chedu chaive chekuparadza hupfumi hwemhandu.
The Rhodesian Broadcasting Corporation reported the fire on radio the following day, but we had already briefed Cde Noel Mukono, Cde Shame Zvikaramba and Cde Samuel Nyandoro.
I will never forget this incident because as much as I did not hold the gun, I played my part in freeing the country.