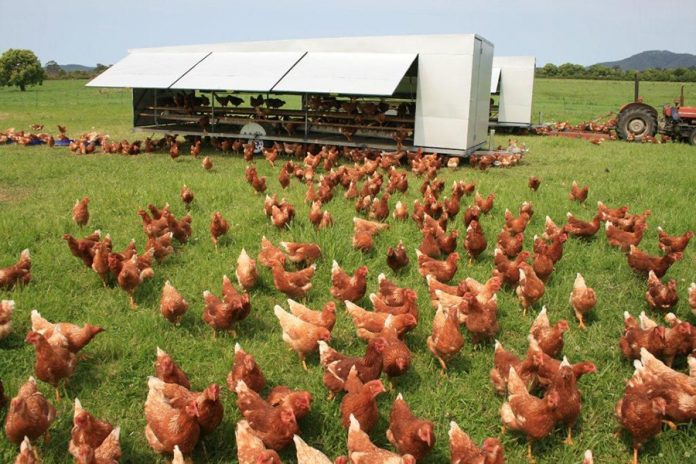 THE Zimbabwe Free Range Poultry Producers Association (ZFRPPA) is conducting training programmes to equip producers with skills to produce poultry feeds using raw materials found at farms.
In a statement, ZFRPPA secretary-general Beauty Jiji said the courses will be held in all provinces.
The training programmes will start on October 13 in Harare with the next one set for November 3 in Mutare.
"Due to the increasing livestock feed prices and the non-availability of key livestock feed ingredients such as soya meal as well as concentrates, ZFRPPA is organising training for livestock farmers across the 10 provinces," she said.
"The training will equip you to be able to make livestock feeds using on-farm available resources.
"Eighty percent of free range poultry production (costs) is feed, hence the need to reduce the cost through onsite feed preparations.
"This can reduce costs by 30 to 50 percent thereby increasing net income to the free range farmer.
"The ZFRPPA is organising training courses that enable the farmers to come learn how to use locally available resources to make quality feed which will lead to quality, healthy and tastier end products."
Jiji said to realise maximum returns, farmers, especially those practising free range poultry production, should adopt an integrated approach.
"We encourage producers, who intend produce free range poultry at a larger scale, to grow their own feeds such as vegetables, maize and sunflower to cut down on cost of production," she said.
"Free range poultry are known for scrapping around for their own food, so if the producer has other livestock such as cattle, waste from cattle is a breeding ground for worms which are a good source of proteins for birds."
Jiji said following growing interest in commercialising free range poultry production, the association had seen it fit to ensure existing and prospective growers have the right knowledge.
"The courses are meant for free range poultry farmers, value chain actors and key stakeholders to learn more on the concept and practical application of integrated farming systems to improve on production," said Jiji.
"Farmers will learn how to be productive and viable with maximum external inputs by using available resources, thereby reducing production costs and increasing net income."
Traditionally, people have kept free range poultry for consumption or sale at a small-scale level.
The consumption and demand for free range poultry is on the increase as consumers are slowly becoming more conscious of benefits of healthy eating.
Indigenous poultry birds include road runner chickens, ducks, turkeys, guinea fowl and geese.
Jiji said for players in Harare, the association will host courses on how to sustainably produce free range poultry and disease management using Ethnovet medicines.
"There is currently drug resistance because of too much antibiotics in commercial birds," she said.
"Through these training programmes, farmers will learn how to use herbs and traditional organic methods in preventing and treating diseases."
Jiji said it is recommended to grow herbs that help boost the birds' immune systems, thereby cutting costs on vaccinations.
"Garlic, onions, tomato leaves, aloe vera and mhiripiri are some of the herbs farmers can use to help boost the immune system of birds," she said, adding, "Traditional methods such as using soot and mudzinganyoka, a herb grown around fowl runs that is said to keep snakes away, can be used to help preserve flocks.
"To improve on potassium intake and prevent feathers from falling off the back of birds, a farmer can crush egg shells, roast them lightly and add to feeds.
"It is also, however, strongly recommended that, in the wake of disease outbreaks, farmers follow vaccinations routines."
ZFRPPA was formed with the idea of commercialising production of indigenous poultry birds to improve food security, nutrition and household income.
The association seeks to improve livelihood of members through promotion of sustainable free range poultry production and marketing in a properly structured manner.
To date, the association has more than 500 members.
"We also have groups on social media platforms where we interact with those with interests in agriculture and these have more than 5 000 members who are not necessarily ZFRPPA members," said Jiji, adding, "It is from these groups we are getting new members, disseminate information and farmers exchange ideas.
"Efforts are being made to attract rural farmers to the association as these have the space to produce free range poultry, basic production skills but still have small flocks (sic)."
Jiji said free range producers faced various challenges.
"Just like other agriculture sector players, the issue of adequate resources to increase production has been a major drawback," she said.
"Production costs are inhibiting, thereby pushing players to maintain small flocks for consumption and not for marketing on a large scale.
"It takes 14 to 16 weeks for road runner chicks to reach maturity and means a farmer has to be acquiring feeds which are expensive."
Jiji said market penetration for producers was, however, not easy but the sector is highly lucrative.