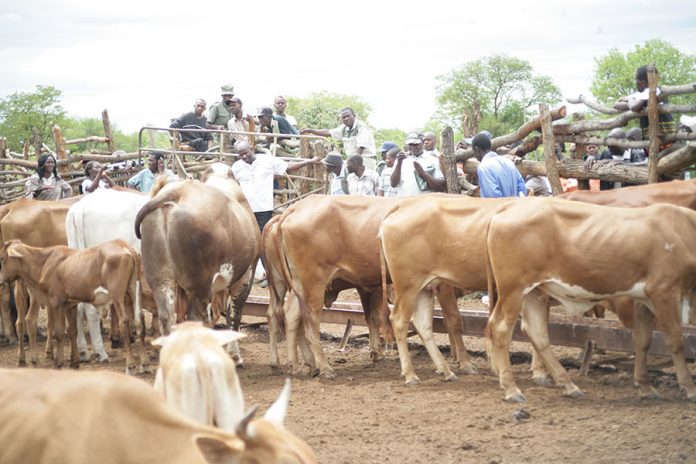 LIVESTOCK production has remained a key component of the agriculture sector and efforts continue to be made by stakeholders to improve the growth of the sector.
Livestock production is normally practised in the southern part of the country and in the Matabeleland provinces, but farmers in Mashonaland have taken up the trade.
Since the Land Reform and Resettlement Programme in 2000, the number of indigenous farmers taking up livestock production has been on the rise.
Prior to the programme, most indigenes were not involved in commercial livestock production which was deemed a preserve of white commercial farmers.
Communal farmers kept small herds, mainly for consumption and draught power.
Over the years, farmers have been encouraged to augment crop production, which is the main strength of most producers, with livestock production.
Livestock has remained the backdrop of most farmers who rely on cattle for draught power.
In previous seasons, livestock producers were severely affected by drought.
This pushed farmers to under-sell their cattle, resulting in returns returns.
Prices are typically determined by the quality of the cattle.
As the 2017/2018 summer cropping season progresses, livestock farmers have been urged to ensure they follow correct livestock rearing procedures.
The Zimbabwe Commercial Farmers Union (ZCFU) president, Wonder Chabikwa, said farmers should ensure livestock is protected from diseases.
"During the rainy season, most kraals are wet and such environments are conducive for the breeding of ticks, as such, cattle should be dipped once every week," he said.
"Farmers should use recommended dipping chemicals and also use the plunge system.
"Most farmers now prefer using knapsack sprayers. If they decide to do so, they should ensure they apply tick grease physically."
Ticks destroy hides, cause diseases and negatively affect the quality of meat, Chabikwa said.
Most livestock in the Matabeleland region are affected by foot and mouth disease.
Government has, however, in the past seasons, through the Veterinary Department, helped farmers vaccinate livestock for notifiable diseases such as anthrax, Newcastle, rabies as well as foot and mouth.
Anthrax is a bacterial infection that usually affects goats, cattle, sheep, pigs, camels, antelopes and horses which can be transmitted to humans through breaks in the skin, from contaminated food and through inhalation of the bacteria.
Lack of funding to the sub-sector has resulted in ranchers failing to purchase chemicals for dipping and containing disease outbreaks.
Government supplies dipping chemicals to communal and A1 farmers while commercial and A2 farmers purchase their own.
During the wet season, cattle are dipped once every week whereas in the dry season they are dipped once every fortnight.
Given the dry spell that is being experienced in most parts of the country, Chabikwa said farmers should ensure livestock get supplementary feed.
"There may be grass for grazing but given the dry spell, the grass may be less nutritious hence they should get supplementary feed and salts," he said.
"Farmers should desist from making their livestock drink water from paddles that have dirty water but ensure they supply clean fresh water for drinking."
Chabikwa said kraals should be kept dry and if they are wet, cattle should be moved to drier places at night.
"If cattle are made to sleep in wet kraals, they will spend the night standing and when they go out to graze in the afternoon, they will sleep as they would not have had enough rest," he said.
"If cattle sleep in the afternoon, it means they would have not grazed adequately and this affects the quality of meat."
Efforts by Government to preserve and boost the national herd which stands at five million were hampered last year as the country was hit by drought.
The issue of fines and levies in the livestock sector has taken centre stage with farmers calling on Government to intervene on the issue.
Players in beef industry have voiced against some levies charged during the sale of cattle, fees to acquire vet permits and costs incurred when acquiring police clearance while moving livestock.
To ensure continued growth in livestock production, Government is in the process of extending the Command Programme to include livestock and fisheries.
In his 2018 Budget Statement, Finance Minister Patrick Chinamasa said in livestock, the programme would focus on the dairy revitalisation programme, aquaculture and livestock disease control to enhance the quality and size of the national herd, in order to guarantee self sufficiency and secure export markets.
According to the Crop and Livestock Assessment Report issued by the Agriculture, Mechanisation and Irrigation Development Ministry, the national herd increased by four percent during the 2016/2017 cattle production season.
The national herd increased from 5,3 million recorded during the same period last year to 5,5 million.
The report indicated that 90 percent of the cattle were owned by small holder farmers with the communal sector owning 68 percent, A1 owning 11 percent and seven percent from resettlement areas.