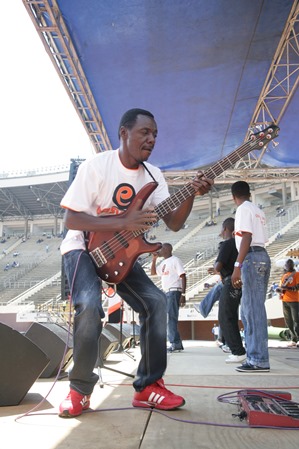 VERY few local artistes can claim to live off their art.
Stung by piracy the artiste has often been reduced to being a pauper with big names like Nicholas Zacharia, Mechanic Manyeruke, Chase Sikhuza among others seriously affected.
The 100 percent local content policy implemented by the Ministry of Media and Information and Broadcast Services at the turn of the millennium made artistes household names it did not improve their lifestyles.
While local fans can part with as much as US$150 to watch an international artiste, they are not ready to part with US$20 for local performers like Oliver Mtukudzi.
If they do, they do so grumbling.
This has pushed artistes to seek corporate support which has often proven difficult to attain due to economic woes bedevilling the country.
But it seems fortunes are changing as government parastatals have stepped in to support artistes.
Dendera star Sulumani Chimbetu was recently appointed Brand Ambassador of the Zimbabwe Prisons and Correctional Services (ZPCS).
Speaking to The Patriot,the Commissioner General of the ZPCS, Cde Paradzayi Zimondi said music had a positive influence.
"Music brings people together!" he said.
"We have also seen how music changes people, motivating them to do well."
The endorsement will see the musician join hands with the ZPCS in the rehabilitation of inmates through music activities and training.
Sulumani is also entitled to perform at events hosted by the ZPCS and expects an agreed upon wage at the end of each performance.
Similarly last year, the Zimbabwe National Army (ZNA) appointed Mukudzei 'Jah Prayzah' Mukombe as the army Ambassador.
The Ministry of Environment, Water and Climate has over time roped in several artistes to campaign and spread different thematic concerns.
The ministry last year appointed Dereck Mpofu as the Green Ambassador.
The endorsement deal stipulates that he will be expected to conduct water conservation and environment awareness campaigns across the country with a wage allocated to him every month.
Similarly Jah Prayzah, like Sulumani Chimbetu, will get the opportunity to perform at all major Army functions.
As part of the deal, Jah Prayzah has the privilege of wearing the revered camouflage uniform which by law is only worn exclusively by soldiers.
The corporate sector is beginning to warm up to artistes with companies such as Innscor, Telecel, Econet, Food World and Jan Jam Men's wear having signed endorsement deals with musicians.
Gospel musician Sebastian Magacha in February signed a two-year endorsement deal worth US$15 000 with a local clothing company Jan-Jam Men's Wear which will see the company dressing him and his band members till 2015.
Zim-dancehall sensation Kelvin Kusikwenyu, better known as 'Killa T', in March this year clinched an endorsement deal with fast food outlet, Chicken Inn.
The deal stipulates that the musician would feature in the company's radio and television commercials.
As part of the deal, Killer T has already produced a jingle in which he promotes the company's brand.
Not to be outdone is Sungura legend, Alick Macheso who reportedly took home US$20 000 in the Baker's Inn endorsement deal.
'Baba Sharo' as he is affectionately known also clinched another endorsement deal with Red Cross.
His Ambassadorial role with the Red Cross will see him partnering with the organisation in a number of humanitarian advocacy programmes.
The Sungura maestro will also contribute towards local fundraising efforts as well as penning songs and jingles for the organisation.