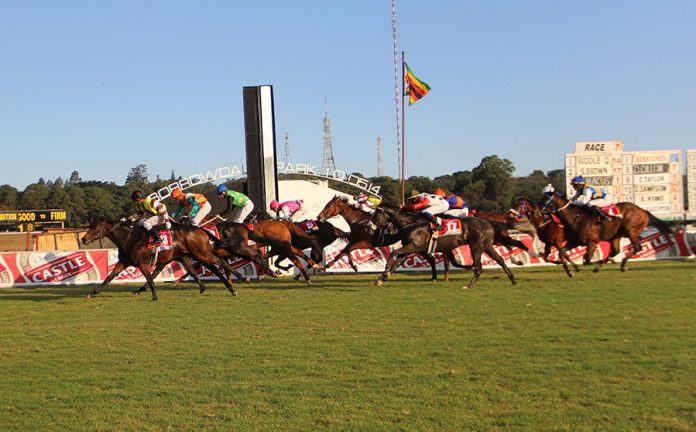 HIGH costs of breeding horses have not deterred local thoroughbred breeders in Zimbabwe as they continue to field topnotch horses for the prestigious Castle Tankard and other races annually.
The cost of raising a thoroughbred in the country continues to spiral due to a number of factors. However, five horses from Zimbabwean stables will be in the starting stalls of the 2 000m Castle Tankard at Borrowdale Race Course tomorrow.
Thoroughbreds are considered 'hot-blooded' horses that are known for their agility, speed and spirit.
Horse breeder Kevin Peech, however, said local horse breeders were facing high operational costs and some were opting to breed them in South Africa where costs are much lower.
Raising a yearling in Zimbabwe costs about US$6 000 while across Limpopo you only need half the figure.
"Costs are cheaper in South Africa largely because of economies of scale in that most of the breeders down there breed on a large scale. They might have 30-40 horses. Here our feeds are high and our veterinary costs are high because of limited resources," said Peech.
"I breed a few horses for myself, so I know how much it costs and I sold a few over the years but its really an expensive business. It is less expensive down south but I suppose, part of the reason is overproduction. They got overproduction and you will be able to pick a bargain buy and be able to run anywhere in the world. We haven't got that opportunity here. Your buyers carry the costs and local buyers would rather buy a cheaper horse than pay what the carrying cost is in real terms."
The Castle Tankard remains the country's only Grade One race. This year, the prestigious horse race turns 56 years.
Last year's winner, Comanche Brave from the Bridget Stidolph stable, will have a chance to defend the title while Kilrain from the Mide de Kock stable is a top contender.
Penny Fisher stable have Ashton Park who will carry a top weight of 60kg while Kirk Swanson's Phantom Major is another potential winner. Phantom Major will be ridden by Francois Herholdt.
Mathematician tipped for last year's tankard, disappointed but will have another bite of the tankard cherry in the starting stalls. Brendan McNaughton will be the rider of Mathematician from the Bridget Stidolph stable.
Another potential winner tipped by bookmakers is Kirk Swanson's Amsterdam which will be ridden by Craig Cheyne carrying a top weight of 55,5kg.
Rock the Country, from Gorkan Terzi stable, won the 2016 edition while the 2015 edition was won by Yer-Maan. The 2014 race was won by Equina from Amy Bronkhorst stable.
Delta Beverages operation manager Maxen Karombo said the company had, in the past five years, poured in US$1,5 million in the Castle Tankard alone as part of their corporate social responsibility.
"We have therefore spent US$1,5million in the past five years on the Castle Tankard programme alone, at an average spend of US$300 000 a year. The sponsorship covers consumer promotions and media workshops to ensure basic standards are met in staging an event of this nature. These developments have also been necessitated by our desire to align with one of our Sustainable Development imperatives in Growing Livelihoods. Horse breeding is one important tool to grow livelihoods," said Karombo.