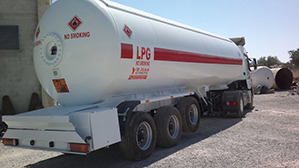 THE poor supply of power has not only affected businesses and households where the commodity is critical, but has had a devastating impact on the environment.
Forests have borne the brunt of power shortages as people resort to wood for energy.
But lately there has been an alternative that is growing in popularity by the day, which is Liquid Petroleum Gas (LPG).
While LPG has been in existence for a long time, it has been mostly used in industry while households shunned it as a result of myths and misconceptions associated with it.
Explosions in households due to poor handling have not helped matters, but LPG has numerous advantages.
LPG is an odourless gas, clean, safe and eco-friendly source of energy made from crude oil and is a mixture of butane and propane.
The mixture is pressurized to 700kPa to form a liquid while one of its volume forms 270 volumes of gas.
LPG burns easier and more efficiently than all the other fuels without producing smoke.
It (LPG) is classified as a carcinogen or mutagen.
Countries such as Mauritius have successfully made a transition from wood to LPG as a household fuel.
Speaking during a one-day LPG stakeholder workshop to familiarise stakeholders with the new national LPG regulations gazetted in Harare, acting permanent secretary in the Ministry of Energy and Power Development, Engineer Benson Munyaradzi said use of LPG can significantly reduce load shedding.
"The use of LPG could significantly reduce the national peak electricity demand thus reducing load shedding and allowing for increased availability of electricity for other productive uses," Engineer Munyaradzi said.
"There is unexploited potential for using LPG to address the cooking-fuel challenges for the majority of the population."
Engineer Munyaradzi said regulating the use of LPG will help in promoting best practices.
"In promoting the use of LPG, Government is keen to ensure best safety and business practices in the handling, storage and transportation of LPG," he said. "The Statutory Instrument provides the regulatory framework for the LPG sector in this regard."
Currently, the storage and distribution of LPG is being done in a haphazard manner, with no regulatory framework for enforcing safety and quality standards.
Current statistics from Practical Action show that two in every five people rely on wood, charcoal and animal waste for energy.
Statistics from the United Nations indicate that about one billion people use health services without electricity and 50 percent of vaccines in developing countries are ruined due to lack of electricity while 55 percent additional energy is needed to achieve energy access by 2030.
According to that National Energy Policy of 2012 only 37 percent of households have access to electricity. And increase in power supply will only be achieved after rehabilitation and existing generating units.
And the work will not be completed in the short term hence the need for alternative sources of energy to ease the pressure on existing power infrastructure.
Currently, the country is producing an average of 900MW against a demand of 1 500MW.
However, the Civil Protection Department expressed concern over the exportation of LPG.
Director, Madzudzo Pawadyira said present transportation methods were not satisfactory.
"There is need for ZERA to regulate the importation of gas which has been a problem since most of the gas comes through road transport exposing border post personnel to risks associated with LPG," said Pawadyira.
"The sprouting of illegal LPG selling points in residential areas is dangerous as the substance is highly flammable and can explode causing massive damage if mishandled."
ZERA said it will continue to hold awareness campaigns highlighting the advantages and dangers associated with LPG.