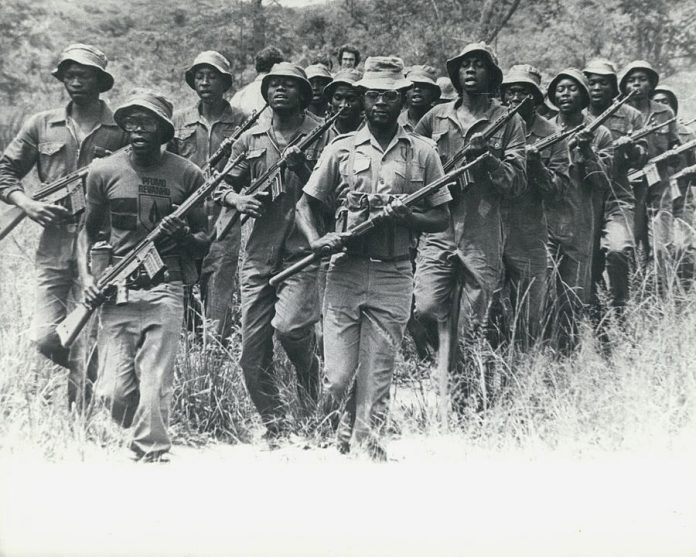 The story of Cde Tendai Chikomba
I JOINED the liberation struggle in 1976 as a war collaborator soon after the bombing of Nyadzonia on August 9 the same year.
I was staying in Honde Valley in a Protected Village, Chisuko Two, following our relocation from Chikomba, my home area.
What aroused my interest to participate in the liberation struggle was that on the evening of August 9, we witnessed a convoy of Rhodesian military trucks coming from Mozambique on their way to Mutare.
The sight of the convoy instilled so much fear among the villagers, but I personally thought the Rhodesians were on a routine patrol.
The Rhodesian soldiers had crossed the Rwera River through the makeshift bridge which they destroyed soon after crossing that tributary to Pungwe River.
It was later reported that Morrison Nyati, who had betrayed his comrades at Nyadzonia, was also in that convoy.
We learned the following morning from Radio Maputo that Nyadzonia had been bombed and I feared for the life of my brother who had recently crossed the border to join ZANLA forces following harassment by Rhodesian soldiers.
I was inspired by the Nyadzonia attack, together with my brother Nyasha, my cousin brothers, the late December Chikomba, Andrew Chikomba and Nicholas Chikomba, to join the liberation struggle as war collaborators because we were young and had been told by freedom fighters that we could not go for military training.
I was in Grade Seven at Chisuko Primary School and our main role was to source information on the movements of the enemy, the Rhodesian forces, and organise food for vanamukoma, as the freedom fighters were known.
As young people, we had the advantage of delivering information and goods to guerillas without any suspicion.
Sometimes we would carry letters between comrades and local businessmen hidden in the hems of our clothes.
I worked with Cdes Mabhunu Muchapera, Chachu, Jongwe and Sorry Zivanai.
One incident which is still fresh in my mind happened in 1978.
It was the attack of the Pfumo Revanhu soldiers at Chisuko Two Protected Village.
Prior to the attack, my fellow collaborators and I had delivered a message to the freedom fighters from the elders who wrote complaining about the harassment by the infamous Auxiliary forces popularly known as madzakutsaku.
When they came, most of them were from our area and some were even relatives who claimed to be helping us from 'terrorists', the freedom fighters.
They were also infamous for coming to operate in their home areas, settling old scores in the process.
Their presence was followed by a reign of terror.
They did all evils from raping girls, beating anyone suspected to be associating with the ZANLA forces, to killing our cattle for their regular feasting.
After a week, word came from the ZANLA forces that no one was supposed to be outside the Protected Village before 6am.
I vividly remember that it was in December, during school holidays.
I woke up in the morning and hastily took a bath because I was late for work at Katiyo Tea Estates.
Rhodesian tea farmers relied on cheap child labour.
I used to join other school children from my village to work on tea estates to raise school fees.
Work on the tea estate was slavery indeed because we were poorly rewarded for our hard work but we had no choice because our parents had a lot of taxes to pay, a method to keep them poor and loyal to the British colonial imperialists.
Our huts were a few metres from the main gate, which was mostly locked and only opened when the Rhodesian soldiers would be crossing to Protected Village One.
It was around 6am, just before I left for work, when I saw Abel Muzorewa's soldiers known as madzakutsaku clad in their green uniforms.
There were more than 15 and in a jovial mood as always when they patrolled the Protected Villages.
I rushed into our kitchen hut to inform my mother who told me to stay in the hut until they left.
I could clearly see all their movements from our hut.
They stopped at the gate when they saw a letter which was tied to the gate.
The letter was a warning message from the freedom fighters to the Auxiliary forces to stop harassing innocent civilians.
The poorly trained Auxiliary forces all gathered to read the pinned letter.
Unaware to them the comrades were watching all their movements and ready to attack.
Suddenly we heard gunshots.
I panicked at first because I thought it was the Auxiliary forces who were firing.
It was in fact the Auxiliary forces under attack from vanamukoma.
The attack lasted for about 10 minutes and I was thrilled to see madzakutsaku running like headless chickens.
It was indeed a surprise and successful attack as the ZANLA guerillas managed to kill most of them.
Rhodesian reinforcement of armoured cars and more ammunition came after about an hour.
They broke our doors which they used as stretcher beds to ferry their dead and the injured.
The whole village was force-marched to the scene where we were all thoroughly beaten by Rhodesian soldiers.
That account proved beyond reasonable doubt to me the military intelligence of the ZANLA freedom fighters, when they managed to use the pinned letter as bait to group the Auxiliary forces so as to wipe them out in broad daylight.
Vanamukoma, typical of guerillas, disappeared without any casualties.