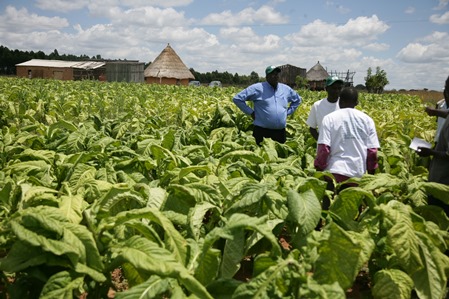 THE Zimbabwe Progressive Pensioner Trust (ZPPT) will this season double its budget for the agricultural loan inputs scheme from US$150 000 to US$300 000 in a bid to assist more farmers and boost production levels.
The ZPPT scheme targets pensioners involved in agricultural projects to sustain their livelihoods.
The 2014-2015 cropping season began in September but many farmers are yet to access inputs.
Since June this year, the organisation has distributed more than 320 tonnes of compound D and ammonium nitrate fertilisers to pensioners throughout the country.
ZPPT will charge a maximum of 12 percent interest on the borrowed amount from the pensioners' monthly allowances to repay the loans through the pensions authority.
In an interview with The Patriot, ZPPT vice president Abraham Deketeke said the number of pensioners who required inputs had increased.
"Since we launched the agriculture inputs loan facility, we have extended more than US$150 000 and the interest for loans continues to grow," he said.
"We will therefore increase the initial budget to assist as many farmers as we can to ensure that the 2014-2015 farming season produces a meaningful yield."
"We expect to assist more than 100 farmers per province."
Deketeke said the loan facility was meant to complement Government efforts to boost food security through indigenous farmers.
He said they were targeting pensioners who benefitted from the Land Reform Programme to ensure viability of the acquired land.
"Most of the people who benefitted from the Land Reform Programme are pensioners and most of them are facing financial challenges to fund production at their farms due to the absence of affordable loans from local banks," he said.
"Therefore, we will assist these farmers with working capital to boost their yields in a bid to improve the country's bread basket."
"We do not want to see the acquired land lying idle due to lack of farming inputs."
Since the launch of the programme, beneficiaries have been receiving fertilisers that cover at least one hectare depending on the crop the farmer intends to produce.
ZPPT chief executive officer Wellington Zunde said the scheme was not be limited to one hectare.
"Most farmers take loans that cover at least one hectare, so we have been giving them six, 50 kilogramme bags of both ammonium nitrate and compound D fertilisers," he said.
"But this is not the limit for our loans, we can assist farmers with inputs that cover up to 10 hectares based on the eligibility for the farmer to repay the loan."
The agricultural sector was affected by poor lines of credit as a result of economic hardships caused by Western imposed illegal sanctions.
Subsequently production levels fell drastically and the situation was worsened by collapsing infrastructure and equipment.
Local banks, which are battling a biting liquidity crunch, have remained reluctant to lend to farmers as most do not have required collateral.
Zunde added that the organisation had partnered a local engineering company to supply pensioners with low cost farming equipment under the loan facility.
"We are finalising with a local company to supply our members with farm machinery such as tractors and ploughs that are needed by farmers to boost production," he said.
"Our farmers have to be fully equipped to increase their productiveness and enable them to repay their loans."
Besides inputs, ZPPT provides working capital for projects such as fish farming, poultry, bee keeping, potato farming and piggery among others.
ZPPT programmes officer Godknows Gutsa said most of the projects they had financed were viable as most of the beneficiaries had the skills to run the initiatives.
"We train our members on various agricultural projects before we give them funds to start their businesses," he said.
"This has encouraged viability for our projects with at least 70 percent of the projects operating profitably.
"Our officers in different parts of the country also monitor the projects to ensure that they are being implemented correctly."
The membership driven organisation has more than 5 000 members across the country.
Despite years of declining agriculture output due to persistent droughts and lack of inputs, Government had struck the right chord by ensuring that most rural households have access to inputs.
The country's agriculture is on the rebound following more than a decade of decline due to illegal sanctions that were used by Britain and its Western allies to punish Zimbabwe for redistributing the land from 4 000 minority white farmers to more than 400 000 black households.