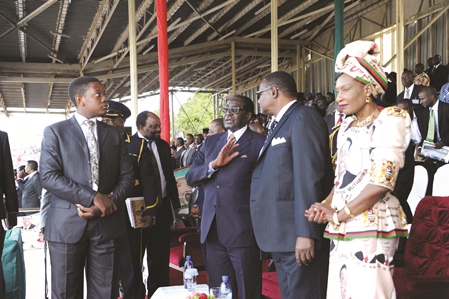 Recently in Lilongwe, Malawi
WHAT brightened the atmosphere at the Malawi Presidential Guest House on Sunday morning, July 6, was the arrival of several women in light brown regalia bearing the heads of the five presidents who have ruled the country.
This was a special attire to mark Malawi's Golden Jubilee celebrations held at Civo Stadium in Lilongwe later that day.
The heads of the late Dr Kamuzu Banda, Bhakili Muluzi, Bingu wa Mutharika, Joyce Banda and even that of current President Professor Peter Mutharika were all proudly displayed on this beautiful regalia.
"And to imagine that each of the successions was carried out peacefully without the shedding of even a single drop of blood speaks volumes of the character of Malawians," commented James Chisonzi, a civil servant in Lilongwe.
"This is especially so since 1994 when multi-party elections were introduced," echoed Joylene Mwenda of Malawi Television.
Of course, there have been instances when the voting process has been riddled with irregularities, like the most recent general elections.
But then even the United States who claim to be the fathers of democracy have had their fair share of controversial elections.
The most recent victor of the latest multi-party elections Professor Mutharika was there at the packed Civo Stadium to address the jubilant crowd.
Also present was President Robert Mugabe, who, as has become the norm was given a heroic welcome once his presence was announced.
The incoming SADC chair had two hours of bilateral talks with his outgoing counterpart President Mutharika before they moved to the venue of celebrations.
No doubt, this was a suitable occasion for the two regional leaders to exchange notes.
Successive leaders of Malawi have over the last 50 years consistently shown their commitment both to regional and continental bodies.
In his address Professor Mutharika chronicled the achievements of the country since independence in 1964 which included the flourishing democracy and the building of roads, hospitals and universities.
He asked Malawians to be united and to work hard for the benefit of the country.
"Ask not what the country can do for you, but what you can do for the country," he said.
He said with his government, pursuit of happiness would be the goal and this would mean paying attention to rural housing and endeavouring to ensure food security, in some cases through subsidies.
Judging by the enthusiasm with which Malawians flocked to the ground, giving their presidents equal respect through their Golden Jubilee attire, they are a united lot.
Dr Kamuzu Banda is said to have played a big part in promoting this unity ethos by encouraging all Malawians to speak Chichewa.
When master of ceremony Vice-President Saulos Chilima addressed the multi-ethnic crowd in Chichewa you would see his jokes were well received from all corners of the stadium.
Language is a great unifier.
In East Africa dependency on the language of the former colonial master is limited as all seem to speak the local Kiswahili.
Another unifying factor which has played wonders in post-independent Malawi is sport, football in particular.
This was evident on Sunday as the over 35 000 people at Civo Stadium kept on chanting in unison the name of their national football team, the 'Flame', which were later to play their counterparts from Mozambique.
Like in Zimbabwe, the administration of football in Malawi was the sole responsibility of the whites before 1964.
Malawians only took control of their football after independence.
Since then they have made great strides with their Golden Era of the 80s producing internationals like Harry Waya, John Dzimbiri, Jack Chamangwana and Kinna Phiri.
Like the rest of Southern Africa, they are also searching for ways to conquer Africa, let alone the world.
However, it appears Professor Mutharika has a mountain to climb if he is to fulfill his dream of bringing genuine happiness to all Malawians.
I spoke to an attaché at the Zimbabwean embassy who gave me a grim picture about the education system in Malawi.
She said most of the teachers were unqualified and the infrastructure at most schools was in a deplorable state.
That is why she decided to take her child to a private school.
Her assessment was corroborated by a report by the Regional Coordinator, Africa Network Campaign on Education for All (ANCEFA) based in Lusaka in the Malawian newspaper, The Sunday Times of July 6 2014.
According to the report, Malawi's literacy rate is estimated at around 65 percent.
Zimbabwe's rate is 92 percent.
Although President Muluzi introduced free primary education in 1994, bottlenecks still exist at all other levels of education.
Because it is not compulsory, at least half a million primary school-aged children are reported to be out of school.
The situation is made worse as less than 40 percent have access to early childhood education.
More dropouts accrue as secondary schools can only take six percent of those from primary schools, while universities in turn will absorb only five percent of those enrolled at secondary schools.
To compound the problem Malawi universities' ranking is considered inferior both at continental and global levels.
The net effect of these school dropouts is that 80 percent of the Malawian youth is unemployed.
No wonder prostitution and early marriages because of poverty are still a common feature 50 years after independence.
According to Mwenda, Malawian women are given a raw deal in terms of education and job opportunities.
She said most of them were relegated to toil on land which belongs to men.
That is why she claimed that initially women were overjoyed when Joyce Banda became the first woman President of Malawi and SADC chairperson.
Of course this was until the 'Cashgate Scandal' in which billions of dollars were looted from the state coffers right 'under the nose' of Banda.
This, according to Mwenda, just goes to show how endemic corruption is in the Malawian polity.
Malawi is a poor country.
According to The Sunday Times of Malawi of July 6, Malawi ranks 174 out of 180 countries in income per head with an income of US$902 per person annually.
An average Zambian earns twice as much.
Hence over reliance on donor funds.
Albert Nkosi of the Malawi News Agency, welcomes this donor aid, but has reservations when it has strings attached.
For instance, when the late Bingu wa Mutharika legislated against homosexuality, a practice at variance with the cultural norms of the indigenes, Western donors froze their funds.
When Joyce Banda took over she suspended anti-gay laws and immediately donor aid started flowing again.
After the 'Cashgate Scandal', Banda suffered the same fate as Bingu wa Mutharika as donors again withdrew their aid.
The alleged leader of the alleged 'Midnight Six' when addressing people at the Golden Jubilee celebrations promised that he would introduce skill imparting schools and encourage self-employment to destroy the dependency syndrome.
President Professor Peter Mutharika with five others were accused of having had nocturnal meetings to try to stop Joyce Banda from assuming the presidency when his brother died.
For this he was being tried for treason until the recent elections.
"I hope he will respect the Malawian spirit of non vindictiveness," said Nkosi.
At one time when Bingu wa Mutharika was President there was tremendous infrastructural development.
Roads were constructed, including the Robert Mugabe Highway between Lilongwe and Blantyre.
Food security was enhanced as farmers' inputs were heavily subsidised, with a bag of 50kg compound D fertiliser going for about US$7.
Donors were overly eager to fund this project as they wanted Malawi to be seen to be suddenly doing better than Zimbabwe which had embarked on the Land Reform Programme.
The overall progress must have pleased Bingu wa Mutharika so much that, he decided to change the rising sun on the national flag to a full sun.
When Joyce Banda took over, she reverted back to the rising sun.
And by the time she left prices shot through the roof after he had devalued the kwacha by about 250 percent.
The Cashgate Scandal meant corruption had climaxed to new daring levels – an indication that the Malawi sun had not yet blossomed.
Malawians wait to see what the sun on their flag will be looking like 50 years from now.