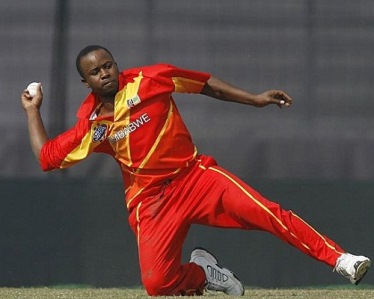 STEPHEN Mangongo is now in a class of his own.
Mangongo has led the Zimbabwe national cricket team to dizzy heights through an emphatic three wickets win over the world's Number 1, One Day International cricket side Australia.
The national cricket team coach is still in his early weeks of appointment as head coach of the Chevrons and has just proved his mettle.
A former assistant to Allan Butcher and Andy Waller, the former Takashinga Cricket Club chairman did what no other national team coach has done in decades.
Zimbabwe last won an ODI against Australia back in 1983. Even the rebel players with all their fame failed to outclass the Aussies.
The victory of the Zimbabwe team over Australia is worth celebrating. It's not the mere three- wicket win that Zimbabweans celebrate but the ability to perform in the face of the seemingly insurmountable circumstances.
After the departure of Butcher, Mangongo applied for the role but his CV was not decorated enough and Waller had to take over.
However, before Waller assumed duty, Mangongo was interim coach and was in charge of the Chevrons during Bangladesh's tour of Zimbabwe. The two played in all formats of the game.
First was the longer version of the game where the two shared spoils as they drew 1-all before Zimbabwe won 2-1 in the limited overs. In the T20 cricket series, the two drew 1-all.
It was a positive start for Mangongo as interim coach but had to relinquish the post to Waller.
Mangongo was then appointed head coach of the national team after a board meeting on July 24. Waller was elevated to position of national director of coaching.
The one-off Test and three ODIs against South Africa were his immediate assignments before the triangular series.
The triangular series that ends tomorrow involving Australia, South Africa and Zimbabwe have added another chapter to Mangongo's CV.
For Zimbabweans the victory is a confidence booster, a message that if we keep at it, we can do it. Summing up the problems associated with the game, Zimbabwe could have taken a back seat, resigned to its fate, but they fought valiantly and triumphed.
Mangongo has been in the trenches of Zimbabwe cricket. Chairing the Highfield-based Takashinga Cricket Club that has produced world class cricket players that include Tatenda Taibu, Hamilton Masakadza and Elton Chigumbura, Mangongo, no doubt, believes in his colour.
Watching the game last Sunday, many believed it was all over at 156 for seven. Having the eight-wicket partnership of skipper Chigumbura and Prosper Utseya on the crease, nothing was expected out of the ordinary.
Many calculated that the unpredictable Chigumbura would be shown the exit while Utseya who is good with the ball and not the the bat would spend only a few minutes on the crease. Some fans had started trickling out, but alas, that turned out to be the winning partnership.
The eight-wicket partnership produced 55 runs with Utseya hitting the big six that helped Zimbabwe post a three-wicket victory.
The new captain Chigumbura and his coach have something to write home about.
For Zimbabweans this victory should reinforce self belief in football or any other sport.
Interesting statistics from the Zimbabwe-Australia match
l 11 406 Number of days since Zimbabwe's last and only other ODI-win against Australia. They had beaten Australia in the 1983 World Cup, at Trent Bridge, which was also Zimbabwe's first ODI. Between the two wins, Zimbabwe's win-loss record against them was 27-0.
l 209 Runs scored by Australia in this match – their lowest total against Zimbabwe when batting first. Australia's previous lowest against them was 225, at the Sidney Cricket Ground more than ten years ago. There have been only ten scores lower than Australia's 209 in the first innings of an ODI, when the team has lasted the full quota of 50 overs against Zimbabwe.
l 11 Number of fifty-plus scores by Elton Chigumbura batting at No. 7 in ODIs, the most by any batsman at that position since Chigumbura's debut.
l 7 Number of fifty-plus scores Zimbabwe's No. 7 has hit in wins, including Chigumbura's unbeaten 52 in this match. The last time a Zimbabwe No. 7 hit a fifty in a win was when Chigumbura made an unbeaten 60 against Bangladesh in Dhaka in 2009. Four of these seven fifties have been by Chigumbura.
l 6 Number of fifty-plus partnerships in wins by Zimbabwe's eighth wicket, including the one between Chigumbura and Prosper Utseya in this match. The last such partnership was between Graeme Cremer and Stuart Matsikenyeri against Kenya in 2009 at the same venue. Overall there have been 18 fifty-plus partnerships for Zimbabwe's eighth wicket in ODIs.
l 133 Australia's score by the 40th over of their innings – the second lowest by any team other than Bangladesh against Zimbabwe in ODIs since 2000. Sri Lanka were 101 after 40 overs in an ODI in 2008 at the same venue. Including Bangladesh, it is the seventh lowest a team has scored against Zimbabwe in the first-40 overs since 2000.