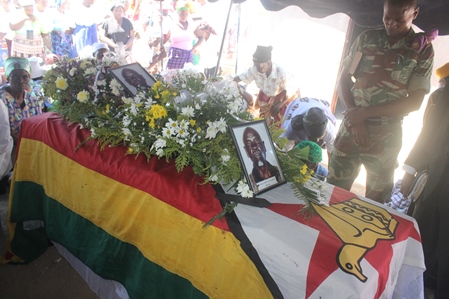 By Golden Guvamatanga and Emergencey Mwale- Kamtande
THE late Cde Peter Paradzayi Manyani whose Chimurenga name was 'Pascal Takawira' was not an ordinary man.
He was a hero in many ways.
He was one of those rare breeds of fighters whose unwavering dedication to the freedom of Zimbabwe places him in the top echelons of the country's gallant fighters.
From spearheading the liberation struggle in Chesa, Cde Manyani was the face of the North Eastern offensive that kick-started the war of liberation in the early 1970s.
A member of the ZANU General Staff, Cde Manyani's glittering attributes would not be enough without mentioning his role in the capture of Land Development Officer Gerald Hawksworth, during the liberation struggle.
Cde Manyani was also among comrades who carried Mbuya Nehanda's spirit medium to Zambia as freedom fighters were preparing to start the war of liberation.
The veteran freedom fighter who died on March 10 at Parirenyatwa Group of Hospitals after a short illness was born on March 10, 1930 in Chief Samuriwo Village, in Marondera.
He went to Samuriwo Primary School and later Waddilove School where he completed Standard Six.
During his time at Waddilove, he met with the likes of Cdes Nathan Shamuyarira, Herbert Ushewokunze and Eddison Zvobgo.
He later enrolled at Tengwani School for a building course in 1950.
It was at Tengwani that he began to be politically active after being expelled from the school by missionaries for refusing to work during the holidays.
"After this incident, I was emboldened and driven by the desire to free my country, this was too much for me," Cde Manyani said in an interview with the Zimbabwe Heritage Trust a few months ago.
After his expulsion, Cde Manyani went back to his home in Samuriwo where he started teaching at a local primary school for two years.
He was later transferred to another local primary school, St Nicholas, where the late Edgar Tekere's father fired him from teaching because he had decided to marry without a wedding as required by the missionary authorities.
Frustrated, he went to Salisbury, now Harare, where he worked for a structural engineering company in the capital.
He was arrested for allegedly 'burning' Mbare Musika.
He then went to Chesa in 1969 where his father was farming.
In Chesa he went back to teaching at Nyakasikana School for two years.
While teaching in Chesa, Cde Manyani made his first contact with freedom fighters in 1969-1970.
The freedom fighters included Cdes Cephas Tichatonga, Joel Mazhamba, Chemist Ncube and Chipembere Mhukayesango.
It was Retired Lieutenant-Colonel Muzhamba who recruited him.
Together with Cde Manyani, the freedom fighters started mobilising villagers, telling them about the need to free the country from white rule.
"At first we were not taken seriously, many doubted us," he says in the ZHT interview.
"Vaiti munokunda varungu chirudzii imi musina kana pfuti, mota nendenge."
Cde Manyani was involved in the capture of Hawksworth.
"Hawksworth who was a Land Development Officer used to go around the farms with his two assistants, Chikavangwena who was also known as John Chipango and a Zimunya," he says in the interview.
"We hatched a plan and managed to capture these two assistants after grabbing Chikavangwena and Zimunya's guns.
"Hawksworth was also captured during the operation; he was handcuffed to me."
Cde Manyani said Hawksworth's capture highlighted the seriousness of the freedom fighters.
The Rhodesians launched an offensive in search of both the freedom fighters and Hawksworth.
They crossed into Zambia through Musengezi River on foot.
During the war, Cde Manyani interacted and worked with the likes of the late Cdes Mayor Urimbo, Vitalis Zvinavashe, Herbert Chitepo, Josiah Magama Tongogara, Josiah Tungamirirai and Rex Nhongo in the High Command and ZANU Central Committee.
He did his initial military training at Chifombo in 1972 before proceeding to Mgagao in Tanzania in 1974.
During the period of détente, Cde Manyani stayed in Zambia from March to September 1975 and he was arrested by Zambian authorities on allegations of assassinating Cde Chitepo.
On being released in 1975, they crossed to Mozambique where he helped establish the camps in Chimoio and Nyadzonia as well as ZANLA headquarters in that country.
After 1980, Cde Manyani was seconded to ZANU PF's department of the Commissariat and Culture, where he worked with Cdes Maurice Nyagumbo and Nelson Mawema.
He was assigned to collect the remains of Mbuya Mazviona Kawanzaruwa, the spirit of Mbuya Nehanda, from Chifombo to Kajokoto in Muzarabani in 1983.
Cde Manyani is survived by his wife Philda (Nee Tunha), 10 children and 32 grandchildren.
His story remains one of the most captivating narrations of the liberation struggle.