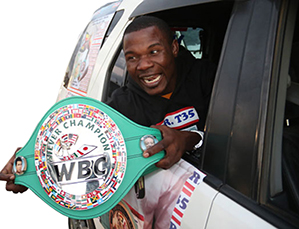 By Anesu Chakanetsa
IN the end it was not only the plaudits that this great man, Zimbabwe's flag bearer, Charles Manyuchi enjoyed, it was the honour he brought to the nation that made his story an even more beautiful tale.
After a long and frustrating dry spell in Zimbabwe boxing, Manyuchi has resuscitated memories that had looked distant and fast disappearing after his demolition, last week, of Russia's Dmitry Mikhaylenko to scoop the World Boxing Council (WBC) welterweight championship.
With that stunning victory, Manyuchi joined the popular and elite Zimbabwe's boxing 'hall of fame' that has the likes of Alfonso 'Mosquito' Zvenyika, Proud 'Kilimanjaro' Chinembiri and Langton 'Schoolboy' Tinago.
Like these greats, Manyuchi's exploits come after a series of mishaps in funding and support.
However, this iconic fighter has proven that talent and zeal matter.
When Zimbabwe attained independence in 1980, boxing was the second most-followed sport after soccer, but faded away because of lack of support and funding and with this fatigue, interest too.
Despite this, Zimbabwe has continued to unearth overwhelming boxing talent since then.
In the 1980s, boxing used to have proper funding and concerted support from spectators and the corporate world alike.
Kilimanjaro proved his boxing abilities after he knocked out Walter 'Ringo' Starr to win the Zimbabwe heavyweight title in just 23 seconds?
He won the African Boxing Union heavyweight title at his first shot and spent five years holding the title, defeating numerous challenges.
He sadly passed away in 1994.
Another splendid ring displays were exhibited by Langton Tinago, one of Zimbabwe's finest.
'Schoolboy', as he was affectionately known, fought 107 bouts, 83 of them being wins and 16 knockouts.
He is one of the boxers who has not been honoured despite flying the national colours high.
Tinago's career was thrown into the shambles in the 1970s because Rhodesia was put on sanctions and he could not compete in international bouts
The story of Zimbabwe boxing is not complete without Alfonso 'Mosquito' Zvenyika.
He won 17 matches, (10 through knockouts) out of 32 fights.
Of those wins, he won and retained the Commonwealth flyweight title in 1998, both times by technical knockout.
Manyuchi on the other hand, currently at the peak of his career, has fought 20 fights and lost twice.
His recent victory is unique because he had spent 10 months without having a single fight.
In contrast, his opponent, Mikhaylenko had been fighting in the last 10 months, but failed to defeat the rusty Zimbabwean.
Zimbabwe National Boxing and Wrestling Control Board secretary-general, Patrick Mukondiwa expressed his delight over Manyuchi's legendary showpiece.
"Manyuchi is naturally talented in boxing and that's why he excelled against the highly supported Russian," said Mukondiwa.
Mukondiwa bemoaned the lack of sponsorship and fading popularity of boxing in the country.
"At the moment we don't have boxers because the sport has lost its thrill and sponsorship," he said.
"Nevertheless, Manyuchi's recent form and victories can be emulated by young people who had taken boxing lightly."
Mukondiwa challenged Government to support organisations in boxing which facilitate the growth of boxing from amateur.
Like Manyuchi, Zimbabwe has been blessed with natural talent, but failed to nurture the identified boxers.
Disturbingly, one of the most potential boxers who had taken Zimbabwe boxing by storm, Thamsanqa Dube, was stripped of his title because he failed to secure funding to defend his title.
This situation was about to ravage Manyuchi's dream, but the Minister of Sport and Recreation, Makhosini Hlongwane, intervened and helped the boxer re-unite with his Zambian promoters, Oriental Quarries Boxing Promotions.
Some of the local stables in boxing have died a natural death.
Prominent promoter Stalin Mau Mau's stable used to be vibrant, producing boxers who made a name in the country.
Minister Hlongwane called for local support for local talent and to stop relying on promoters from outside the country.
The situation leaves boxers in a catch-22 situation where they accept exploitative contracts.
Speaking about the developments in boxing, Zvenyika mourned the dearth of sponsorship and support in this sporting discipline.
"In soccer, we have boozers who play without any sponsorship, but a lot of people have fun," he said.
"We also used to have open fights in the streets of Mbare and Chitungwiza (Wafa-wafa) where we identified our talent, but such things are no longer happening."
The former commonwealth light flyweight champion hopes the youth he is nurturing will continue with the sport, but says most end up turning to other sports.
Others, he said, end up turning to drugs.
"Boxing can be used by Government to stop drug abuse," he said.
"It is far much better to fight for something than to abuse drugs for nothing."
It's imperative to note that most schools in the country do not offer boxing as an official sport, thus young people have not taken it seriously.
Perhaps it's time relevant institutions looked into that.