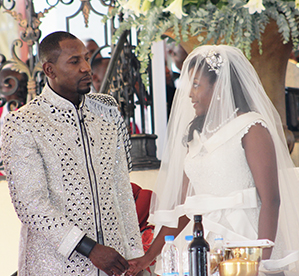 MANY people did not expect Bona Mugabe, the only daughter of President Robert Mugabe to get married to Simbarashe Chikore, despite the fact that he is a pilot.
The underlying assumption has always been that reasons of State should determine the marriage of Bona; she is the President's daughter.
But to the surprise of many, she got married to an ordinary man from an ordinary family with no links to politics or business.
Simba is a senior church elder with the Zimbabwe Assemblies of God Africa (ZAOGA) Qatar and hails from Headlands, Manicaland.
He grew up in Harare's Kambuzuma suburb, went to Marlborough Primary School, St John's High School and St Luis University in the United States of America.
Given Simba's family background, Bona defied two conventional 'principles' that govern the choice of a royal marriage: first that the Royal family should marry someone of same status; second, a royal marriage is an invaluable diplomatic asset not to be wasted.
However, Bona married for love.
There are many cases in Africa where the marriages between two individuals act as the best safeguard to a country's interests.
Chad's President Idriss Deby married the daughter of Sudan's Janjaweed militia leader, Musa Hilal.
Relations between Sudan and Chad had been volatile, with each accusing the other of sponsoring rebels to fight the other's government.
The marriage was expected to bring an end to proxy wars and begin projects to rebuild their troubled borders.
The Bongos of Gabon have also made royal inter marriages.
The daughter of the Republic of Congo President Denis Sassou Nguesso married Omar Bongo in 1990.
Their union was reportedly viewed politically as an example of cooperation between the two countries.
Omar Bongo's son and heir Ali Bongo also found himself a good match with Sylvia Valentin.
Slyvia Valentin is the daughter of Frenchman Edouard Valentin, who is the head of Gabon's leading insurance group, Open Gabonese Insurance and Reinsurance (Ogar), and a member of Gabon's political establishment since the 1970s.
Meanwhile, Cameroon's President Paul Biya, known for his concerted efforts in maintaining a close relationship with France, married Chantal, whose father is a French expatriate.
Coming close home, South African President Jacob Zuma since 2002 has been engaged to Sebentile Dlamini, Swaziland's King Mswati III's half-sister.
President Zuma paid lobola for Sebentile in 2002.
These marriages of convenience present a deeper bond and a constant reminder of where their loyalties and interests should lie.
The marriages are nothing necessarily born out of love, but bilateral agreements between nations made for political expediency.
The same was expected of Bona, to marry a man from another royal family or of the elite class.
However, Bona followed her heart and got married to an ordinary man.
Simba said he knew Bona Mugabe was the one for him the moment he laid his eyes on her.
"The only thing I can tell you is that I am just a very normal guy," said Chikore in a local weekly paper.
"I am just a guy who saw a girl, I loved her and that was it…"
The new family were blessed with more than US$300 000, cattle and other livestock.
President Mugabe and Amai Mugabe gave the new family US$100 000 and 55 head of cattle.
"Ini naAmai takati vana vari kutifadza ava, ngatiedzeiwo kuvatsvagira zvatingavatsvagire, mombe tinadzo tovatsvagira, takati we should give them not less than 55," said President Mugabe.
"Financially, we know they (Simba and Bona) have spent quite a lot on their wedding.
"We have spent quite a lot too.
"Tine maexpenses akati kuti zvedu, but we have put aside a bit of money so we're giving them US$100 000 for that."
The President also gave assurances that he and the First Lady will always have their doors open should the new couple need any assistance.
"Tiri kudeveloper-wo mbichana mbichana kudairy kwedu, mombe taanadzo dzakatiwandei tinokwanisa kutengesawo kuti tibatsirikane."
A local mining company weighed in with another US$100 000.
Equatorial Guinea President, Mr Teodoro Obiang Nguema Mbasogo and his wife, gave the newlyweds US$35 000.
Businessman, Mr Ihmad Ahmed made a gift of US50 000, while Mr and Mrs Gabriel Mugabe showered the couple with US$25 000 and 10 head of cattle.
ZAOGA (FIF) Qatar gave Simba and his new wife US$2 600.
Zambian President Mr Michael Sata and his wife Dr Christine Kaseba congratulated the couple with a gift hamper worth about US$4 000.
Public Service, Labour and Social Welfare Minister Nicholas Goche came in with US$2 000, while the Zimbabwe Republic Police represented by Commissioner-General Augustine Chihuri presented the newlyweds with US$10 000.