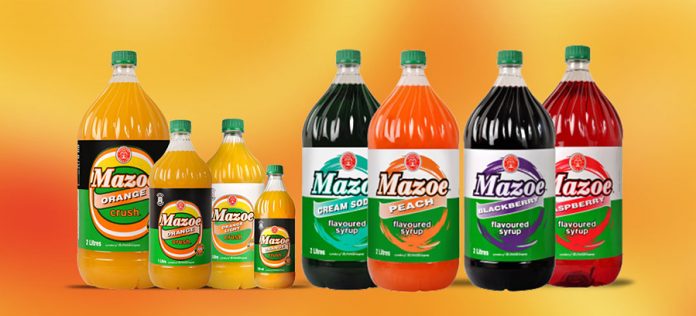 SCHWEPPES Zimbabwe is facing a consumer backlash after it added three artificial sweeteners to the Mazoe concentrated drinks.
According to consumers, this is tampering with an iconic Zimbabwean product that had prior to the changes stood the test of time.
The Mazoe range of products, especially the orange crush product, is on high demand by the Diaspora who miss home.
Many have sworn that no juice can taste any better.
But recently, Schweppes has added artificial sweeteners aspartame, acesulfame potassium-k and sodium cyclamate to the range of products decimating the original taste of the products.
Social media such as facebook, twitter and WhatsApp have been awash with complaints over the new taste of Mazoe orange crush, blackberry syrup and cream soda syrup among others.
Many have described the new taste as similar to that of powder concentrates (jolly-juice), while others complain of heartburn.
Schweppes Zimbabwe says the changes are health-related as they have introduced non-nutritive sweeteners and less sugar to fight obesity, diabetes and metabolic syndrome among other health problems.
Old Mazoe Orange crush had 84k calories while the new has 71k calories, blackberry had 94k calories whereas the new formulation has 39k calories.
Raspberry and cream soda had 81k calories and now has 34k calories and 33k calories respectively, while peach, which used to have 84k calories, now has 35k calories.
The new recipe has not brought any price changes of the product on the shelf.
Despite the health benefits described by the company, consumers feel short-changed.
Hashtagged BringBackOurOldMazowe #theOriginaltaste, consumers complained on Schweppes Zimbabwe's facebook page.
Erin Sticklen: "What a shame you have replaced sugar with an artificial sweetener that among other things is a trigger for migraine sufferers (like myself) and can trigger epileptic seizures. Plus it tastes disgusting. Looks like I will have to find another brand of cool drink from now on."
Max Munjanja: "Obesity is hardly an issue in Zimbabwe. You should have maintained the older brand at whatever price, then introduced the 'light' version with less sugar. The price will be different naturally. Let the obese and price sensitive take the 'light' and the slim and those who afford enjoy the original. This is basic marketing, very basic but essential."
Farie Suegar Chingy: "Address the issue at hand and give us an explanation as to why you are subsidising the quality. We want to stay healthy not this terrible Mazoe you now sell. Last I had some it gave me terrible heartburns and acids."
Adrian Magombedze: "The terrible Mazoe tastes like that 2008 powder drink from Mozambique."
Leone Mukova: "Hatidi zvekunetsana nemi. Ndiani akaita obesity mu Zimbabwe nekunwa Mazoe. Matricks ekuda kudzikisa processing expenditure aya. Remove tartrazine chete."
Njanji YeNjaja: "Will you guys fix this issue and bring back the original Mazoe, or you just do not care enough to respect all this feedback."
Cecelia Chivhunga: "Do you want us to boycott your products for you to get the message? Or that is your plan to push us to boycott because you want to exit our market and blame it on consumers? Do you have an agenda Schweppes Zimbabwe? Budai pachena."
Simon Kuvheya: "This new formula is a death waiting to happen. I have had horrible heartburn each time I drink my juice. It is also not fair that you change up the formula then keep the price high."
Fidelity Chauke: "Mazoe orange crush was something we were proud of, we would gladly share with visitors from abroad, now you take that away from us. I deeply resent the orosification of Mazoe…you have lost another lifetime customer."
Following the backlash, Schweppes Zimbabwe has finally bowed to consumer pressure.
The beverage company this week released two press statement.
On Monday it said it is simply giving out what consumers are asking for.
"People tell us they want more drinks that taste great but also have less sugar and fewer calories," said Schweppes Zimbabwe in a press statement.
However, two days later, it released another press statement announcing the re-introduction of original Mazoe recipe.
"The Coca-Cola Company and Schweppes Zimbabwe are announcing that the original Mazoe recipes for all flavours will be back on shelves in the near future," reads the joint statement.
"We have listened to consumer demand and appreciate all the feedback that has been received. In order to meet those desires but still provide choice, both the original recipes of Mazoe and the reduced sugar recipes will be offered."
Consumer Council of Zimbabwe (CCZ) said they have also received numerous complaints concerning the new Mazoe.
In an interview with The Patriot, CCZ executive director Rosemary Siyachitema said they carried their investigation following numerous complaints from consumers.
"Schweppes Zimbabwe has since written to us clarifying that in place of sugar they are now using sweeters which are being used world over," said Siyachitema.
"However they reassured us that they will re-introduce the original Mazoe to cater for those who prefer sugars.
"We will continue monitoring and make sure consumer needs are met."
However, some are of the opinion that Schweppes is making huge profits from using sweeteners rather than sugars.
A Schweppes employee who refused to be named for fear of victimisation told The Patriot, that the new recipe was a cost cutting measure the company has embarked on.
"Even though sweeteners are actually in use to formulate significantly calorie reduced products, it is also true that economic benefits are realised by replacing sugar.
"Manufacturing cost of high intense sweeteners are in reality quite high, but as the sweetening power is 150-fold higher compared to sugar, a significant cost saving for the food and drink manufacturers is achievable since less product is needed to sweeten a product."
According to Hyet Sweet, a leading manufacturer of sugar aspartame and acesulfame-K in Europe, Schweppes Zimbabwe could save up to 90 percent on the cost of sugar through the use of artificial sweeteners.
"The economics is highly appreciated by all food and beverage professionals.
"Setting the cost of sugar per litre of soft drink at index 100, the sweeteners cost less than 10 percent.
"Generating more than 90 percent cost savings and keeping a clean sweetness profile in calorie product is widely agreed as a clever alternative."
Economic analysts said it is sad that the saving is not passed on to the consumer as the new formulation is still the same price as the sugar variety.
In its classified frequently asked questions (FAQs) on cost of goods sold (COGs), Schweppes Zimbabwe dodged answering some questions.
Question number seven asked: "What was the cost of sugar in the original syrup and will the change bring about a change in price?"
The answer provided was vague: "There will be no price change because of the new formulation."
Question 25 asked: "Why is Mazoe still costing the same after you removed/reduced sugar?"
Another vague answer: "This formulation has less sugar and contains low calories/non-nutritive sweeteners and the price remains the same."
Critics of artificial sweeteners say that they cause a variety of health problems, including cancer.
But the research and evidence in these cases are weak.
A few recent studies suggest that consuming fake sugar actually trains your insulin response to store more fat, not less.
A new study presented at the 2018 Experimental Biology meeting has re-confirmed what researchers have been thinking for years: Artificial sweeteners might actually cause obesity, not prevent it.
The research shows use of artificial sweeteners can make one shun healthy, filling and highly nutritious foods while consuming more artificially flavoured foods with less nutritional value.
Artificial sweeteners may play another trick, too. Research suggests that they prevent one from associating sweetness with caloric intake.
As a result, one craves more sweets, tends to choose sweet food over nutritious food and gain weight.
It seems Schweppes Zimbabwe do not only have consumer's health in mind when they offer low calorie Mazoe, it is also looking towards the next quarterly earnings report for the shareholders.