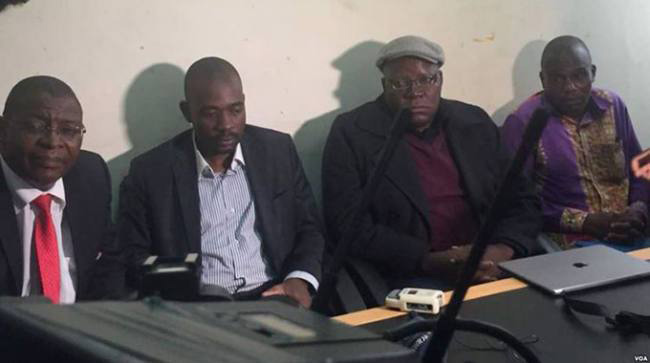 I HAD taken a long sabbatical visiting various countries and I must say, I found travelling very refreshing.
I returned to find political parties and individuals busy filing their nomination papers to stand for president, House of Assembly Members, senators and local authority councilors.
It seems everybody wants to be president or MP and this is good for our democracy going forward.
What I found most interesting in the political maelstrom, as someone who had just arrived in the country after spending four months away from it all, was Nelson Chamisa, the MDC-Alliance leader.
Diehard Chamisa supporters will definitely not agree with my observations.
It is therefore important that we show below that the MDC-Alliance is a completely new political party — not an alliance.
Despite drawing the majority of its members from the former MDC-T party, the MDC-Alliance registered in these elections as a new political party.
But Chamisa and company are saying theirs is an alliance.
This is what The Independent of May 18 to 23 2018 said about the MDC Alliance:
"The Alliance (MDC) consists of seven political parties which include the MDC-T, Welshman Ncube-led MDC, People's Democratic Party (PDP), Zimbabwe People First (ZPF), Transform Zimbabwe (TZ), Multi Christian Democrats and ZANU Ndonga."
To say the above so-called political parties, except the old MDC-T, are political parties is laughable.
Ncube has no political party at all since the one he once led is now dead and buried.
The PDP has never existed anywhere in Zimbabwe.
In any case, Tendai Biti, who once led it, abandoned it some time ago and there is someone called Mafume there.
Now coming to Zimbabwe People First, we only find a cemetery.
The owners and founders of that party, Messrs Dydmus Mutasa and Rugare Gumbo, wound it down a long time ago and are now on the verge of rejoining their former party ZANU PF.
Transform Zimbabwe, Multi Christian Democrats and ZANU Ndonga are names of ghost political parties thrown around at election times like now to provide entertainment to 'bar patrons' but do not exist in reality.
This is why we are saying there is no MDC-Alliance in the sense of political parties coming together but that there is only MDC-Alliance party which is registered as a new political party with ZEC.
Furthermore, we insist that that party did not register as MDC-T as most of its members wanted but as MDC-Alliance political party for the very first time. Therefore, whether its supporters want it or not, the MDC-Alliance, as far as the law and politics is concerned, is a brand new political party just like ZIPP and TZ, among others.
That the party is lucky to have had the bulk of the old MDC-T supporters joining them does not change the fact that they are a new political party. They are indeed a new political party who are competing in the general elections this year for the first time.
This is also the correct legal position.
On top of everything, else when the new MDC-Alliance party went to the nomination court last week, they threw away all pretenses and ignored all the other so-called alliance partners and simply put up their candidates in almost all constituencies up and down the country representing themselves and not the ghost parties.
For example, almost in the whole of Masvingo Province, the new MDC-Alliance party fielded their own candidates, ignoring their so-called alliance partners.
A ZANU Ndonga representative almost came to tears in Chipinge when he realised that contrary to assurances he had been given that he would stand for the alliance in his home area of Chipinge, the MDC-Alliance had instead put someone of their choice there.
Now what does this new party, the MDC-Alliance, say about the way forward in reviving the country's economy?
They want us to adopt the rand as the country's official currency.
This cry for the rand by Chamisa and company is old hat.
The question that immediately arises, however, is: What does the adoption of the rand by Zimbabwe mean in practical terms?
It means simply that Zimbabwe becomes the fifth province of South Africa, period.
Why?
Because it will become very very easy for everyone to import all kinds of manufactured goods from South Africa using the rand rendering our factories redundant.
Yes, South African industries will take over and supply every product we want in Zimbabwe 24/7.
When pushing for the adoption of the rand, Chamisa and company should always ask themselves this question: why did the Rhodesians from 1890 never use the rand as their official currency?
Not even during the UDI days when Ian Smith's government was a very close ally of the apartheid racists in Pretoria?
In a nutshell, the rand represents the Gauteng, Johannesburg area, South Africa's manufacturing hub.
Joburg is the biggest manufacturing hub in all Africa. It is the rand itself. Now, voting to use the rand simply means that Johannesburg must continue to be the only place where manufacturing should be done in southern Africa and nothing should happen in Harare or elsewhere.
This can't be right; so we should not clamour to use the rand while sacrificing our industries.
Clearly, MDC-Alliance has no clue regarding fixing the country's economy.
With the confusion among the so-called opposition, it is very possible for ZANU PF to sweep clean all urban and rural council seats in the harmonised polls.